Posted 17th January 2017 | No Comments
Southern drivers' strikes suspended for new talks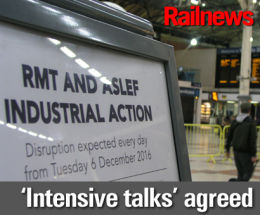 UPDATED 13.05
THE drivers' union ASLEF has suspended industrial action on Southern next week so that new talks can take place with Govia Thameslink Railway.
The TUC confirmed the move, which has followed an offer from the union to suspend strikes if GTR agreed to 'intensive talks over driver-only operation under the auspices of the TUC'. However, a strike of RMT conductors is still set to go ahead on 23 January.
The RMT said: "RMT has today written to the TUC requesting that this union be involved in the same process over the current Southern guards dispute that has been agreed with our sister union ASLEF over the drivers dispute. RMT is awaiting a response to that request. In the meantime, the scheduled action in the Southern guards dispute remains on."
GTR chief executive Charles Horton said: "We've always made clear our willingness to engage in meaningful talks with ASLEF to find a route forward to end their dispute.

"So, together with our passengers and businesses, we warmly welcome their decision to suspend next week's planned industrial action. This is an important and significant development for the travelling public and the regional economy and our focus and efforts now will be on productive talks with the union and trying to find a solution and a way forward. We are grateful to Frances O'Grady and Andy Meadows for agreeing to chair jointly this important new round of talks and they have our unequivocal endorsement and support."
ASLEF general secretary Mick Whelan had said: "Given the implications of this dispute for the wider railway industry, I am also asking the Secretary of State for Transport to support this new process. ASLEF believes that the best way to resolve the dispute at Southern is for all parties to engage in meaningful talks - without preconditions - aimed at finding an agreed way forward."
There has already been an offer this month from transport secretary Chris Grayling to meet both the RMT and ASLEF, but only on condition that all industrial action was suspended, which the unions would not accept at that time.
The Department for Transport said it welcomed the development, but 'in order to aid this process, the transport secretary has suggested that these talks be jointly chaired by Andy Meadows, group HR director at Abellio, and Frances O'Grady, general secretary of the TUC'.