Posted 11th October 2016 | 1 Comment
Severe disruption on Southern as new strikes start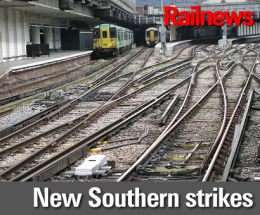 SOUTHERN is warning of 'severe disruption' to its services for the next three days, as the first of a series of autumn strikes by the RMT over the DOO dispute begins.
The problems on the network were worsened early today after a Network Rail engineering train broke down overnight, blocking the Brighton Main Line between Haywards Heath and Three Bridges. The route was reopened at 07.30.
Southern has warned that many of its routes will have reduced services or in some cases none at all until Friday.
The strike has gone ahead despite an apparent bid by Southern's owner Govia Thameslink Railway to block the walkouts by conductors with legal action. The RMT revealed yesterday that it could 'confirm the receipt of a formal legal challenge from Southern Rail', while Southern said it was considering 'all possible options' to stop the strikes, and that those options included 'a legal challenge'. However, neither side has revealed further details.
The driver-only operation dispute has remained all but deadlocked over the past week or so. A midday deadline expired last Thursday for affected staff to accept new contracts as on-board supervisors and receive an 'implementation fee' of £2,000.
Although the deadline had passed, on Friday the RMT reportedly advised its conductor members to sign the new contracts. Their existing contracts are set to expire at the end of the year. Although the union had given this advice, it also emphasised that the strikes would continue.
Unless some progress is made with negotiations, the RMT has called further strikes this autumn between 18 and 20 October, 3 to 5 and 22 to 23 November and 6 to 8 December.
Reader Comments:
Views expressed in submitted comments are that of the author, and not necessarily shared by Railnews.
What Kafkaesque situation this is, with the RMT recommending that its Members sign the new contracts but go on strike at the same time ??? Poor Old Passengers yet again caught up in this Nightmare scenario. The only constructive advice which might help is that there should only be one Trade Union for the whole Industry. Then they might agree behind closed doors on the best way forward for their members rather than the current situation.