Posted 10th October 2016 | 2 Comments
RMT faces legal challenge from Southern in DOO dispute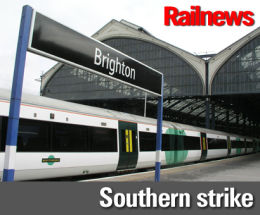 UPDATED 11.27

THE RMT is facing a legal challenge from Govia Thameslink Railway over the continuing DOO dispute on Southern.
The union had called for further talks at ACAS over extensions of driver-only operation just 24 hours before its members were due to stage a three-day conductors' strike, which is set to be the first of several this autumn.
RMT general secretary Mick Cash said: "RMT can confirm the receipt of a formal legal challenge from Southern Rail in the guards safety dispute. It is appalling that rather than sitting down with us at ACAS today to seek a resolution the company have chosen to run to the courts under the cloak of the anti-union laws. The union intends to continue with the planned action and is examining the details of the paperwork. We will issue a further statement in due course."
Southern has not released the details of its claim, but the company said: "On Friday the RMT told their conductor members to accept a deal, and then tomorrow they plan to strike against it. It is a situation which will leave our passengers baffled. We have written to the RMT about the validity of their dispute in light of recent developments. We await their response and will consider all possible options to stop the strike and that includes a legal challenge."
Southern is proposing that its trains will have a driver and an on-board supervisor. Unlike conductors, the OBS will not control the doors nor dispatch the train at stations.
However, Southern also wants the RMT to accept a list of 'exceptional circumstances' when a train could be allowed to run with only a driver. So far, the union has refused to agree to any exceptions, pointing to a proposed DOO settlement on ScotRail which includes an undertaking never to run a train without a second crew member.
Both sides have deplored the stance taken by the other, with GTR insisting that the change will improve the service it provides with no additional risk, while the RMT maintains that safety will be affected and that no trains should be operated with only one member of crew on board.
The situation has also been made even more complex by reports that the RMT has advised its conductor members to accept the OBS contracts on offer, while still continuing with the dispute.
Govia Thameslink Railway CEO Charles Horton said: "It is welcome that the RMT has finally seen sense and recommended their members take the excellent roles on offer. They reject an offer one day, tell conductors to sign up to the role the next, but then still issue a clarion call to strike about it a few days later. Their own union has lost them each a £2,000 bonus which was on offer last Thursday only to tell them to sign-up 24 hours later. Their mandate, like their position on this six months old dispute, is built on quicksand.
"Now to go ahead with these strikes just days after telling conductors to accept our offer sets new standards in union militancy. They don't care that hundreds of thousands of commuters will face yet more travel misery this week; it's clear this is all about the union trying to hang on to power and control."
The RMT has also drawn attention to the contents of an RSSB research paper prepared last year which sets out the financial advantages of DOO, some of which has allegedly been reproduced in a memo.
The text of this paper includes the phrase: "Adopting a strategy of guards redundancies delivers the greatest economic benefit while a strategy of staff turnover and redeployment of guards delivers a reduced but positive NPV [net present value] over a 20-year analysis period."
Mick Cash said: "The strategy of using staff turnover and redeployment to ramp up profits is exactly what Southern and Charles Horton are doing and the fact that they are receiving covering fire from RSSB is an absolute disgrace but hardly surprising.
"Nowhere in this memo does it mention safety, it is all about axing guards and making fat-cat returns for the private train operators. That is the issue at the heart of the Southern dispute and that is why we will be taking action again tomorrow. This strike is about putting passenger safety before private profit."
Reader Comments:
Views expressed in submitted comments are that of the author, and not necessarily shared by Railnews.
Are the train crews not able to think for themselves? Do they really need the union to tell them what to do? If so, how can commuters supposedly put their lives in the hands of people that have to be told what to do? Doesnt make sense to me. I can only suggest people learn to think for themselves and do the jobs they are paid for.

Doesn't Mick's statement about using DOO to ramp up profits fall flat on it's face because GTR is run as a management contract with all revenue risk, and any profits, held by the DfT ?
Doesn't Mick already know this and is therefore caught in yet another lie?
[GTR does bear the costs risk, and higher outgoings do of course reduce profits theoretically derived from the management fee. GoAhead, the majority shareholder in Govia, has already warned that it expects its profits from the GTR franchise to be halved for the remainder of the contract, because of higher than forecast expenses.--Editor.]