Posted 21st September 2016 | 10 Comments
Conductors to stay on ScotRail routes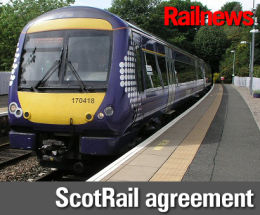 RMT and ASLEF are recommending that their members accept a staffing agreement on ScotRail trains in the central belt which keeps conductors in their traditional 'safety critical' role.
The RMT said new Hitachi trains for the Edinburgh-Glasgow electrification are to be modified with the installation of conductors' door control panels.
The ScotRail Alliance has described the settlement as a 'win-win' result for both sides, while the development is being seen by the unions as a possible step towards peace in the related dispute affecting Govia Thameslink Railway's Southern routes.
Several months of discussions with Abellio about proposals to replace conductors with non-safety critical ticket examiners have produced a draft settlement and the union is hailing the result, saying that it 'protects Guards and their safety critical role on Scotrail in what RMT has described as "a major breakthrough in the battle against Driver Only Operation, which the union will now use as a benchmark in talks with other companies where guards are under threat, including Southern Rail"'.
ASLEF said: "The agreement retains conventional staffing of the electric trains and guarantees that drivers will continue to energise doors while conductors will perform platform interface duties and close doors, before signalling to the driver that it is safe to depart."
RMT general secretary Mick Cash told his members: "This principal agreement applies to ScotRail EMU services on the following newly electrified routes: Edinburgh to Glasgow via Falkirk High; Edinburgh to Glasgow via Shotts; Edinburgh to Dunblane; Glasgow to Stirling, Dunblane and Alloa, and Glasgow to Edinburgh via Falkirk Grahamston.
"This proposal will also apply to existing EMU services that are conductor operated and part of the North Berwick-Carstairs-Glasgow routes. All the specified services will operate as conventionally staffed with a competent conductor on board.
"This agreement retains conventional staffing of the electric trains on the above routes. Hitachi has been instructed to fit door control panels to Class 385 rolling stock.
"This agreement guarantees a guard on every new electrified train and that the conductor will retain full competency (rules, track safety, evacuation). In addition ScotRail confirm that trains operating these services will not run without a competent conductor on board."
Mr Cash said that the development is "more than just a victory for ScotRail, it is a victory for the defence of the role of the guard and a step forward in our continuing campaign against Driver Only Operation".
Phil Verster of the ScotRail Alliance described the deal with the RMT and ASLEF as a 'way forward'.
He told the BBC: "[It] will have to go through a process of referenda with their respective members to get final approval, but we think we are there with an agreement that's a win-win for both parties.
"Once every 40 years, when you introduce new trains you have an opportunity to make a change in the operating practices for the fleet, so we had to explore what was possible with our new fleet coming in next year.
"And so in the end it's a compromise, and it's a win-win for both parties and we are now keen to just focus on the future and how we continue to transform and improve Scotland's railways for our customers. I don't foresee any strikes from this point onwards on this issue."
RMT and ASLEF members will now be asked to approve their executives' recommendations via ballots.
Reader Comments:
Views expressed in submitted comments are that of the author, and not necessarily shared by Railnews.
Sensible move. Many people fail to see the underlying removal of guards project was down to the train companies lobbying government (DfT) at a time of austerity reminding them that these 'expensive' guards aren't needed.

Decades ago, BR introduced conductors - essentially guards, but revamped with commercial / revenue duties to ensure that they were self financing. Most guards pay for themselves, often twice over. One result passengers should be aware of, from the growth of DOO, is the growth of penalty fare schemes - mostly confined to the south east at present.

The union hasn't really explained its case as well as it could have done. DOO companies do often run real driver only - ie no other person on trains contrary to the case they made for removing guards and promising to replace with a revenue person. In terms of safety, I had about two or three incidents a year where I had to stop dispatch or put the brake back into emergency due to idiots falling down gaps or holding on to the side.

Graham had written "As every time someone claims something like this they have never been able to provide any hard facts, rather just what they have been told or it must be as have two people check must be safer than one person checking, etc."

I tried to provide reference to some relevant facts, but URL's are not allowed in responses, so instead look for the RSSB web pages by Googling the following words:
RSSB DOO safer miscommunication
Your top hit should be a document titled "No evidence of increased risk of passenger harm from DOO, RSSB research finds"


How very depressing: essentially, no change. What were Scotrail trying to achieve if they regard this as satisfactory? What was the fuss about? What have they achieved?

Am I missing something, or is this merely the Company giving in to the bullying the Unions?

If there were 10 incidents in over 5 years you can hardly use words like "DOO trains account for the vast majority of platform/train interface accidents".

What this translates to is ScotRail caved in to union bullying tactics & lies (or at least half-truths), there will be extra cost fitting class 385s with door control panels, and the public will still be inconvenienced and services cancelled if a guard doesn't arrive in time for a scheduled service (whether he's stuck in road traffic, delayed on an inbound service, taken ill at the last minute, etc.).

The RSSB even stated that driver operation of doors could be safer than having them controlled by a guard as miscommunication between the two can be a cause of incidents. Of course the RMT & ASLEF don't mention that.

The RSSB is more believable. Their job is safety on the railways. The job of the RMT & ASLEF is to get as much money for their members as they can (and they're pretty good at that) but I know who I'd believe when it comes to studies of safety.

[URLs deleted by moderator.]

[Our contributors' guideline No. 7 reads: "(please don't) include URLs in the body of your message. These may divert your post to our automatic spam trap and if so we will never see it."--Editor.]

The operation of any Railway - as any Model Railway Enthusiast will tell you - can be done by one person using Computers. So Signalling Centres could quite easily run all trains with absolutely no Guards or Drivers. The Big Problem comes with the Customer Interface. That is when a Customer is buying tickets and needs details of fares and routes. Loading Customers onto the right Train at the right time is also another interface. Trouble can easily occur with elderly, disabled or those with Children. When or if a Train breaks down or a dispute between passengers, or sudden illness occurs, you need an on-board representative who can help especially if it means contacting the control centre for an Ambulance or a non-scheduled stop. So I'm all in favour of keeping Ticket Office Staff and on-board Attendants but Guards really have no place on today's Railways. On-Board Crew need to be well trained and helpful people and there's no reason why they can't be paid the same rate as Guards.

This isn't really a deal, it's more a complete surrender to union by Scotrail , they've gained nothing in terms of operational flexibility from the unions other than a tiny concession that the driver now enables the doors at stations rather than the guard, this already happens on all Southerns electric services with conductors anyway so precisely what Southern would gain from a similar deal is a complete mystery

Dan, do you have a link to the statistics to back up the claim

"statistics showing that despite accounting for a minority of services, DOO trains account for the vast majority of platform/train interface accidents"

As every time someone claims something like this they have never been able to provide any hard facts, rather just what they have been told or it must be as have two people check must be safer than one person checking, etc.

[Not quite. In June the RMT compiled a list of RAIB reports going back to January 2011. There were 10 'platform/train interface' incidents mentioned, and eight of them involved DOO trains. There could be various reasons for this (for example, DOO lines are among the busiest in Britain) but the stats do seem to exist.--Editor.]

Great news and some common sense at last - getting rid of guards is absolute idiocy.

The guard remains responsible for dispatch, safety and on board customer service, whilst trains are not delayed at stops waiting for the guard to get to a door panel. Safety and increased punctuality - passengers want guards and they want timely services. A sensible compromise.

Let's hope the DFT see the sense to adopt this method of working, rather than their draconian, unsafe and unwanted DOO plans, and that this becomes the default method of operation on new traction (e.g. IEP).

Everyone who understands the industry knows that having two people checking signals, passenger boarding, doors, interlock and so on is inherently safer than just one person, as is backed up by statistics showing that despite accounting for a minority of services, DOO trains account for the vast majority of platform/train interface accidents. So this is a promising development that stands to benefit passengers and workers alike, especially when you remember that the UK's dogmatic obsession with the failed privatised model means that any "efficiency savings" are quickly gobbled up by shareholders rather than passengers or taxpayers.

Now is the time for the Westminster government and Southern to put safety, service and accessibility first and abandon their belligerent anti-guard agenda which is the root cause of so much ongoing passenger misery.