Posted 16th August 2016 | 8 Comments
New strike threat on 'meltdown' Govia Thameslink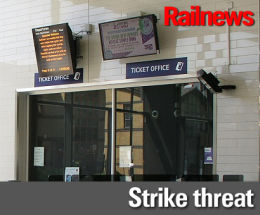 MORE than two-thirds of RMT members balloted at Govia Thameslink Railway have voted in favour of strikes or other industrial action over proposed changes to ticket office hours, the RMT said.
The union reported that 70 per cent had been in favour of a strike, and almost 80 per cent supported other industrial action short of a strike.
The plans as proposed by GTR affect the offices at 83 stations on three GTR networks -- Thameslink, Great Northern and Southern.
GTR wants to close some offices entirely, bringing staff on to station concourses from where they could still sell tickets, while although other offices would remain their opening hours would be cut.
The ballot is not part of the the driver-only operation dispute on Southern, which has led to several strikes and where talks have broken down again. The RMT has accused GTR of ignoring opposition to its plans from passengers and staff, and is predicting that at least 130 jobs will be lose.
RMT assistant general secretary Steve Hedley said: "The Govia Thameslink franchise is in meltdown and not fit for purpose. Not content with axeing catering services, closing ticket offices and attacking the role of their guards they now want to threaten 130 station jobs and compromise the safety of both their passengers and staff alike.

"These plans fly in the face of the response from the thousands of passengers who objected to the closure of ticket offices and the de-staffing of stations as Govia drives on with plans for a 'faceless railway' where the public are left to fend for themselves on rammed-out, dangerous and unreliable services.

"In light of this strong mandate from our members our National Executive Committee will be considering the course of industrial action."
GTR has yet to comment.
Reader Comments:
Views expressed in submitted comments are that of the author, and not necessarily shared by Railnews.
Rob, Epsom. Are you seriously.suggesting ticket offices have to be kept open just to serve Priv tickets?

Working ticket machines are fine but at Oxford Parkway, a completely new station, the ticket machines regularly sulk if you make even the smallest error or want anything out of the ordinary - like two senior railcard tickets. Whoever designed the software for these machines should try again. Fortunately Chiltern Railways always seem to have very helpful staff to hand ready to issue tickets when I'm there.

We do need ticket offices in 2016. Staff cannot buy tickets using their privilege cards online or by ticket machine, they have to use the ticket office.Yesterday across the network I know of two incidents that go against your second point. A friend who is platform staff yesterday helped a pregnant woman who got trapped in a door after she chanced jumping on, then had to stay with her for 45 minutes for an ambulance as she collapsed. And another friend who is a guard had to help after a three year old fell between the platform and the train. The DOO camears could miss that.

question i would like to ask if doo implemented who looks after disabled people and wheel chair users getting on and of trains
[At the moment, DOO lines like Thameslink and Great Northern use station staff for this. DOO does not appear to be an option on lines with unstaffed stations, partly because of accessibility but also because revenue needs to be protected.--Editor.]

The expansion of Access for All providing lifts and ramps to stations together with more accessible new trains means there is a growing need for more station staff on platforms to assist the growing number of wheelchair users.

As for ticket offices well with the coming of Crossrail in a couple of years time together with Thameslonk then their is going to be a major increase in destinations served by a single change at Farringdon Station making it more attractive to travel by rail and yet closure of ticket offices will make it harder for those optional travellers to use rail !

Why, why, why.....?

I understand the reluctance to step out from behind the glass but surely adopting more customer friendly working practices benefits everyone from passengers to staff in terms of job satisfaction and achievement

But does it go far enough? In an age where mobile technology moves so fast wouldn't expanding mobile ticketing, NFC and SMART make more sense and have people available to help customers become familiar with the easier way to travel. Even TVMs will eventually become obsolete if not already rapidly moving this way

To continually set themselves up against progress will ultimately condemn the RMT (and others) to extinction otherwise the UK will never get the railway it deserves. I'm not suggesting for a moment that GTR have all the answers or that all their proposals will fix the issues inherent with ever increasing passenger volumes on an ageing infrastructure and industrial age militant opposition to change; but it is a start

If the RMT want to whip their members into a frenzy with their propaganda then that's difficult to stop

A Luddite mandate is not in the customer's (or railway's) best interests....but as with this whole campaign the customer seems to be the one's that get ignored

My view is there needs to be a clear national plan (although I appreciate there are local sensitivities) which is not driven by what unions want but what is in the best interests of the paying public

Time to abolish all station staff - there is zero need for platform dispatchers or ticket office staff in 2016 - as DOO self dispatch is proven safer at all times - dispatchers are as irrelevent and unsafe as guards. Similarly ticket machines have displaced ticket offices.

Agency and private security staff can be recruited for basic customer facing work if needed.