Posted 19th September 2016 | No Comments
Services on landslip line return to normal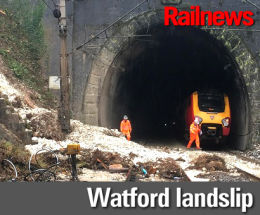 UPDATED 10.55

TRAIN services to London Euston have returned to normal after a landslip which damaged two trains and blocked the slow lines just north of Watford Junction.
A London Midland service bound for Euston ran into debris at the northern portal of Watford Tunnel early on Friday morning. It was partly derailed and gave an approaching London Midland service bound for Birmingham a glancing blow.
Two people were reported to have been slightly injured and both trains were seriously damaged. London Midland said repairs could take between eight to 12 months and that the accident means the franchise is now short of two four-car Class 350 units, so that some services will have fewer vehicles.
The lines north of Watford were closed after the derailment and collision, causing major disruption on the West Coast Main Line during Friday, although the two fast lines reopened later the same day,
Network Rail attributed the collapse of the embankment to 'torrential' rain.
Engineers spent the weekend clearing debris from the track and removed the two damaged trains, which had come to a stand inside the tunnel. They also replaced 50 concrete sleepers and welded in new sections of rail.
London Midland's managing director Patrick Verwer said: "I would like to apologise for the disruption over the last few days. I would also like to thank our passengers. Everyone has shown great patience and understanding while many responded to our appeal to delay journeys or take alternative routes. This meant made it easier for people who had no option but to use the reduced services while Network Rail colleagues repaired the track."