Posted 15th August 2016 | No Comments
Strikes suspended as talks continue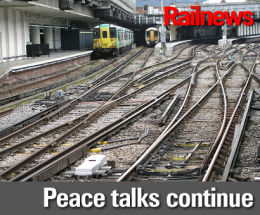 TALKS are continuing in two industrial disputes at Eurostar and Southern.
A stoppage by Eurostar train managers in a dispute over work life balance was suspended at the start of the weekend, and last week's Monday-to-Friday strike on Southern was also suspended from Thursday in the long-running dispute with Govia Thameslink Railway about extensions of driver-only operation on its Southern network and a new job of 'on-board supervisor' for many conductors, who would cease to be responsible for opening and closing the doors and dispatching trains.
At the moment, Southern is still set to begin the changeover on 21 August. The RMT had pointed to a potential settlement with ScotRail over a similar issue, but ScotRail had promised that trains would never run without two members of crew on board, an undertaking which Southern has been unwilling to make.
Several strikes on Virgin Trains East Coast are still set to go ahead in a separate dispute with the RMT over fears of job losses, although VTEC said it expected to run a full service during strike days. The first walkout is set for this Friday, 19 August.