Posted 12th August 2016 | No Comments
Eurostar strikes are 'an excuse to be militant'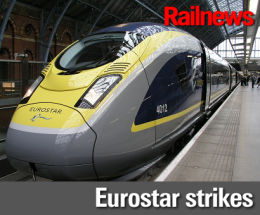 EUROSTAR train managers who belong to the RMT have gone on strike today for the first of seven 24-hour walkouts in a dispute with Eurostar over work-life balance.
The effects on services between London and the continent are likely to be small, with Eurostar saying that some 4 per cent of its timetable will be affected. Two trains have been cancelled today but there will be no cancellations tomorrow. Four trains have been cancelled on Sunday and two on Monday.
The transport secretary Chris Grayling, who has already spoken out against industrial action on Southern, said the Eurostar walkouts 'feel like an excuse to be militant'.
However, RMT general secretary Mick Cash maintains that Eurostar has not observed a 2008 agreement which covers staff rosters. He said: "Our train manager members at Eurostar have a heavy commitment to shift work and unsocial hours and are sick and tired of the company's failure to honour agreements."
Some members of TSSA are also set to take action on 14 and 15 August. The union's general secretary Manuel Cortes believes it is still possible to reach agreement soon. He said: "This is a long-standing issue and there is still time to resolve it if common sense prevails. No one wants to see disruption at holiday times and we will be working for a peaceful solution."
Eurostar said: "We are aware of the plans for strike action and our focus has been seeking a joint resolution whilst planning to provide a good service for our customers. We have made some small changes to our timetable with all passengers due to travel on affected trains notified in advance, to allow them to change their booking to another train on the same day."
This weekend's stoppage coincides with the Assumption Day holiday in France and Belgium, and if the dispute continues RMT members at Eurostar are set to walk again for three days over the bank holiday weekend which applies in most of the UK at the end of this month. Members of TSSA are also proposing to strike on 28 and 29 August.