Posted 15th March 2016 | 11 Comments
Green light for HS3 and Crossrail 2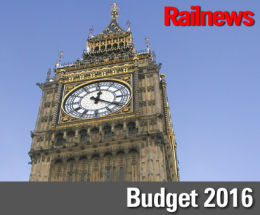 TOMORROW's budget will include funding for two major railway projects, the Treasury said today.
One is the start of investigatory work on building HS3, an east-west railway across the north of England, with the first section running under the Pennines to provide a faster railway between Leeds and Manchester. Ultimately, the travel time could come down to 30 minutes. The scheme is expected to include a combination of new build and upgrades of existing railways, and eventually extend right across the north from Liverpool in the west to Hull in the east.
The second rail development is formal recognition by the Government of the need for Crossrail 2, which will run across London on a north-east to south-west alignment, potentially connecting towns such as Cheshunt and Broxbourne with Woking and Guildford. Such a line would provide much-needed relief for London Waterloo station, which is the busiest in the country.
Although detailed figures will only be announced tomorrow, it is known that an initial £300 million will be allocated to developing HS3, as well as a proposed road tunnel under the Pennines and other highway improvements, while Crossrail 2 will receive an initial grant of £80 million. Transport for London will be asked to find match-funding of the same amount, with the aim of introducing a Bill to authorise the project in this Parliament.
The proposals are in line with a new report from the National Infrastructure Commission, whose chairman Lord Adonis said that Leeds and Manchester have the worst connections between them for two cities of comparable size anywhere in Europe. There are also plans to build 30,000 new homes on brownfield sites around the country, aided by a new fund worth £1.2 billion.
Chancellor George Osborne said: "With the difficulties we see in the global economy, we've got to make Britain fit for the future.
"Now is the time us to make the bold decisions and the big investments that will help us to lead the world in infrastructure, and create jobs, push up living standards and boost our productivity for the next generation. That's what my Budget this week sets out to do."
"We set up the National Infrastructure Commission to think for the long term, plan for the future and help us lead the world.
"I want to thank Lord Adonis and the National Infrastructure Commission for their excellent work in setting out the long term priorities for London and the Northern Powerhouse, which I am determined to deliver."
The transport secretary Patrick McLoughlin added: "We know that good transport doesn't just help get people around, it helps them get on. The National Infrastructure Commission has rightly identified these projects as transformational schemes that have the potential to further strengthen our economy. This is a major step forward for the Northern Powerhouse and Londoners alike."
The Campaign for Better Transport welcomed the Chancellor's commitments to new rail schemes, and to focusing housing development around railway stations, but said that these needed to be linked with local transport improvements. It also criticised the funding for the Trans-Pennine Road Tunnel.
CBT chief executive Stephen Joseph said: "The commitment to invest in new rail projects is good news, especially for the North of England where rail networks have been starved of investment for decades. Putting housing development around rail stations is also a good plan. However, it's a shame the Chancellor is still supporting the damaging Trans-Pennine road tunnel proposal. This scheme would just increase pollution and road congestion in the cities and damage the Peak District - the money would be much better spent on improving local transport like supported bus services and road repairs to complement the welcome investments being put into rail infrastructure.
"The Government must ensure that plans for HS3 include sustainable local public transport connections from the outset. This will ensure passengers and taxpayers get the best value out of the scheme, and avoid the situation with HS2 whereby a lack of attention to how the project fits in with the wider transport network is leading to concerns that it won't tackle transport problems or help our environment."
Reader Comments:
Views expressed in submitted comments are that of the author, and not necessarily shared by Railnews.
If Manchester to Leeds journey times are so crucial; (and I'm not saying they aren't); why aren't there non-stop Manchester-Leeds services now ?

Current 3-stop Man-Lds services take about 56 mins; save 4 mins per stop, gives a potential Cl.185 n/s timing of possibly 44 ish minutes. It would be interesting to trial a tilting Cl.221 on n/s Leeds-Manchester over the current alignment, which might get it down to 39 minutes; and maybe a few more minutes with accelerated electric services with better gradient climbing..

There seems to me to be plenty of avenues to explore to improve journey times before we spend billions on HS3.

HS3 and the "Northern Powerhouse" have been flagship government projects for a couple of years now, it was only a matter of time before funding was made available.

Positive news for the industry but behind the political spin hard facts are required regarding the availability and timing of funding and timescales to opening. We need to see the hard cash not the headlines.

Already expectations have been raised by announcing past projects such as Trans Pennine & MML electrification only for a reality check to be made on the ability to scope, plan, fund and deliver the projects.

As has been seen by the on going planning challenges over the much needed Ordsall Chord the delivery of much needed extra capacity can easily be derailed. Think Thameslink 2000 ultimately being delivered by 2018/9.

Yes, 387's plus batteries could be a solution, if this is technically feasible.
Another possibility in the shorter term to (a) provide more seats and (b) cut transit time, between Leeds and Manchester would be to utilise tilting 4 / 5 car "Super Voyagers" on the Liverpool - Newcastle / Hull services.( Leeds - Manchester is quite curvaceous and tilt capable trains could improve times significantly without major infrastructure work).

If Virgin decides to provide all its WCML services with Pendolino's then Super Voyagers would become available for cascading / redeployment.

Such development would be likely to facilitate business travel between northern cities and hence help the Northern Powerhouse.

It's worth remembering that this funding is simply about developing these projects and not guarantee of full funding .

For Crossrail 2 the government is only putting up half the cost of developing project to next stage leaving TFL and next Mayor to fund the rest.

As for HS3 it's time to forget old routes via Woodhead as what is needed is a brand new route beneath The Pennines built to the same gauge as HS2 to allow for future HS2 trains to run to places like Hull and Liverpool.

Also, while HS2 is for passengers only HS3 needs to be more like HS1 and provide for freight trains especially as it could provide modern full size links to ports like Liverpool with cross country link to East Coast Ports.

The recent report by Lord Adonis into Crossrail 2 mentioned a need to look at the cost of the project which has led to suggestions that branch to ECML be deferred but this would surely be a false economy.

One option might be to proceed with upgrades to existing sections of future Crossrail 2 like 4 tracking and upgrade of stations on route to Broxbourne thus reducing the amount of work and thus cost of Crossrail 2 in a similar way to how rebuild if Reading station and GWR electrification has allowed Crossrail 1 to reach Reading and saved cost of extra platforms at Maidenhead.

As for comments re GWR electrification well that is progressing with plans to introduce class 387s to already electrified route from Paddington to Hayes and Harlington likely in next month or two.

The Chancellor may announce these projects, but I shall believe they are happening when spades go into the ground and not before. It's easy to make announcements, especially for politicians!
AND STILL NO DRIVE FOR FASTER ELECTRIFICATION.

Guess Crossrail 2 will reduce congestion on approach to Waterloo.

Create 2 or 4 through platforms at Waterloo.

HS2 - forget Euston and extend from Old Oak Common to Clapham Junction and Waterloo. Great interchange opportunities and brings Kent, Brighton, Southampton within easier reach of HS2.

The government may actually care about the north after all. Well I didn't see that coming!

In my opinion both projects need to be started now and will be of much more economic benefit than HS2. I doubt if the Country has the Manpower to work on all projects at once, and HS3 will help grow the 'Northern Powerhouse' considerably more than HS2 - which may only take business away from the North.

HS3 is needed by the end of the year, so something concrete must be done to improve rail routes across the Pennines now.

There is only one thing that can be done and that is to give the Class 387 trains destined for the non-existent electrification on the Great Western, an IPEMU capability, so they can run Liverpool to Newcastle and Edinburgh via Leeds using their batteries to bridge the gaps in the electrification.

If bateries are considered too naff, then they could always use KERS like Formula One for a better image.

The North lives in interesting times!