Posted 22nd March 2016 | 9 Comments
New Scottish high speed plans unveiled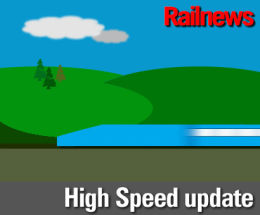 NEW PLANS for improving rail links between England and Scotland have been unveiled by governments on both sides of the border.
Government high speed line developer HS2 Ltd has set out 'broad options' in a new report which says: "Consideration of options for upgrades to both the East and West Coast Main Lines identified that solving all capacity issues is very challenging. Upgrades within the footprint of the existing network would deliver limited journey time savings, short of the 3-hour journey time aspiration."
Now ministers have agreed that a plan to reduce the journey time between London and the central belt to three hours is essential. Scottish infrastructure secretary Keith Brown said: "Doing nothing is not an option," while UK government HS2 Minister Robert Goodwill said: "Scotland will benefit from HS2 from the day it opens, with shorter journey times to London from the start. Once the full Y-network opens, it will only take around 3 hours 38 minutes to reach London from Glasgow and Edinburgh.
"This report looks at ways we can build on these improvements and I thank HS2 Ltd for this work. Together with the Scottish government, we will be asking Network Rail to identify any options with a strong business case, for consideration for inclusion in future plans."
The two ministers attended a joint ceremony at Edinburgh station to confirm their intentions. Keith Brown explained: "I now have a firm commitment that development work will begin during the current control period towards getting journey times between Scotland and London down to three hours or less.
"High speed rail will bring billions of pounds worth of benefit to Scotland's economy and an infrastructure project of this magnitude – possibly the biggest Scotland's ever seen - means jobs, investment, benefits for the economy and benefits for the environment."
The current plans for HS2 -- a high speed line between London and Birmingham which would then continue via two branches to Leeds and Manchester -- are already expected to reduce London-Scotland journey times to little more than three and a half hours, but the HS2 report sets out options to cut this journey time still further, by building more new infrastructure or upgrading existing lines with 220km of new 'bypasses' for the present West Coast route, while a separate high speed route from the northern termini of HS2 would require about 300km of new line.
Such a line could form a junction with a separate Glasgow-Edinburgh high speed line, and provide equal services to Scotland's two largest cities. The cost of the high speed line from England to such a junction is thought to be between £32 billion and £34 billion.
Transport secretary Patrick McLoughlin told Westminster MPs: "I recognise the continuing investment that is likely to be necessary if we are to meet projected passenger and freight growth on the West and East Coast main lines. Therefore, in this control period the Department for Transport and Transport Scotland will take forward work with Network Rail to identify any and all options with strong business cases, for consideration for implementation in CP 6 and CP 7, that can improve journey times, capacity, resilience and reliability on routes between England and Scotland. This will include consideration of how these improvements can be future-proofed to allow further progress towards three hour journeys."
Reader Comments:
Views expressed in submitted comments are that of the author, and not necessarily shared by Railnews.
Regarding attacks and casualties on High Speed Trains ...

On 21 August 2015, a shooting and stabbing incident took place on board a Thalys train in France on its way from Amsterdam to Paris which was luckily prevented by passengers over-coming the attacker. The French regarded it as a 'Terrorist' attack and awarded the passengers the Legion of Honour - their highest decoration.

The Eschede train disaster due to a wheel crack occurred on 3 June 1998, near the village of Eschede in the Celle district of Lower Saxony, Germany, when a high-speed train derailed and crashed into a road bridge. 101 people died and around 100 were injured

I'm pretty certain that train carriages are designed with a certain level of 'containment' for a blast scenario i.e. the blast contained in one carriage and the train brought to a halt safely.

The days of Mk I trains, where whole carriages would be blown off of the floors should, hopefully, be long gone.

...... the most important factor in HS2 to Scotland, is not mentioned in the report of course......Scottish independence.

If Scotland votes to leave the UK at some point in the future, this project north of the border simply will not happen, because English taxpayers will not tolerate building such a railway, in that it largely benefits the Scottish economy.......

"The casualties on a Train at 200 mph would be just as great as on a plane."

Um, citation needed. If that was true, one would have thought terrorists would have attempted this by now on TGVs, where there are no security checks. They haven't.

This seems entirely political IMO

HS2a up to Glasgow/ Edinburgh will primarily benefit Scottish travellers, in providing quicker travel to London for Scots.

This government is hoping the promise of HS2a will be another reason to keep the union together, as surely, if the SNP prevail, English taxpayers will not tolerate pumping billions into an independent Scotland specifically for their benefit.......

The connectivity of Scotland's two main cities definitely needs looking at – present journey times aren't anywhere near adequate enough. Building new lines will come at a price – but to achieve the 3-hour aim – it's a price worth paying. Upgrading the existing routes will do very little, if any difference.

Tony Pearce - HS1 is used by both domestic and international trains from St Pancras International but only passengers bound for Eurostar trains have to check in . Those using Javelin services simply board trains in normal fashion to those using MML and Thameslink services from this station.

As for HS2 then stage 1 already includes an extension that will link with the WCML allowing trains heading north of Birmngham to use HS2 then continue along WCML until section to Crewe ( phase 2a) opens when trains will be able to continue to Crewe and finally on to Leeds/ Manchester with links to ECML and WCML,for trains heading further north.

As for this report it mentions how expensive it would be to build a line to HS gauge would be and suggests that a better option might be to build sections of HS gauge line to overcome bottlenecks and difficulties like high ground to bring down the time classic compatible trains take to reach the far north and Scotland with the long term possibility to join these sections together to form a continuous line from London to Scotland.

It seems major problems include stations which currently have speed limits as low as 20 mph .while sections of WCML formerly 4 track are niw 2 track and a quick gain could be to reinstate 4 tracks to separate out fast trains from freight and local trains.



There is one important difference between these proposals on HS2. HS2 phase 1 is an all-or-nothing scheme - if you only built some of the line from London to Birmingham, it would be next to useless. Phase 2 has evolved into something a little more piecemeal, but they were envisaged as a whole line and not just bits of it.

The link to Scotland, on the other hand, is being envisaged as a series of smaller projects, where stretches of new line would link to the ECML and WCML, and any individual stretch could be built in isolation and still form a useful addition to the rail network. Build the lot and you'd have, in effect, a full extension of HS2 to Edinburgh and Glasgow.

Also: worth keeping an eye on the ECML option here. My money's still firmly on the WCML corridor for both Edinburgh and Glasgow, but TfN is pretty serious about a major upgrade of Leeds-Newcastle now. So all the options being considered between HS2 and Newcastle are serious contenders for ECML upgrades with or without the links to Scotland.

In Today's World of Suicide Bombers, no-one seems to think that prestige High Speed Trains are a Target just as much as Airlines. The casualties on a Train at 200 mph would be just as great as on a plane. Any High Speed Line built in the UK is going to have the same check-in and security arrangements as Airlines - just as they do at St. Pancras for HS1 to France. Maybe its because I'm from Northern Ireland and have met several ex-terrorists and know how they think. Indeed everyone in that Country during the 'Troubles' soon started thinking 'where would I put a bomb for maximum damage and publicity'. We had to do that to avoid places where bombs were likely to be put. I also was caught by many IRA False alarms in the UK (always at Railway Stations), and we had several bombs found in Reading Station including the discovery of a suitcase with enough Bombs for an entire Campaign. Railways are going to have to think 'Security' much more than they do at present.