Posted 20th November 2015 | 4 Comments
Network Rail looks like 'Greece on rails'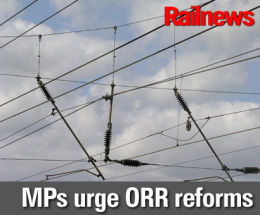 THE Institute of Directors has launched a stinging attack on Network Rail in the wake of today's report from the Commons Public Accounts Committee which dubs the rise in cost of electrifying the Great Western Main Line from less than a billion pounds to almost three times as much as 'unacceptable'.
The Committee's report is based in part on evidence which it heard in October from NR chief executive Mark Carne, Department for Transport permanent secretary Philip Rutnam and the chief executive of the Office of Rail and Road, Richard Price.
Mr Price came under fire during last month's hearing because the ORR had approved Network Rail's spending plans, which have now fallen into disarray. Committee members called on him to resign more than once during the session.
Today's report warns that there could be more delays to Network Rail's enhancement programme, which includes several electrification schemes, and says the plans have proved to be 'unrealistic'. It also calls for a 'fundamental review' of the regulator's role and effectiveness in planning rail infrastructure and urges the government to publish a revised and re-costed programme of improvements, following a review by Network Rail chairman Sir Peter Hendy which is due to be published shortly
The Committee's chair Meg Hillier said: "Network Rail has lost its grip on managing large infrastructure projects. The result is a twofold blow to taxpayers: delays in the delivery of promised improvements, and a vastly bigger bill for delivering them.
"The potential near-doubling in cost of the electrification of the Great Western Line is a symptom of seriously flawed control and planning. Another is the continuing uncertainty over electrification of both the Transpennine route and the Midland Main Line.
"The government has identified rail infrastructure as a vital part of its economic plans, for example in establishing what it describes as a 'Northern Powerhouse'. It is alarming that, in planning work intended to support these plans, its judgement should be so flawed.
"Our inquiry has found that the agreed work could never have been delivered within the agreed budget and timeframe. Yet Network Rail, the Department for Transport and the regulator – the Office of Rail and Road – signed up to the plans anyway."
Meanwhile the Institute of Directors is highly critical. Dan Lewis, the IoD's senior infrastructure adviser, said: "Network Rail increasingly looks like Greece on Rails. This is just the latest upgrade to be plagued by ballooning costs and stretched deadlines, hitting passengers with endless disruption, and taxpayers with ever more public subsidy for the dysfunctional rail blob.
"Everybody agrees Britain needs a better railway. Everybody knows that will require investment. But with public finances stretched, making sure this much-needed spending is driven to the best projects requires a clear idea of how much they are going to cost before contracts are signed. Passengers will be hoping the new National Infrastructure Commission can get a grip of the situation.
"With billions of pounds in investment, including Britain's most expensive rail project in history, HS2, coming down the track, and debt standing at £38 billion, Network Rail must figure out how to manage a 21st century railway without costs spiralling out of control."
The ORR said: "The Office of Rail and Road welcomes the Committee's scrutiny of Network Rail's vitally important rail investment programme for 2014-2019. The escalating costs and late delivery of key rail projects are unacceptable.
"The report recognises that problems have arisen which need addressing for rail users and taxpayers and makes a series of recommendations which affect a number of parties. We need to learn the lessons, and agree with PAC's recommendations that uncertainties in key projects need to be addressed differently; clear accountability arrangements need to be in place for major projects; Network Rail needs to embed tighter project planning, cost control, and deliverability; and a sector-wide skills strategy for the rail industry is needed.
"With the changes to Network Rail's ownership and finances since it became a public sector company, ORR agrees that a review of its own role in major projects is appropriate. That review will need to cover the specification, planning and costing of major projects, their delivery and monitoring. It is important that this review covers governance arrangements across all parties."
Network Rail conceded that it was clear the industry had been 'overly ambitious' about what could be achieved with the money available.
A spokesman continued: "Network Rail has successfully delivered over 5,000 projects over the past five years, but our understanding of how best to plan and deliver major new electrification schemes was not good enough.
"Electrifying the Great Western Mainline is an extremely complex task that is being delivered whilst continuing to run an operational railway. It also involves a new design of overhead line equipment, which has been created to be the safest, most reliable and easiest-maintained system ever seen on a UK railway. This is more expensive in the short-term but far better in the long-term both for passengers and the taxpayer.
"We have now made significant changes to the way we plan and deliver our investment programme, which will see schemes progress only once they are sufficiently developed that a reliable cost estimate can be established."
Reader Comments:
Views expressed in submitted comments are that of the author, and not necessarily shared by Railnews.
Following privatisation, either Railtrack got rid of many competent engineers of all types or they left to work elsewhere; expertise built up over many years was lost as outsourcing was the way forward. Following the demise of Railtrack, Network Rail did a great job under John Armitt in bringing expertise back in house; but electrification wasn't seen as the way forward. That all changed when Lord Adonis became Transport Secretary.

He brought electrification back, and probably Network Rail could have coped with the amount of work he gave them; electrification of some lines in North West England and the GW main line was probably just about doable by the end of the current control period.

Network Rail decided that - instead of engineering out the weaknesses in BR's Mk lll catenary - they would bring in a Swiss firm with no British experience to design new overhead; it does look over-engineered, and this probably accounts for some of the increased costs being experienced. And no doubt it also accounts for some of the delays.

But whilst Network Rail was in the private sector, this didn't really matter; it could just borrow more money and a blind eye would be turned by government, so long as the job was done. But this all changed when NR became a public company.

So is this a bad thing? If BR - which we are told was inefficient and (according to the current Secretary of State) not fit for purpose - was able to finance major electrification schemes like the ECML electrification programme from its own resources and complete it within budget why can't Network Rail?

The one part of our railway system that is "Nationalised" and Jeremy Corbett wants to take it all over!!
Please don't let him.

The answer of course is to sack 'em all and employ French or Germans instead! And what an abject confession of national incompetence and failure that would be! And remember that it is not the concept of electrification which is flawed but the above-mentioned people. We do need wirings here NOW - everywhere else in Europe has had electric trains for aeons. What is required is capable people to do the job......without delays.

NR is quiet right to highlight the amount of projects that have been delivered within budget and on time, Birmingham New St and Reading remodelling are good examples, however the escalation in cost of GWML electrification and the resulting negative perception of the company's abilities have done much to undermine it's competence.

The performances of all parties before the Public Accounts Committee and subsequent report have done little to restore confidence that there is a credible plan and timescale for GWML to be delivered. While NR is in the firing line for blame for this situation the other key parties involved have much to answer for. As the key client and financier the DfT and it's political masters must accept their share of the blame for the budget overrun. It is now clear that they have over promised the electrification projects that could be delivered during the CP5 settlement.

The ORR as referee in the budget determination between NR & the DfT probably comes out of this debacle with the least credibility. Increasingly this organisation appears to exist in a parallel universe. It rubber stamped a budget for CP5 that was completely unrealistic leaving both NR & the DfT vulnerable to attack. Now is the time to ask what the ORR is for as it is hard to justify what valve is being derived from it's continued existence.

As the Christmas engineering blockages approach it is to be hoped that NR has got it's planning and contingencies right. It cannot afford a repeat of 2014 and the resulting bad press. A good result is required to restore some faith that the industry can deliver on it's ambitious promises.