Posted 11th August 2015 | 6 Comments
Northern Powerhouse plan to be unveiled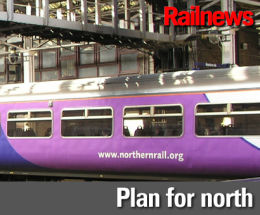 THE Government is to publish its £13 billion plan to achieve a Northern Powerhouse.
It includes improved and new rail links, and ministers will be visiting several key areas today which iinclude Farnworth Tunnel on the line between Manchester and Preston.
Transport secretary Patrick McLoughlin will see for himself how the tunnel is being enlarged to allow electrification. He said: "This one nation government is determined to close the economic gap between north and south. Investing in transport – something that successive governments have failed to do sufficiently – is vital to making that happen.
"We had a choice - building the infrastructure our country needs, or letting our transport system become a brake on growth and opportunity. We have chosen to invest for the future.
"Across the north, that investment is already having a huge impact, with programmes underway to upgrade our railways and our roads. We are determined to keep the momentum going."
Other rail upgrade projects include more electrification as well as the modernised station at Manchester Victoria which is due to open in the autumn and a new southern entrance for Leeds station, while the Government has undertaken to scrap the unpopular Pacer diesels in use on the Northern Rail network by 2020.
In the longer term, the Government said it would be 'transforming city to city rail connectivity across the region, radically reducing travel times, through HS2 and TransNorth east-west rail links'.
Reader Comments:
Views expressed in submitted comments are that of the author, and not necessarily shared by Railnews.
Rather disrespectful to the people of the East Midlands hyping up continuing and greater investment in a "Northern Hub", while our only investment to bring our main line into the 21st century has just been snatched away.
Mr McLoughlin may want to close the economic gap between North and South but he's missing out the bit in the middle.
Can we please get the vital MML project "unpaused" and back on track before we start thinking about spending even more money elsewhere?

No mention of HS3 - a nice quiet burial ?

The Northern powerhouse/HS3 could be the very reason that the Trans Pennine electrification has been 'paused', in that why spend a lot of money to electrify something which then needs line speed upgrades and/or new lines a few years later resulting in having to redo a lot of the electrification works. In pausing the Trans Pennine electrification it could be to ensure that the north get a better rail service than if they went ahead with it.

Given we don't know the outcome of the review or what is actually proposed for HS3 I will hold out my judgment on whether the pause is good or bad until we know more.

Given the adverse publicity surrounding the announcement that Trans Pennine electrification has been 'paused' do you have to be a cynic when you see government ministers again relaunching what is now a well known worn policy?

So far as rail investment is concerned no new initiatives are really forth coming. Electrification and the Northern Hub have long formed key elements in NR's investment plans. The tender documents for the replacement Trans Pennine and Northern franchises seek operators to enhance urban service frequency and have been specific in requiring upgraded stock having specified pacer replacement. It was clear when the ITT's were issued that electrification was slipping as potential dmu cascades between Trans Pennine & Northern routes was slipping.

While it is good to see continuing support for the on going investment being made in the network what is required from government ministers is a clear indication when this delivered rather than vague aspirations.

Such a positive story yet key electrification projects have been put back. No joined up think there at all !!