Posted 8th December 2014 | No Comments
Keolis, Amey take over on Docklands Light Railway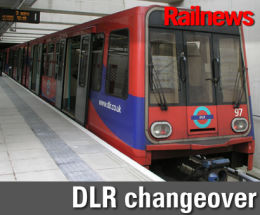 THE Docklands Light Railway concession has passed to a partnership of Keolis and Amey after eight years with Serco. Control changed yesterday morning, and the new operator, known as 'KeolisAmey Docklands', is now set to hold the contract until at least 2021. The deal is worth at least £700 million, Transport for London said.

TfL predicted that passengers will see the first significant change early next year, with the introduction of a five-minute off-peak service to Woolwich Arsenal and a five-minute service between Bank and Lewisham until 23.30 – cutting waiting times in half. Three-car trains will also be introduced between Stratford and Canary Wharf at weekends. In the longer term, a five-minute off-peak service will be running on all DLR routes by 2017.

The operator is owned 70:30 by Keolis and Amey. The chief executive officer for Keolis UK Alistair Gordon said: "Today, marks the start of our new partnership with TfL to deliver the next successful phase in the history of the DLR.
"It is our ambition that over the course of this franchise the DLR will become the best automated service in the world. We're confident that our expertise as the global leader in light rail services and as the operator of some of the UK's busiest rail franchises, combined with Amey's technical excellence has created a best-in-class offering that will help us achieve this goal."
The DLR began operating in 1987, with 11 trains serving 15 stations. In its first year of operation it carried 6.7 million people.
However, its early years were not particularly happy. Passenger figures remained sluggish, and control was transferred for a while from London Transport to the London Docklands Development Corporation.
This arrangement was reversed when Transport for London was created, and the Serco concession followed in 2006.
Today the railway – which is entirely step-free – has 45 stations, 38km of track and 149 vehicles. During the 2013-14 it carried a record-breaking 101.5 million passengers. That figure is expected to increase to 109 million in the current year.
The managing director of TfL London Rail Mike Brown added: "The increased services that the new operator will provide will help us meet growing demand and mean that we can continue to support economic development and growth. Our high standards of maintenance will continue and improve further – meaning cleaner trains and stations and other improvements that will make journeys for our customers even better."
Although the present contract is for seven years, it may continue until 2023 if all parties agree.