Posted 7th July 2014
Keolis wins new Docklands Light Railway contract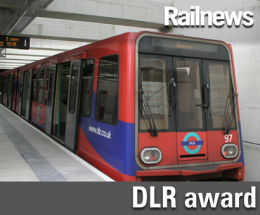 TRANSPORT FOR LONDON has awarded the next Docklands Light Railway concession to Keolis, ending a long-standing association with Serco.
Keolis Amey Docklands will be the new operator of the DLR from 7 December this year until April 2021, with an option for this to be extended until 2023. The contract is worth more than £700 million.
TfL's managing director of London Underground and Rail, Mike Brown, said: "The DLR is a rail network that continues to support regeneration across a huge area of London and the economic growth of the city as a whole. Its connectivity with the rest of the transport network, and its potential to connect jobs and unlock opportunities, is also set to increase further when we start to operate the Crossrail services that will interchange with it in a few years' time.
"The decision to appoint Keolis Amey Docklands was reached after a thorough and competitive procurement process, which will ensure the DLR continues to deliver an ever-improving high quality, value for money service for Londoners well into the future. I would also like to thank Serco for their support since 1997 in helping make the DLR the success story it is today."