Posted 23rd August 2012 | 4 Comments
Docklands Light Railway celebrates 25 years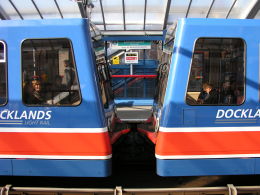 CELEBRATIONS have been taking place today to commemorate 25 years of services on the Docklands Light Railway.
The DLR was opened by HM the Queen at the end of July 1987, and began public services a month later. It originally had 11 driverless single-unit trains serving 15 stations, and in its first year of operation carried 6.7 million people. Today the railway has 45 stations, 46 km of track, and 149 units working in multiples of two or three. Usage has risen to 86 million passengers a year.
The network was the second of its kind to be opened in Britain, and since 1987 it has been extended to Bank, Beckton, Lewisham, and Woolwich Arsenal. The most recent addition to the DLR network was a conversion of part of the former North London Line east of Stratford, as well as a new spur to Stratford International which was heavily used during the Olympics.
However, the system's history has not been one of continuous progress. Passenger figures actually fell in the early years, and in 1992 the DLR was transferred from London Transport to the London Docklands Development Corporation. It was returned to the newly-created Transport for London at the start of the present century. The system is operated via a concession, which is currently held by Serco.
During the Olympics 7.2 million passengers were carried on the system – twice its normal levels. A new daily record of more than 500,000 passengers was set on 3 August – the seventh day of the Games.
DLR director Jonathan Fox said: "We are proud to have been at the heart of communities in East and South East London for the last 25 years, and to have played our part in supporting Team GB and serving the international sporting community during the Games.
"In doing so, the DLR broke all previous records for passenger numbers thanks to dedicated staff and many years of preparation beforehand which included adding extra carriages and installing signalling upgrades.
"When the Games are over, this Olympic legacy will ensure that Team DLR will be well placed to continue its daily role serving commuters as well as being part of the foundations for regenerating this vibrant and developing part of the capital."
Reader Comments:
Views expressed in submitted comments are that of the author, and not necessarily shared by Railnews.
I remember the DLR in it's early years with empty trains in a deserted area. What a difference with 2012.

Congratulations are in order to the highly successful DLR it deserves a place in history alongside the likes of the first automated london tube line in 1968 and the invention of the tilting train all conceived in an era when rail investment was scarce,and less trendy and computer power was only a small fraction of whats available today

Despite initial reservations regarding computers driving trains, I have been on this sytem numerous times and have always been struck by its reliability and the rate at which it has expanded. Not sure about value for money as I have always used a Capital card to ride on it. It is also refreshing to find a public railway in London that is relatively unaffected by Bob Crowe and cronies calling for strike action. Happy Birthday!