Posted 11th February 2014 | 20 Comments
Network Rail denies Dawlish plan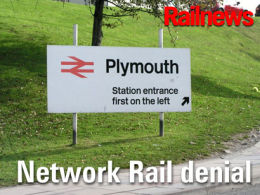 NETWORK RAIL has denied reports that it has chosen another rail route through Devon, avoiding the vulnerable coastal stretch through Dawlish.
Damage to the Great Western Main Line caused by storms in south Devon will take some time to repair. Network Rail now says the link is unlikely to be restored beforre April, and the number of flights between London and Cornwall will be doubled from tomorrow.
But the company has denied a BBC report which claimed that the former Southern main line through Dartmoor via Okehampton and Tavistock had been selected for reopening, providing an inland alternative between Exeter and Plymouth.
A Network Rail source commented to Railnews: "I think there have been a few assumptions here, and they are not true."
In a statement about the former Southern line, Network Rail said: "It was closed in the 1960s and the land was sold off and built on. It would require substantial engineering, including new bridges and viaducts, before a new line could be constructed.
"While it is right to look at the alternatives, our priority now is to resume rail services to Devon and Cornwall as soon as possible. We will take forward a professional study on this once the current situation is resolved, engaging business, local authorities, communities and the rail industry in the advantages and disadvantages of alternative routes.
"In addition, we plan to develop a strategy and scheme that will provide increased levels of resilience to marine erosion as part of the Western Route Climate Change Adaption Plan by 2019. Implementation is currently planned for 2019 to 2024."
Parts of the former Southern line are still in use, from Plymouth to Bere Alston and from Exeter to a point just past Okehampton. In addition, there are plans to restore a further section from Bere Alston as far as Tavistock.
Other possible routes avoiding Dawlish are the restoration and upgrade of a former single track line which closed to passengers in 1958, or a completely new railway. The Great Western Railway bought land for such a line in the 1930s, but the scheme was interrupted by the outbreak of war and the land was resold by British Railways after nationalisation in 1948.
Reader Comments:
Views expressed in submitted comments are that of the author, and not necessarily shared by Railnews.
Just further proof, if any were needed, that yet again Beeching got it wrong!

In many instances, not just the Okehampton line, if decent roads had been substituted for the disused track beds perhaps the rest of the UK infrastructure wouldn't be in such a chaotic mess- the old S&D route from Bath to Poole (A350) being another classic example - it's not just the connections from the capital to the south west that have been lost at considerable inconvenience to the now increased local populace!

As an accountant of over 30 years experience, as I see it, it doesn't take an Einstien to work out that the cheapest and easiest solution would be to upgarde/reconstruct the Okehampton route between Exeter and Plymouth.

Motive power on through trains is often changed at both of these centres and as the majority of trains are multiple units with driving facilities at both ends anyway the argument against the need for reversing the direction of travel as an inconvenience doesn't hold water (pardon the pun as flooding is the problem!).

An further added advantage to reopening this route would be the possibility at a later stage of reopening, perhaps just on a seasonable basis, some of the other branch lines that also derived traffic from this line: places like Bude, Launceston and Torrington for example.

For the benefit of people in Newton Abbot and Torbay, an inland route from Heathfield to Exeter would be more preferable than having to go to Plymouth, then via Okehampton to Exeter and beyond. Hopefully this will happen. However it would be good if the Okehampton route is re-instated too.

it would be instructive in the light of intensive speculation to have some costings for the various options currently being touted. given the downright lies regarding railrevenues as submitted during the beeching plan, i suggest these figures owe nothing to government sources. r.n. davey

(Giving evidence to the Commons Transport Committee a few days ago, Mark Carne of Network Rail suggested that reinstating the Okehampton/Tavistock route could cost £600/700m. I don't think anyone has tried to put a price (at least, not from an official source) on a new avoiding line, or upgrading the Heathfield (Teign Valley) route.--Editor.)

the 1937 dawlislish route would be costly need expensive tunnelling take years to build. heathfield was asingle track branch line tunenels would have to be widenalso so expensive Oakhampton tavistock was fast double track main line as fast as gwr to Plymouth will be costly 250 million but cheaper than alternative s and can be built more quickly >but alas when Dawlish is up and running and the son is shining talk of an alternative route will be dropped

Wouldn't the cheapest, quickest and least disruptive route be that from Heathfield to Exeter, bypassing Dawlish. Its only about 15 miles long. The Okehampton/Tavistock route will take years and years. I can't see it happening and it definitely won't happen if the ridiculous Birmingham line goes ahead (which doesn't even connect to Birmingham Airport - which is just about the only valid reason for this project at all). We also need to upgrade the track through Cornwall as it is incredibly slow.

The last thing the DFT wants is to re-open any closed railways. Their remit is to support the car and trucking industries - everything else is lip service. They'd rather spend a humungous amount digging a new route than re-connecting closed route - their excuses about the cost of rebuilding bridges and repurchasing land etc on the Oakhampton route pales into insignificance when have to dig and engineer a completely new railway, which would serve nobody, whereas a re-opened Oakhampton route would give no end of possibilities including pitting Taunton back on the rail map - and possibly Wadebridge and the Padstow - just where the Prime Minister takes his holidays. But that just isn't what the DfT vis-a-vis the road lobbiests want. A sick world.

The Okehampton route makes sense even more so if at the eastern end there was a new chard towards Taunton as well as the existing junction to Exeter. An hourly or bi hourly service to Waterloo and hourly / bi hourly to Bristol via Dartmoor as a base plus capacity for one train an hour for Paddington as a diversion. I would imagine a Devon loop would be attractive to charter trains.

Mick Rogers' suggestion of a new route adjacent to the A38 from Exminster to South Brent is fraught with issues, not least the topography of the area. I wouldn't fancy either tunneling under Haldon Hill or trying to get over it - and we still have Stoneycombe, Dainton, Tigley & Rattery to contend with. Sorting the sea wall and then using the LSWR as a well-thought-out diversionary route with decent passing loops is probably the best option, Meldon viaduct would need to be rebuilt, and several other existing structures (Lake, Tavy, etc) would need some serious TLC to let them take current rolling stock. I doubt the politicians will spend too much money on it - Staines is flooded now, Dawlish is old news, and very far from Westminster.

It turns out there's a few petitions about this. The most successful one so far can be found by googling "government petition 60302". But there's no harm in signing them all!

I imagine the Dartmoor route would be quite scenic. Shortly before it was closed there were floods and it was used as an alternative for the more popular mainline. I wonder why that didn't make anyone think that coastal flooding is rarely a one off.

There's a petition on the government's website advocating its re-opening.

I'd post the link here but Railnews' spam filter prevents included links. Googling "petition to reopen the railway from exeter to plymouth, via okehampton" takes you straight to it though.

The other diversionary route was the Teign Valley line from Heathfield via Christow to Exeter. It's intact as far as Heathfield I think - new roads are in the way at Chudleigh Knighton though.

I would like to see a study that can generate properly costed options for increasing the resilience of rail services to Cornwall and West Devon. Such a study should focus not just upon the initial cost of instigating each option, but also the long term value for money, which should factor social inclusion into its calculations. It would need to answer the following:

What is the cost of securing the sea wall section and how resilient can it be made?
What is the cost of an alternative route bypassing Dawlish and Teignmouth?
How much would it cost to retain the rail services to these towns if the main line was diverted?
How much would it cost the economies of these towns if no rail service was retained?
How much would it cost the Environment Agency (as opposed to the DfT) to maintain the Dawlish sea defences in the absence of a rail line?
What would the economic and social benefits be from a new diverted, or diversionary route?

These questions aren't going to be answered in the comments section of Railnews or some newspaper; they require an academically rigorous study by people with transport planning expertise. Until then, I am reserving my final judgement.

Relatively recently* the railways sold land bought in 1937 or thereabouts by the Great Western Railwy to build an inland route between Exminster and a point between Teignmouth and Newton Abbot. The outbreak of the war stopped this plan from being put into effect. Needless to say it was not resurrected after that conflict - ever. It will be interesting to see what, if any, new plans are adopted to bypass the coast route for principal trains. However it will require vision and drive in Westminster and Whitehall.
I'm not holding my breath!

(*Actually, more than 50 years ago. It was certainly sold before 1960.--Editor.)

The former LSWR route could provide a diversionary route whilst reinstating a rail service to Tavistock and Okehampton. However, this is never likely to be more than a diversionary route.

However, there would still need to be a huge need serve Torbay as well as a faster line to Plymouth. This could be achieved with extensive tunnelling over a longer timescale at significant cost.

If a new diversionary route in tunnel was built the line along the sea wall at Dawlish would probably be abandoned by NRIL although they might still have an obligation to maintain the sea defences.

It all comes down to cost versus benefit and political will.

If Network Rail are quick they can buy Tavistock Station, which is currently on he market for 1.25M.


The easiest way to solve the sea problem and the 25kV wires problem is to use the same route but box the vulnerable sections in concrete.
Difficult for the section in Dawlish itself, as that would spoil the ambience of the town - so dig down and sink the line at a lower level in a concrete box tunnel for these bits.
Bobs your uncle. Less expensive than a new line.
Still, it would be good to open the Tavistock route - maybe a single track diversionary route would also be good to keep.

The LSWR route between Exeter and Plymouth via Okehampton is more than six miles longer than the GWR route via Dawlish, and would also require reversals at both Plymouth and Exeter for all through trains on cross-country and London Paddington services. As well as the reinstatement of the missing track between the truncated single-line branches at Meldon and Bere Alston, it would essentially have to be rebuilt throughout to construct a viable two track mainline railway to modern standards.

A much more ambitious solution, I suggest, would be a completely new stretch of railway roughly following the route of the A38 between Exminster and South Brent, if not further west. This would allow significant time savings for through traffic while allowing enhanced local service levels to be provided on the existing railway, especially between Paignton and Exeter.

The Okehampton route looks a very long way around, though has the advantage of being mainly intact. A much better, though more costly option surely must be to go a few miles inland from Dawlish and Teignmouth.

Looking at Google maps, it doesn't seem too built up but may need some expensive tunnelling under some of the more agreeable bits of scenery.

Network Rail are to blame here. By telling the government constantly that they can keep the Dawlish sea wall maintained and resilient forever the government has been allowed to sit on it's arse and do nothing. In the south west we have been aware of the potential problems and have been lobbying for action for decades.
Now we see that almost 1 million people are cut off from the mainline railway network for months. A patch and mend approach will only allow this to happen again.
A new/reopened route is the absolute bare minimum that should be considered.
I have checked the alignment for the Old Tavistock to Okehampton route myself and there is barely any problem at all. Tavistock is the hardest part as a few buildings would have to be purchased and demolished, but I think no more than 10, assuming they reuse the Tavistock viaduct. Between Tavistock and Okehampton it would just be a case of purchasing the land and rerouting a few dirt tracks that farmers have created.

If the line is eventually electrified to Plymouth then a new route from Exeter to Newton Abbot will be essential. Stringing up 25kV OLE along the sea wall would present unacceptable risks as well as being visually intrusive. However this would provide an irresistable opportunity for the coastal route to become a heritage railway which would not need to operate all year round.