Posted 5th February 2014 | 21 Comments
Weather – more serious damage in the South West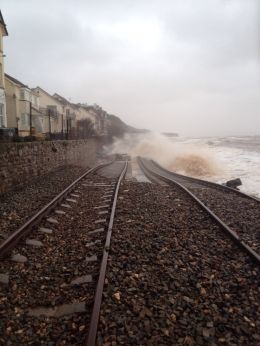 WIND, rain and rough seas battering the South West peninsular have caused major damage to the sea wall at Dawlish carrying the Great Western Main line from Exeter through Devon into Cornwall.
Prior to the latest disruption, FGW had said there would be no trains between Exeter St David's and Newton Abbot until at least Friday, 7 February. Now First Great Western is advising passengers not to travel anywhere west of Exeter St David's, including the Cornish branch lines. FGW Sleeper services between London Paddington and Penzance are also cancelled until further notice.
CrossCountry services are not operating west of Taunton.
Julian Burnell, from Network Rail, was reported saying "hundreds of tonnes" of ballast had been dislodged from under the tracks after they had "taken a real pounding from the sea".
He added that Dawlish station had also been damaged by the weather.
Further east, a landslip at Botley, Hants, means trains cannot run between Eastleigh and Fareham, affecting both FGW and South West Trains' services. The line is expected to be blocked "for a while," according to National Rail Enquiries
In Sussex, Southeastern services are being hit because a landslip between Robertsbridge and Battle is causing disruption on the line between Tonbridge and Hastings.
On the coast of west Wales, the Machynlleth-Pwllhelli branch of the Cambrian Line remains closed as a result of damage caused by storm surges and flooding.
Network Rail said engineers were working hard to repair severe damage at a number of locations, including Tywyn, Barmouth and Criccieth, and it hoped that the section of line between Machynlleth and Barmouth will re-open during week commencing Monday 10 February.
But the line onwards from Barmouth to Pwllheli, which suffered "the most devastating damage," will take longer to repair.
Reader Comments:
Views expressed in submitted comments are that of the author, and not necessarily shared by Railnews.
In the short term the double line track through Dawlish has to be replaced.
Then the government has to build an alternative route. The criteria has to be the quickest route to Plymouth as speed of communication is what the railway is all about. So whether it is a new 8.5 mile inland route or a rebuilt route via Okhampton speed is the issue and that should allow for electrification. Reversals re the Okehampton route are red herrings as a new track avoiding Exeter could be built and in Plymouth all trains stop so a reversal for the onward route to Penzance is practical and remember there will still be a coastal railway. A 22nd century link has to be found in the same way our 18th century forefathers built for the future

The GWR purchased land in 1935 for a new relief line between Dawlish Warren to Bishopsteignton near Newton Abbot. This was for a double tracked line of 8.5 miles in length. The second world war put paid to the scheme and the land sold off in 1950. Surely it would be possible to unearth the plans and the route and for the land to be purchased by a Compulsory Purchase Order and the line built. This would be a far better alternative to the Okehampton route as the latter would require the complete rebuilding of Meldon Viaduct. Also, reversals would not be required at Exeter and Plymouth.

Once again our railways have become victims of the Conservative Party's cock ups after all, the old Southern Route was closed by Beeching and now we are going to have a HS2 which is a complete waste of money which could be spent on improving existing routes.

Not only should the former Southern Route via Okehampton be reopened, but Salisbury to Exeter should be redoubled allowing the return of through services from Waterloo to Plymouth withdrawn in 1964. An alternative service by this route would not involve reversal at Exeter St Davids

A question: how long would it take for a train from the Taunton direction to go into Exeter, reverse, travel around a restored Okehampton/Tavistock route, into Plymouth, and reverse again to head into Cornwall?

Surely this could only ever be an emergency route? Would it be feasable to build a new route following the the rough path of the A38 between Exeter and Plymouth? The route may well be quite steeply graded, but this is less of a problem with modern traction - especially if it's electrified....

By observation, local services along the Devon coast are well used, even in winter; this was certainly the case the last time I was in the area about three weeks ago, and was also the case when I was in the Dawlish/Torbay area in January 2013.

Constructing an inland bypass to avoid Dawlish is not a new idea; it was proposed by the GWR, and would possibly have been built if World War ll hadn't intervened.

Re-opening the former LSWR sounds a good idea - but!

And it's a big "but!" For it means Cowley Bridge Junction has to be passed.

Flooding seems to be a big problem in that area (never seemed to be in days gone by, so is this something else we should blame the Environment Agency for?); on my last trip through the junction (some three weeks ago), I noticed that electrical/control cubicles are being raised so that they will not be at risk from floods, but unless there are major infrastructure works, closure of the line at this location must always be a risk. This has to be taken into account when considering reopening the LSWR line as an alternative to the coastal route; adverse weather could result in both routes being blocked.

An alternative which seems never to be suggested is the reconstruction of the Teign Valley line between Exeter St Thomas and Heathfield; from Wikipedia, I see that some of the trackbed has been taken for the A38 at Chudleigh, and trying to follow the route on googlemaps is impossible in some places, so it would be a big job. However, according to Wikipedia this was one of the routes enhanced during the Second World War to increase the resilience of the network and guarantee a rail link through to Plymouth.

The old LSWR route via Oakhampton has to be reopened. It was a complete no brainer to close it, though I have been told by an old railwayman the intention was always to keep a single track down a lack of attention by local managers at the time saw everything ripped up for scrap.

WE as a nation must loose this stupid short sighted quick-buck attitude to infrastructure and once again think strategically....or are we really just one step away from becoming a complete has been of a nation?

Perhaps it is time for Network Rail to consider singling the section between Dawlish Warren and Dawlish, possibly by interleaving the tracks. They could then build a much wider and stronger sea wall towards where the down line is now. Hopefully someone will also dust down the GWR plan for an inland route between Newton Abbot and Dawlish Warren which was put forward in 1935 and stopped by World War 2. It would cost a fraction of HS2!

The sea wall at Dawlish will have to be rebuilt whether or not a railway track is re-instated on top of it. (I presume Network Rails responsibility ?) The red sandstone cliffs over-hanging the track look under-mined and dangerous to me. Stabalising them will be a huge task even before trying to rebuild the sea wall. Obviously some sort of barrier (large rocks) will be put on the shore to prevent even more damage in the short term. What trains got trapped at the Cornwall end ? Will they operate a shuttle service in Cornwall or will they be transported by road back to the rest of the Network ? But I think there's a huge amount of unvisible damage that is being done to embankments and cuttings all across the country, and maybe revealed when the wtaers final subside.

I am sure many will be using this as an excuse to batter HS2 like some Winter storm, but the fact is we need more railway lines. The line along the Dawlish sea wall must be repaired as it is the main artery for Torbay, used by holidaymakers every Summer, and is the best route into Plymouth and Cornwall. It cannot be closed. However, there is a real case for re-opening the old LSWR route from Okehampton through Tavistock to the junction at Bere Alston. Why the line was kept up to Gunnislake but severed to Tavistock has always been a mystery to me*. However, re-opening this line will meet much opposition from some parties, and the end result will be a slow journey on a high and twisty route that gets cut off in winter snow, and also gets cut off at Cowley Bridge Junction in floods. It is not a simple panacea, I wish it was. However, re-opening the Tavistock - Okehampton line would be great for tourists, freight, and as a very useful diversion for when disaster strikes on the old GWR main line round the sea wall.

(*One test was how easily alternative bus services could be provided. I understand the line as far as Gunnislake escaped the axe chiefly because of the narrow roads in the Tamar Valley.--Editor.)

The GWR bought land in about 1937 between Exminster and near Newton Abbot to build just such an inland route as is suggested above. It was sold not a long time ago by BR*.
The easiest option now would be to relay a part-single line via Okehampton, but Meldon viaduct would need major rebuilding work. It's not as straightforward as one might suppose. However nothing EVER happens in the UK quickly because of all the red tape operators in London; one has only to look at the lengthy, (never-endingly on and on and on with still nothing built,) process of reopening the line from Bere Alston to Tavistock to see the problems.
Incidentally did anyone notice that the miserable BBC reported in its early bulletins that the line "to Cornwall" had been severed? Nothing at all about the City of Plymouth with its 250,000plus inhabitants!!!!. That organisation is SO IGNORANT THESE DAYS!

(*Another correspondent suggests the land was sold in 1950. Certainly David St John Thomas referred to the sale as having gone through 'several years ago' in a book published in 1960. He recorded that the GWR's intention was to improve capacity with a new line as an alternative to quadrupling the section along the Dawlish sea wall, which was not possible. The threat of sea damage does not seem to have been the main issue, if it was considered at all.--Editor.)

As a user of C2C I often use a similar section of track that is beside the Tidal Thames estuary and can receive a similar battering by the sea in winter.

Suggestions as to providing and alternative to this route have been simmering away during the last few years so perhaps its time serious thought was given to the route to the South west especially given the major upgrade and electrification of the GWR no underway.

However, just like with HS2 we have people talking about reopening long closed lines when what is really needed is a new railway able to serve population centres as they are today and not as they were in the 19th Century when the closed lines opened.

A new line built to modern standards could also justify extending electrification further down the South West Peninsula and thus help replace DMUs with EMUs on local and branch services as once the main line is wired then extension to local routes becomes more economic .

Of course the Dawlish coastal route might still have a use in summer !

"bankrupt country"

Bankrupt n. any insolvent debtor; a person unable to satisfy any just claims made upon him or her.

Please provide evidence that the UK is insolvent. If not, please explain why when should close whole lines on the sole basis of hysterical-sounding buzzwords.

It is time to abandon some of the routes at high risk of weather-related damage, however "scenic" they may be. A new more direct inland route should be built from Exeter to Newton Abbot (so that the major city of Plymouth remains rail-connected) and the line via Dawlish abandoned. However, other vulnerable non-economic routes should be abandoned, as their maintenance is unaffordable for this bankrupt country, including:
Llandudno Junction-Blaenau Ffestiniog
All lines west of Shrewsbury
All lines north and west of Swansea
Gloucester-Severn Tunnel Junction
All Cornish branches IGunnislake/Looe/Fowey/Newquay/Falmouth/St.Ives)
Carlisle-Barrow-Carnforth
Middlesbrough-Whitby
A number of low-lying routes in East Anglia and Lincolnshire
Kilwinning-Largs
Ayr-Stranraer
All lines north and west of Helensburgh
All lines north and west of Inverness
Coleraine-Derry


After the latest problems at Dawlish surely it must be time that the full reinstatement of the former Southern Line between Exeter and Plymouth via Okehampton and Tavistock is taken into serious consideration. Much of it is still in existence and only the section of about 15 miles between Meldon Quarry and Bere Alston has closed completely. The remaining sections at either end are only single track and would need to be doubled again. In view of other current projects such as the Waverley route my suggestions are not without precedent.

It will happen again and again so while the priority is to repair the GWR route to Plymouth serious consideration has to be given to the LSWR route. A single track line through Okehampton with loops to enable an hourly local and hourly diversionary fast would make the access to Cornwall and Devon more robust. While they are at it redoubling Salisbury and Exeter would also help.

So it looks like Network rail will have to look at an alternative for an inland route avoiding Dawlish now? I beleive that this piece of railway is seen as one of the most expensive in the uk

Okehampton-Tavistock-Bere Alston really needs to re-open as a back up to keep the trains running to/from Cornwall.

This latest incident at Dawlish shows once again the futility of closing the southern route via okehampton. With a large section of this route still in situ, surely now is the time to consider re-opening, otherwise I can envisage a time when network rail will use the continued battering the western route takes from the sea as an excuse for complete closure.


Since the south west has been (quite reasonably) complaining about lack of rail investment, I suggest a good investment would be a new rail line between Exeter and Newton Abbot. Routing a main line right next to the coast in places like Dawlish is far too risky - I remember travelling over that stretch thinking it was far too close to the sea. By all means send local services that way, but not the mainline ones.

The current route between Exeter and Newton Abbot is a stupid one anyway. Devon and Cornwall probably came out worst from the Beeching cuts, and it's high time we counteracted them.

The folly of removing the mainline through Okehampton now being realised.

Why has the line not been reinstated as this problem has been talked about for years.
Same with flood defences. New roads. HST. New airports
Poor planning. Poor infrastructure. Third world Country