Posted 10th February 2014 | 1 Comment
Floods crisis worsens as more lines are hit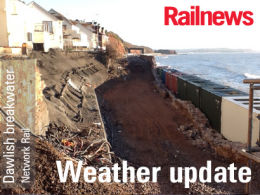 Updated 12.00

NETWORK RAIL has issued fresh warnings of disruption to train services in the south of England caused by floods, although some rail links to Exeter are being restored.
There is now growing concern about the situation in the Thames Valley. Services between Oxford and Didcot are limited, and there are warnings about the situation in the Maidenhead area.
However, a landslide at Crewkerne has been cleared, allowing South West Trains to run services between London Waterloo and Exeter once again, while Network Rail said that following flooding at Athelney First Great Western services have now been restored between London Paddington and Exeter via Newbury. The main GW line through the Somerset Levels is still blocked by flooding at Bridgwater, so no trains can run between Bristol and Taunton.
Plymouth and Cornwall are still isolated from the rest of the rail network by major damage along the sea wall at Dawlish, although Network Rail teams were able to carry out some protective work over the weekend in the hope of reducing the effects of further storms, including the installation of a row of stone-filled shipping containers to provide a breakwater. In addition, more concrete has been sprayed in a bid to protect the subsoil along the cliffs. Even so, Network Rail does not expect to be able to repair the damage until mid-March, and business leaders in the far south west have been sounding warnings about the effect on the local economy.
Air services between Cornwall's main airport at Newquay and London Gatwick will be doubled to six flights a day by airline Flybe from 12 February.
The destruction of the railway at Dawlish also seems set to trigger a major campaign callng for more investment in transport links to the far south west. Chris Pomfret, the chairman of the Cornwall and Isles of Scilly Local Enterprise Partnership, said: "This additional capacity from Newquay to Gatwick is very good news and will be warmly welcomed by the business community given the current state of the railway line at Dawlish. But it is only a short-term measure which is why we will continue to lobby Ministers hard for substantive investment in the region's road and railway infrastructure."
Nearer London, the River Thames is continuing to rise and a number of major flood warnings have been issued for Surrey and neighbouring counties. The line to Windsor & Eton Riverside has been blocked by flooding at Datchet and there are speed restrictions on the Great Western line, as the river continues to rise south of Oxford at Hinksey and in the Maidenhead area.
Network Rail's managing director Robin Gisby told the BBC that several hundred sites are now being monitored. He said: "The Thames is rising now to levels not seen for many, many years. What I think is really significant, and it has got worse overnight, is Oxford down to the Thames Valley through Didcot, Reading, Maidenhead and into Paddington.
"This isn't now just flooding, this is groundwater. The land is so saturated we have got water rising up, just as much as flowing on to it. So it is difficult."
Elsewhere, previous landslips between Robertsbridge and Battle, plus a further slip at Stonegate over the weekend, are causing disruption on the line between Tonbridge and Hastings. Another landslip at Botley means trains cannot run between Eastleigh and Fareham, and there is no train service north of Barmouth on the Cambrian Coast line.
In related news, it is being reported that the redoubling of the line between Swindon and Kemble, which had been due to be completed by Easter, is now expected to be delayed by up to four months because the engineering teams involved are needed more urgently elsewhere to help repair flood damage.
Reader Comments:
Views expressed in submitted comments are that of the author, and not necessarily shared by Railnews.
Latest news on Monday night is that most Great Western services between Paddington and Reading have been cancelled or delayed due to flooding affecting signalling .

One point worth raising is in a few years time much of this route will become Crossrail so how resilient will Crossrail be to such events ?