Posted 7th February 2014 | 30 Comments
HS2 brought into Dawlish rail closure controversy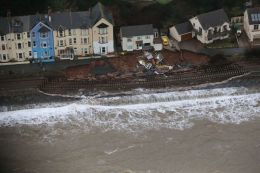 CLOSURE of the only main line through Devon into Cornwall, caused by ferocious seas damaging at least 80 metres of the sea wall and track at Dawlish and the local station, has become a political controversy in South West England. And HS2 opponents have joined the furore, arguing money should be spent on improving existing lines instead.
Now three members of the House of Lords have written to Transport Minister Baroness Kramer "urging her to instruct Network Rail to undertake a major study with Government and business and local authorities to investigate alternative inland route(s) for the main and only railway line serving Exeter, Plymouth, South Devon and Cornwall that will give 100 year resilience to this line."
Their letter follows expressions of serious concern by council and business leaders in Devon and Cornwall suggesting closure of the line at Dawlish could cost the region up to £20 million a day, or £140 million a week. If repairs take six weeks – the minimum approximate estimate so far given by Network Rail – the cost to the economy could be over £800 million. If repairs take two months, the figure will rise to over £1 billion.
In their letter to Baroness Kramer, Lords Bradshaw, Teverson and Berkeley – who say they have "a strong interest in railways and the South West's' economy" – suggest the economic losses "would surely build a diversion line and deal with the floods above Exeter."
Meanwhile, Transport Secretary Patrick McLoughlin, who pointed out that over £38 billion would be spent on maintaining and enhancing the railway network over the next five years, has asked for an urgent report from Network Rail on possible longer-term alternatives to the present route via Dawlish.
Cornwall Chamber of Commerce chief executive Kim Conchie said that a fraction of the £42 billion High Speed 2 budget spent upon upgrades to the West Country's rail connection would make "a massive difference."
Devon and Cornwall Business Council leader Tim Jones said: "This has been an accident waiting to happen and we've been banging on about it for 20 years. The answer is for the Government to throw enough money at it so it doesn't happen again – very little compared to HS2."
Toby Parkins said: "In my role as president of Cornwall Chamber we are meeting the transport minister in March to review and reinforce the issues and I'm hoping to take as many stories from as many businesses as possible to that meeting so we can present the weight of the problem to him in no uncertain terms."
MPs have also demanded urgent action. St. Ives MP Andrew George has challenged Prime Minister David Cameron to spend money on improving the line between Exeter and Penzance before spending money on HS2. And Exeter Labour MP Ben Bradshaw made a similar call.
The HS2 Action Alliance – which opposes the Government's HS2 plans and recently lost its appeal against the project in the Supreme Court – claimed the cost of HS2 would be better spent on improving existing railway infrastructure. The Local Campaigns Director for HS2AA, Peter Chegwyn, said the recent bad weather had shown how vulnerable the Cornish main line is to severe bad weather.
"How can we even think about wasting £50 billion on HS2 when Brunel's great railway line at Dawlish is washed into the sea?" he asked. "We urgently need to spend money on updating and improving the existing network which is hanging on by the skin of its teeth. Cornwall and Devon now face being cut off for six weeks – just so that a few people can get to Birmingham more quickly.
"There's a strong case for re-directing some of the £50 billion earmarked for the HS2 high-speed rail project. Why not spend a bit of it on re-opening the whole of the alternative route via Okehampton that was axed by Beeching?" said Mr Chegwyn.
"The HS2 Action Alliance is calling on all West Country MPs to lobby the Government for money to be spent on improving existing rail lines instead of on a £50 billion HS2 vanity project that has no benefit to the West Country."
Network Rail said full assessment of repairs necessary at Dawlish "will come with calmer weather after the weekend, along with a revised timescale. Initial estimates are that it will be at least six weeks to completion from when work begins."
A concrete spraying machine, which was used during the recent work to refurbish Whiteball tunnel between Taunton and Exeter, will begin later today (7 February) building up a layer of material over the subsoil exposed by the collapsed sea wall.
"This will be a sacrificial layer, to absorb some of the force of the storm forecast for tomorrow," said Network Rail.
Work is also continuing to demolish the most-damaged platform at Dawlish station itself, ready for rebuilding.
Network Rail said it has mobilised a range of specialist contractors, engineers and suppliers from across the country to help with the work needed at Dawlish and has also taken up the offer of discussions with the Ministry of Defence to see if there is any help which can be provided by armed forces personnel based in the south-west.
• The Cambrian Coast line between Dovey Junction and Barmouth, which has been closed for several weeks due to storm damage, is due to re-open next week, Network Rail said – subject to the storms forecast for the coming weekend. But the rest of the line to Pwllheli is not due to repaired until mid-May.
•• The line between Dorking and Horsham, closed a month ago by a landslip at Ockley, has been re-opened five days ahead of schedule. More than 4,000 tonnes of material have been used to repair the collapsed embankment.
Reader Comments:
Views expressed in submitted comments are that of the author, and not necessarily shared by Railnews.
ive just watched Plymouth city councillor attacking the preposed opening of the Oakhampton Plymouth line saying it was slow and bbc describing Oakhampton Exeter as freight line lswr built the line as fast main line with speed of over 80 mph not slow he was pressing for a Dawlish diversion which would have to cros the a38 house on track bed costly Oakhampton Plymouth would open up Dartmoor to tourists only one route Oakhampton plymouth

Why did the government shut & closed all the railway lines & diversionary main lines across the UK serving all local communities & towns selfishly & carelessly* & also just relying on one single main railway line in all these remote area's where our local transport network & major transport network is also now grinding to a halt & getting washed away by all these storms across the UK?

(*Because at the time of most closures [roughly 1955-1970] the railways were recording mounting deficits, had failed to capitalise on a publicly-funded modernisation plan and were perceived to be an old-fashioned, inefficient form of transport. We might regret some closures now, but that is with the benefit of hindsight.--Editor)

Call me a cynic if you like, but I suspect that the political will to do anything at all to address the problem of the far south west's reliance on the line through Dawlish for its rail connectivity to the rest of the nation will vanish without trace within hours of this stretch of railway being re-opened to traffic in (hopefully) six weeks time.
On the subject of HS2AA's pathetic attempt to make their own political capital out of this event, I have to wonder why they didn't jump on the chance to pipe up when the Cambrian Coast line was similarly severed earlier last month, with an even later projected reinstatement date than at Dawlish. Perhaps because this happened in Wales?


Am I right in thinking though that the former Exeter - Newton Abbot line via Heathfield branch is also under water? What would be the use in opening that line when it is just going to flood. In my opinion, via Okehampton is much more viable, and lets just think about this as well, although there may not be many stations along there, it is ones that could possibly be all opened again, removing more cars etc from our roads.

Second point. I think that the Exeter - Newton Abbot should be kept as double track, and continue with that as the MAIN LINE. The line via Crediton, Yeoford, Bow, North Tawton, Sampford Courtnay, Okehampton, Tavistock etc, that could become a main route into Plymouth for trains going to and from Waterloo - Both routes win here.

Doubling much of the West of England route into Exeter from Waterloo would also help improve the capaciaty here, so should anything happen, trains can be easily sent this way. It's possible that some trains could also be diverted and sent via Yeovill so a straight run could be arranged without the need to turn around.

The 1930s-planned Dawlish Avoiding Line essentially runs along the inland sides of the same towns, so Dawlish and Starcross and Teignton wouldn't lose their rail service (and Kingsteinton would actually gain one). The people living on the coast would have a longer walk to the station; the people a little inland inland a shorter one. It was due to open, from my reading, in 1941, but was cancelled for obvious reasons. I'm sure the route would need to be replanned now; parts will undoubtedly have been built on, and modern construction techniques may make some routings cheaper.

But this shouldn't be built one as a one-off route, or as a knee-jerk reaction to the Dawlish collapse. It should be part of a planned major upgrade to the SW mainlines, including electrification (from Basingstoke, Newbury and/or Bristol all the way to Penzance), route straightening and speed improvements along the whole route, passing loops for expresses to pass local services, etc.

We're doing a series of upgrades around the country - Northern Hub, TransPennine electrification, GWML electrification, South Wales electrification, MML electrification. Most of these are in CP5.

Let's make the big project for CP6 a major upgrade of the South West.

By far and away the most sensible answer is to reopen the Okehampton line for now and bolster up the sea defences at Dawlish. Then all are winners. There will be an alternative route for goods and passengers when the weather is bad at Dawlish, the Torquay area still retain their services (most of the time) and there will still be a picturesque route for tourists. The only losers would be West Devon Council who would have to relocate, as their offices are built on the track bed at Tavistock, and one house which is partly on the track bed.

This situation to me is similar to the Penmanshiel tunnel collapse, and ECML Selby coalfield diversion projects we completed in the 70's/80's.

Just looking at this from an engineering aspect, if you draw a 'straight line', following the line of the A380 road, from Kingsteignton to just south of Exeter; (where the A5 bridge crosses the Exe); it is just over 18 kms through largely unpopulated rural land.

This route rises to a 'ceiling' of around 240 metres at around the 10 km mark near Mamhead; and is not an insurmountable challenge by any means.

This inland option is eminently better IMO than the circuitous Okehampton option, and could slice maybe 10-12 minutes off Exeter-Newton Abbot timings.
.

There is probably going to have to be an enormous amount of repair work on the railways done when the floods subside. Standing in water for weeks does no embankment or cutting any good. A lot of money may be needed in the next year to repair the damage and provide a secure Network thats not to suffer again next year. Passenger numbers are already suffering across the southern Network. I was on trains to and from Reading yesterday and the whole timetable was a mess due to 13 trains being trapped in Cornwall - 4 of them HST sets.

Just a thought as far as temporary rerouting goes. It has been suggested that the railway is singled at Dawlish when a diversionary route is opened and the seawall is repaired. Make this the 'Down' line and reopen the Teign Valley Railway as an 'Up' line*, they don't need to be together. Then reopen the Okehampton route as a freight route and emergency diversion for passenger trains. This would of course depend on the state of the old trackbed on the Teign Valley line, especially the tunnels each side of the old Longford station. All of this might be a cheaper way to obtain capacity. However a lot of money needs to be spent at Cowley Bridge on flood defences to make any rerouting completely viable.

(*The average journey time over the 17 miles (27km) between Exeter and Heathfield on the TV route was almost an hour, inclusive of stops. Plymouth is calling for a 3-hour train service to London, and although the South Devon is not particularly fast, restoring the TV line on its old alignment as the 'up main' would surely rule that out.--Editor.)

The consensus of the people who live in other parts of the country seems to be that the Okehampton route was a slow and twisty branch line closed by Beeching, and that the best option is to build a new line further inland from Dawlish (through the Haldon Hills) and close the current route, perhaps keeping Teignmouth as the terminus of a stub. Where do I start?!

First, the Okehampton route was a heavily engineered double track mainline, at least the equal of the South Devon Railway's route (via Newton Abbot) in terms of journey time between Plymouth and Exeter. This is why it was the preferred diversionary route (as opposed to the Teign Valley Branch, which was a slow twisty single track branchline), until the 22 mile section between Bere Alston and Meldon was closed in 1968 (nearly 3 years after Beeching returned to ICI)* as an "unnecessary duplication" following transfer of ex-LSWR routes west of Exeter from the Southern to the Western Region of British Rail.

Second, I'm not sure that cutting the 25,000+ residents of Teignbridge off from their main line rail route is the optimal course of action when so much support has been voiced for providing a rail service to the 12,000 residents of Tavistock. For those that accuse Brunel of being a fool, his original preference was for a long tunnel beneath Dawlish, but he realised that this would not have been within the South Devon Railway's budget. Even if the main line were diverted from the sea wall, millions would still need to be spent securing it to prevent half of Dawlish being washed into the sea. I think it makes sense to combine these two efforts to reduce costs. All these wildly expensive schemes that people are suggesting will lead to the government dismissing all but a patch-up exercise as being unaffordable.

(*As a matter of record, the passenger service between Okehampton and Plymouth, including what is now the Gunnislake branch, was listed for withdrawal by Beeching in 1963. Neither was the former main line 'selected for development' in his Trunk Routes report two years later.--Editor.)

Why close the second most scenic route on the entire network (the west highland line being first of course). The problem is simple to rectify. The 100 or so metres of line that are subject to having ballast washed away - simply do not replace ballast with ballast.
Pile drive 50 to 75m piles every 20 metres with a T top, run 20m long steel reinforced concrete beams across the top connecting the T's. T...T...T...T
then a anti-friction fabric and then concrete sleepers and continuously welded rail.
Then when the ballast is washed away, the trains continue to run as they are on essentially a 'Bridge'.
Cheap, effective, and can be put in place in less than a week.


A few years ago when staying with friends in Germany I noticed that there was a nearby disused railway line and station, what struck me about the railway was that although it had been disused for several years the railway was fully intact and given a bit of weeding you could send a train along the line. The railway station was fully intact with no broken windows. I commented to my German host that back in Britain the permanent way, trackside equipment etc would have been ripped up and the land sold off. My hosts said , yes but we do not know the future strategic needs and if we need to reactivate the railway line, No problem but then Germany did not have Adolf Beeching!

Here's a crazy idea -

The spoil from Crossrail tunnels has been used to upgrade a bird sanctory on the Essex Coast .

So why now use the spoil from HS2 tunnels to buildout the coast at Dawlish thus the line stays in the same place but the sea is pushed back further from the line!



Anti-HS2 activists will take every opportunity to make mischief, in order to bolster their flagging campaign - the enabling Hybrid Bill will begin its legislative process in about six weeks and should the Bill receive Royal Assent before the next General Election (unlikely I know) it really is game over. Fact is HS2 has zip all to do with current rail network strategy but with pun shamelessly intended this is surelya simple case of "any port in a storm"

Dawlish was a incident waiting to happen for decades that should been seen and acted on before the 2014 storm damage.

Dawlish and Teignmouth rail presence should not be wiped from the rail map but should at a minimum mainly for the tourism trade be downgraded to rail spurs (with the main line rerouted inland).

Without turning Dawlish and Teinmouth coast into a Taunton to Minehead scenerio it be better if local service remained. Taunton to Minehead would be great if it returned to the national network though the heritage line is great. No line should end up being closed and have to be campaigned time and time again with dates of reopening pushed back again and again such as lines like South Wales Valleys Lines and Bristol to Portishead.

Exeter to Dawlish spur line. Dawlish as a parkway/P&R station resitted away from the high risk of the exposure of the coast along the seafront.

Teinmouth perhaps a terminus from for a rail route perhaps from say a city such as Plymouth with Newton Abbot being the best station to change at if coming from the North.

Both spur lines could theoretically run all year round with a higher TPH (trains per hour) in the summer season.

Yep, its can incident been waiting to happen and crying out for an emergency plan for years.

I guess that regardless of what happens to the railway the sea wall needs dealing with it just happens that Rail Track* is responsible for paying it.

The money needs to be spent even if the MOD took over completely or there was an inland route which could be opened in 6 months.

The only real issue with HS2 is how will Plymouth share in the benefits? Maybe time to forget the sea/land route options of Brunel's day and think 'what are we capable of with today's equipment'?

Also wasn't there once some talk about the railway route through Somerset having a limited life expectancy due to rising water levels?

(Who?--Editor)

I agree, re-open the old LSWR mainline via Oakhampton. As for HS2, I think that 42 billion is too much, this could be used to re-open so many lines closed by Beeching and re-unite the country. The Great Central main line should be restored between Ayelsbury and Rugby and onward to Sheffield, with branches to Birmingham and Manchester, as an alternative to HS2.

Far from events at Dawlish showing HS2 to be a waste of money , these events actually show how we can't keep depending on old infrastructure on a patch and mend basis and in fact need modern 21St Century lines like HS2 which can be built to avoid risks of flooding or collapse through age.

The line at Dawlish produces a conundrum given the best solution would be to build false tunnel around the railway to protect it from sea damage but then on hot summers days tourists would not get the view the line provides !

This incident shows that an inland route is needed but not necessarily a reopened old line but a new line built for today's market and may even to High Speed standards to allow faster journeys to the south west peninsula and electrified for new inter city trains.

The line at Dawlish looks like it should be more a heritage line .

In fact I use C2C which is a similar line with running next to the Thames Estuary between Leigh-On-Sea and Westcliffe .



For those who do not know the area, the old line ran from Okehampton via Lydford and Tavistock to rejoin the network at Bere Alston. This is a most tortuous route even for this area, all because of a large chunk of granite called Dartmoor, which is of course why Brunel took the coast route.

It is ridiculous bring HS2 in to the Dawlish debate. So HS2 will not directly assist transport in the West Country. But it will help move people between London and the Midlands, and help get freight off the roads in that area. Under investment in the West Country is common, we are used to it. But moaning about something that is good for the country will not help our cause, which is to prove our own case for improved transport here. My feeling is rebuild the sea wall to a higher standard to make it more resilient, and make a couple of serpentine groynes to filter the waves. We need the sea wall to protect Dawlish anyway, so keep the line along the top as it's far cheaper than making a completely new line inland. The sea wall also protects the nature reserve at Dawlish Warren too, so keeping it to a higher standard should get the backing of the nature lovers too. Once the line is open, then is the time to look at an alternative route, the best option in my opinion is Exeter to Plymouth via Okehampton and Bere Alston. The line is only missing between Bere Alston and Meldon Quarry, and there are already plans being bandied around to re-open the line from Bere Alston up to Tavistock. Not as a replacement, but as a useful diversion for freight, a great line for holidaymakers, and as a very useful alternative route into Plymouth. Part of the Waverley Route is being re-opened to trains, and that has not needed the cancellation of HS2 for it to go ahead. So there is a precedent for putting right some wrongs of the 1960's when there is a good business case.

Has Peter Chegwyn been within 100 miles of Okehampton. If he had then he would realise why that route was closed by Beeching. There is no way it can be turned into a main line route without major surgery to the countryside, it being too twisty even for a branch line. Making a modern main line route via Okehampton (to where, certainly not Newton Abbot) is venturing into the wilds of Dartmoor. Maybe a route could be found to Plymouth, but where would that leave Torquay and Paignton?

I find it disturbing that Railnews puts up one rather poor article about the closure of one of the UK's main rail routes, and fails to keep it updated (last I saw it still stated that the line may be closed for one day. RN then only reports back on the situation when HS2 is involved. And even then the emphasis is on the fact that HS2 is being dragged into the debate rather than the not insignificant matter that an area with a population of a million people has just lost their train service for several weeks/months.

HS2 is vital for the future economy of the UK. The GWML is vital for the current and future economy of the Southwest. There is a world outside of London you know.

So many British wights are determined to be stick-in-the-mud Luddites, nimbys, navel-gazers. Is it perhaps a national characteristic among lots of us, this total lack of imagination, drive, vision for the future. Thank goodness the Government, (amazingly,) is determined to press ahead with this railway as a means to relieve future congestion on our existing lines. With every bleat from those opposed to HS2, (and almost everything actually,) it becomes clearer and clearer that they are simply microscopically minded!!

If the closure of the Dawlish line for two months could cost over £1billions, far from disproving the case for HS2, I think this amply demonstrates just how valuable a modern 200mph line the length of the country would be.

Wasn't a very large sum spent on the Dawlish sea wall just two or three years ago to prevent this kind of thing ever happening again?

The fact is that a railway line running along the sea wall is always going to be vulnerable and even spending £42 billion on it won't solve the problem. It was a damned stupid place to build a railway line in the first place, but that's Brunel for you. Call himself an engineer!

Can I add my vote towards the voice of reason and support the logical step of repairing and securing a vital link to the Southwest. It is long overdue and the government ignores this obvious need at its peril. The UK is an island, with a long coastline which is usually totally ignored by the media and government. Hs2 is a vanity project, Cornwall and Somerset's problems are 'in the now' and they are where the money should go to.

I think I'm picking up a pattern here. I would be quite happy to support some sort of alternative route to Dawlish, but that isn't what HS2AA want. They want an alternative route to Dawlish *instead of HS2*. In fact, the same goes for any rail improvement they suggest. They never want improvement X - they always want improvement X instead of HS2.

Which is why the support for committed improvements is either muted or nonexistent. Why no cheerleading from StopHS2 or HS2AA for the Northern Hub? Because that's happening *as well as HS2*. Remember their advert claiming that Midland Mainline electrification wouldn't be going ahead. Well, now that it is going ahead as well as HS2, they can't be bothered to support it any more.

I firmly predict that when the government commits the money for some sort of Dawlish alternative on top of HS2 and CP5 - and they will - HS2AA will suddenly lose all interest. And make no mistake, if HS2 ever was cancelled, HS2AA will probably do a U-turn and call for all the HS2 money - plus the money previous earmarked for the existing network - taken away from rail completely.

I hope rail users and Devon and Cornwall do not fall for this. StopHS2 and HS2AA are no friends of rail passengers.

How typical that after such an incident, all those with a hobby horse instantly wheel it out and attempt to pin their argument upon the events. How many of HS2 Action Alliance's members live in Devon and Cornwall?

I've seen all sorts of knee-jerk courses of action from those who have never previously given the issue a second thought and have no technical understanding whatsoever. Schemes for high-speed lines from Paddington to Plymouth or ten mile tunnels beneath the Haldon Hills, conveniently ignoring the 25,000+ people in Teignbridge who would lose their railway stations, and whose only acknowledgement of cost is the facile comparison to HS2.

There is an urgent need for someone with expertise (not that this counts for much with the tabloid rags) to weigh in with some realistic options about how the service to the South West can be made more robust. In the meantime, allow me to grind my axe a little ;-)

We are reaping the harvest of the disastrous decisions made immediately post-Beeching, to close the LSWR route via Tavistock and Okehampton and to single the Salisbury to Exeter and Yeovil Junction to Castle Cary lines. This has left little or no capability to divert services should their primary route be unavailable. Even before the storms took out the sea wall at Dawlish, the engineering possession that closed Cowley Bridge to Taunton was causing disruption due to the lack of capacity on the aforementioned diversionary route; we all know how much rail passengers love replacement buses! With a diversionary route in place via Okehampton, major works could take place to strengthen and upgrade the sea wall without cutting Torbay, Plymouth and Cornwall off from the rail network.

People who live in the South West have been trying to get the government to recognise the vulnerability of the existing infrastructure for decades, but we all knew they wouldn't act until something serious like this happened.

However HS2 has nothing to do with the issue, HS2 is a special project funded entirely from borrowing. Cancelling HS2 wouldn't free up any money, the treasury would just avoid borrowing the money.

Each project has to stand on it's own feet and the line from Cowley Bridge to Newton Abbot has needed replacing for decades.