Posted 17th May 2013 | 2 Comments
Franchise logjam begins to ease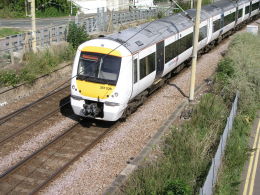 THE FIRST franchise extension – announced in principle in late March – has been confirmed by the Department for Transport with just ten days to spare.
The National Express contract to run c2c between London Fenchurch Street, Tilbury, Southend and Shoeburyness would have expired on 26 May, but will now run until September 2014 at least.
The DfT said 'a long term partner is expected to take over' in September next year, but it has included a buffer zone of eight further railway periods, which could add up to another 32 weeks and take the contract well into 2015. The Department is describing this arrangement as a 'contingency'.
Most franchise dates are being extended after the collapse of the West Coast franchise competition last year. This was followed by a total suspension of the franchising programme to allow an in-depth investigation into what had gone wrong, plus a separate inquiry into how franchising should be managed in future, led by Eurostar chairman Richard Brown. One of his main conclusions was that franchising was 'not broken', but he advised that the Department should not attempt to renew more than three contracts each year.
As a result a new timetable was announced by transport secretary Patrick McLoughlin on 26 March, providing time for the DfT to get its affairs back on track. All the proposed extensions are subject to successful negotiations, and the DfT's own operator Directly Operated Railways remains on standby should any of the discussions fail.
The transport secretary said: "This is a vital step in getting our refranchising programme back on track. It gives the industry time to develop their long term plans for the future franchise and confidence to passengers that services will continue for the next 16 months.
"I am determined to ensure that when we let the long term franchise the operator delivers significant benefits to passengers and taxpayers alike."
c2c managing director Julian Drury added: "As Britain's most punctual and most popular franchise, we're delighted the c2c franchise has been extended. National Express has been operating in the local community for more than a decade, and our customers know how much this service has changed since the days of the Misery Line. Over the next 16 months we aim to maintain our excellent punctuality record while delivering real improvements for passengers at our stations."
The DfT must now turn its attention to the other franchises which, as things stand, will expire fairly soon. First Great Western currently runs only until July this year, but discussions with FirstGroup are focusing on a proposed two-year extension.
First Capital Connect would have ended in September but this contract has been extended for a year, to be replaced by a form of management contract in September 2014.
Virgin Trains gained a new short management contract on Intercity West Coast in December, but at the moment this also expires before the end of the year. The DfT has proposed that this should be replaced by a franchise running until April 2017, but again this is subject to agreement.
Reader Comments:
Views expressed in submitted comments are that of the author, and not necessarily shared by Railnews.
As a regular user of C2C I know well this franchise is run and although it looks like a little railway on The National Map it still manages to handle complex flows of passengers which unlike most commuter lines are often commuting in the opposite direction to the main flow to/from London.

In addition despite being a two track line on its main route it still manages to operate Fast, Semi Fast and Stopping services with different pattens. In fact this mixture provides regular commuters with the fun at a west Ham where passengers run up the stairs and jump on a train and find the next stop is Basildon and they were only going 1 stop to Barking!
Trains also have additional routes via Barking to Grays and Upminster to Pitseavand beyond. In fact an oddity is that trains going to London via Tilbury are shown with final destination while those leaving London are shown with Stanford-Le-Hope as their destination despite going on to Southend or Shoeburyness !

As for the trains which are now middle aged the major difference in peak and off peak services makes the likely hood of additional trains unlikely. One possibility which could build the case for GOBLIN wiring would be to extend the Overground to Grays and use the trains used on Fenchurch Street to Grays service for a new service via Grays to Pitsea or with the new port re-open Tilbury Riverside or build a tunnel to Kent!

The reliability of these trains would make their replacement difficult unless extra trains were offered to cope with growth and allow more 12 and 8 carriage trains at peak times.

The new port at Shellhaven will increase further the freight trains that use the Tilbury route and are a further justification of GOBLIN wiring as North London Line takes more and longer Overground trains.