Posted 31st January 2013 | 9 Comments
Emergency franchise plans set out by DfT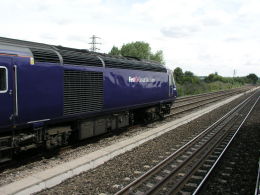 THE DEPARTMENT FOR TRANSPORT has revealed the first stage of its rescue plans for the franchising process, following the publication of the Brown Review. Some contracts are being extended, while the competition for Great Western has been cancelled.
The present Great Western franchise will now run until October, because the DfT has exercised its contractual right to extend the contract by 28 weeks -- or seven railway reporting periods. Negotiations with FirstGroup for an additional two-year contract on a 'single bidder' basis will now start.
Two other competitions, for Essex Thameside and Thameslink, will be resumed where they left off, but once again emergency short contracts lasting up to two years are to be negotiated with National Express and FirstGroup.
The present First Capital Connect franchise will also be extended by 28 weeks from its previous termination date of September this year, so that its next two year contract, if agreed, would start in spring 2014.
The DfT said its company Directly Operated Railways is standing by to take over if any negotiations fail, while longer-term proposals for all outstanding franchises will be announced by the DfT in the spring.
Transport secretary Patrick McLoughlin said: "These plans mark an important step on the way to restarting the franchising programme, and while I am determined this should happen as quickly as possible we do need time to get this right.
"We have had to take some tough decisions regarding franchising, and while they may provide a challenge in the short term, I believe the lessons we have learnt will help deliver a more robust system in the future benefitting fare payers and taxpayers alike. As always our priority is to ensure these changes will not impact on services or our commitment to improving the railways."
Speaking to Railnews just after the announcement had been made, FirstGroup's managing director of UK Rail, Vernon Barker, said First would continue to work with the DfT on the various upgrades which are taking place on Thameslink and First Great Western, such as the reconstruction of London Bridge and Reading stations, and electrification to Oxford, Newbury and South Wales.
He also welcomed the opportunity of maintaining continuity for the time being, and said other innovations would continue where possible.
However, it appears that franchise bidders will lose out to some extent, because the DfT does not intend to reimburse the costs of preparing bids which were in progress before all franchising was suspended in October.
The DfT said: 'In keeping with the relevant invitations to tender, which made clear that bidders are responsible for their own costs, the Secretary of State does not believe it would be appropriate to reimburse bidders.'
Vernon Barker said: "We will sit back and take a view on that."
Reader Comments:
Views expressed in submitted comments are that of the author, and not necessarily shared by Railnews.
I am disappointed that the process will not be more transparent; a 'business deal ' on behalf of the people of the United Kingdom should never be veiled over live on TV by a minister, who seems to think it appropriate to claim that the inner workings of a deal are 'confidential'. There is zero trust in the franchising process, and every opportunity for errors and a high opportunity and possibility for corruption. IT MUST GO.

FGW's contract was due to finish March anyway with the extension being optional so it wasn't really an escape route and I do think FGW get too much stick from people - if anything the DfT are to blame for many of their problems such as not allowing them to lease extra train sets etc which resulted in First actually buying their own HST sets!

First Group Western is not as bad as people here make out. I use it regularly, and I know I'm not going to get a seat from Reading to London, but thats not really their fault. In Reading we don't even read the Timetables to London as we have over 200 trains a day. I can't see how you could squash any more paths in. We already have considerable congestion at both sides of the station (hopefully to be resolved soon by the new track and flyovers). First Group may have a bonus on the Great Western Franchise but they lost out considerably on the WCML.

Worst Great Western ( First Group ) are laughing all the way to the bank. Ducked out of the 800 Million repayment back to the Treasury by triggering the March 2013 escape clause and will now get rewarded with a ' Management Contract ' as a trophy for this failure. If the Dft had any sense they would run this franchise themselves just like the East Coast Railway as with impending electrification , Crossrail , IEP etc Worst Great western will take the Dft to the Cleaners with Compensation Payments for lack of trainpaths etc. The next fiasco is in the making.

Time to scrap the franchise system altogether and move to an open access system. Have real competition between operating companies by letting them operate exactly the same routes just at different times. They would bid for access at certain times and the best bid would get to run that train for a few years. Standard fares would be fixed and allow travel on any operator, advance fares would be unregulated and only transferable when the train is too late or cancelled.
Services which need to be subsidies would be open to tender, the lowest subsidy bid would win.


So we are resuming buisness as usual with a few technical ajustments here and there , am i alone in thinking it was a massive and expensive over reaction by the DFT to cancel the whole process in the first place .perhaps the lucrative world of lawyers and procedure jumped in a it too early on this one

It's not Fitst Group or indeed any other private company fault that DFT who set the rules does not know how to do the job.

While Bob Crows call for a nationalised BR is not the solution an arms length body like BR to run railways free of DFT with experts in contracting would be better than using civil servants that come and go like trains at Clapham Junction!

a 2 year extension for First Group on the Great Western Franchise? so First Group get to run the rail franchise to the date they were supposed to without having to cough up the millions in back ended premiums? I think National Express could have grounds for legal action after all isn't that a similar situation to East Coast?

Perhaps the franchise bidders should simply boycott and future offers from DFT until they are re-imbursed for money lost when earlier bids were cancelled given the fault lies with them!

And with the next election fast approaching the prospect of an incoming Labour Government with DOR looking liKe a ready made BR should focus the Tories !