Posted 4th September 2012 | 1 Comment
Emergency West Coast debate refused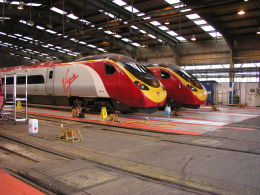 A CALL for an emergency Commons debate on the growing West Coast crisis has been refused, although Liberal Democrat president Tim Farron said the announcement of the award of the franchise to FirstGroup while MPs were on their summer recess was 'unfair and unacceptable'.
The Government has now admitted that it cannot sign off the contract with FirstGroup as the result of the legal challenge which Virgin launched on 28 August, and that the competition is still 'live' as a result. No one can say how long the process might be delayed.
If Virgin did win its case, the court could declare the Intercity West Coast contest flawed and therefore void, although the official position is understood to be that the handover is still set to take place on 9 December.
Westmorland and Lonsdale MP Tim Farron said: "There has not been the opportunity for full and proper scrutiny of the process and decision". He had already called for a Commons debate on the matter when an online e-Petition opposing the award of the £5.5 billion contract to First had attracted 150,000 signatures.
An urgent debate can be called at short notice in the House of Commons on a subject of a 'specific and important matter that should have urgent consideration'. The Speaker usually grants no more than one or two a year and limits them to matters of national importance. They take place within 24 hours.
Mr Farron argued that the West Coast crisis qualified for such a debate. He said: "Announcing the franchise decision in the recess when MPs are not in Westminster and not able to properly hold the Government to account is unfair and unacceptable. There is widespread public support as well as support amongst MPs for a full debate on this issue and it is incredibly important that a decision on this scale is subject to proper scrutiny."
However, Speaker John Bercow turned him down.
Attention will now turn to the High Court, where Virgin lodged papers a week ago. The next step is expected to be a preliminary hearing, which will decide whether a full review is justified.
The Department for Transport has signalled that it is unlikely to comment further for the time being. The last statement from FirstGroup said that its preparations for December were continuing as scheduled.
Reader Comments:
Views expressed in submitted comments are that of the author, and not necessarily shared by Railnews.