Posted 27th August 2012 | No Comments
Labour calls for West Coast signing delay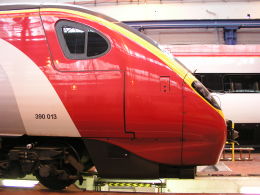 THE LABOUR PARTY has added its voice to the wave of protest about the award of the West Coast franchise to FirstGroup, by calling for the final sign-off to be delayed. The contract was awarded in principle on 15 August and is due to be completed this week, after a 14-day 'cooling-off' period.
The deal is being questioned by losers Virgin as well as two Commons Select Committees, while more than 130,000 people have signed a public e-Petition calling for the matter to be debated by the House of Commons.
Louise Ellman, who chairs the Transport Committee, has already called for the completion of the contract to be suspended while her Committee holds an inquiry into whether First's bid was too optimistic.
Her colleague leading the Public Accounts Committee, Margaret Hodge, has stopped short of recommending that the contract should not be completed, but wants to examine the Department for Transport's procedures as well as monitor the progress of the new franchise in due course.
Now Labour has joined Virgin and the Transport Committee, as well as the supporters of the e-Petition, by urging the DfT not to complete the deal until Parliament has had a chance to review it.
Richard Branson, who described the franchise letting process as 'insanity' after FirstGroup's victory was announced, has now offered to run West Coast temporarily on a not-for-profit basis to allow time for the proposed contract to be reconsidered.
FirstGroup has continued to defend its proposals, which include the payment of £5.5 billion-worth of premiums at net present value over 13 years and four months, and said that its predictions are realistic and achievable. Vernon Barker, the managing director of FirstGroup Rail, told Railnews that he considered Virgin's interventions and criticisms 'outrageous', because they had caused West Coast staff needless concern about their jobs.