Posted 3rd September 2012 | No Comments
War of words intensifies over West Coast bids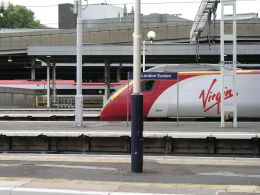 FIRSTGROUP is carrying on with preparations to take over the Intercity West Coast franchise on 9 December, although Virgin has made an application for the competition to be reviewed by the High Court. The war of words between the Department for Transport and Virgin has been intensifying, with the various parties involved disagreeing about when Virgin first raised doubts about the way the DfT assesses bids.

The DfT has maintained that Virgin only sounded a warning when it appeared that First was the favourite. A spokesman said: "It is only in the past few weeks that one of the losing bidders has begun complaining that the process itself was flawed. We note that none of the other successful bidders are complaining."
FirstGroup, too, has claimed that Virgin's objections have only emerged recently. The company said: 'We have every confidence in the DfT's process, which is rigorous, detailed and fair ... there has been no complaint about the process, which was carefully described in advance, until Virgin Rail Group had lost commercially.'
However, Virgin Trains chief executive Tony Collins has denied this. He said: "There must be some misunderstanding at DfT. We have had several meetings over the last two or three years where we have expressed our concerns over the bid process, how it [the DfT] evaluates the bids and how it leads to the sort of failures we have seen on East Coast."
"We certainly have dates of meetings, follow-up letters and obviously our notes of what was discussed."
Virgin founder Richard Branson added: "We have to ask: do we want winning franchise bids based just on the bottom line, or do we want innovative ideas taken into account?"
The actual chain of events may be scrutinised in court in due course, assuming that permission is granted for a review. Virgin expects a preliminary hearing to take place within the next week or two.
The DfT is declining to comment about the legal position. A spokesman would only say: "We are confident our process is robust and that the decision was absolutely the right one for taxpayers and passengers. We expect to sign the contract soon."