Posted 26th August 2012 | 9 Comments
Branson offers to run 'free' West Coast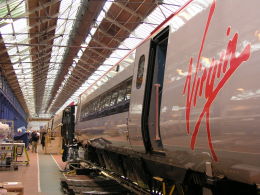 THE GROWING controversy over the award of the Intercity West Coast franchise to FirstGroup has taken a remarkable new turn.
Richard Branson has suggested that Virgin and Stagecoach should run the service on a not for profit basis for a while, so that the proposed contract can be investigated. The idea of postponement has already been greeted coolly by the Department for Transport, which is also facing a separate call from the Commons Transport Committee to put the process on hold.
An ePetition supporting Virgin has now attracted more than 100,000 signatures, which means that the issue is now eligible to be considered as the subject of a Commons debate.
Sir Richard raised the idea of a temporary 'free' extension to his contract, which is due to end on 9 December, in an article for the Sunday Telegraph.
In it, he said: "City analysts, politicians, media commentators and – most importantly – our many loyal customers have seized on this decision as outrageous, unjust and simply wrong.
"It is far better for MPs to have the chance to debate the issues, and question ministers on the detail before the decision is finalised. To assist in this process, there should be an independent audit of the DfT decision to ensure it has been based on correct criteria and reliable forecasting of customer numbers, revenue and payments to Government.
"If this process means extending the current franchise beyond December for a few months, I and my partners at Stagecoach would happily run the extended franchise on a not-for-profit basis, or donate profits to charity. We must ensure that this crucial decision is taken with all the facts correctly assessed and understood."
The DfT is now facing pressure from several directions, including a potential inquiry into its procedures from the Commons Public Accounts Committee. The Transport Committee has gone further. Its chairman Louise Ellman has urged the Department to delay the final sign-off to allow time for an investigation into the robustness of the FirstGroup bid. This involves payments of £5.5 billion in premiums at net present value, topping Virgin's offer by £700 million.
A spokesman for the DfT said: "Our published processes and criteria do not provide for a role in a live procurement exercise for the Transport Select Committee, which has not requested any kind of dialogue on this issue before now."
FirstGroup has dismissed Richard Branson's criticisms as 'hysterical', and maintains that its bid is realistic and achieveable. The company is currently set to sign the new franchise, which will last for at least 13 years and four months, later this week.
Reader Comments:
Views expressed in submitted comments are that of the author, and not necessarily shared by Railnews.
first is absolute disgrace recently they just paid off 200 plus busdrivers in edinburgh , very clearly never has there been a reaction to a train company losing a franchise so maybe the government should do what it is suposed to do and listen to the people , i am a leisure traveller and show a keen interest in railways and have done all my life not a spotter though and i will be honest i avoid travelling with first all they appear to have done is put ticket barriers in at stations creating a very untrusting atmosphere why cant this country go the same as the continent and simply enforce rigourous ticket checks on trains as virgin does and random barrier checks which i have seen the atmosphere at firstgroup stations is certainly enough to put me off travelling with them , virgin at least puts their customers first unlike first!!!!

If Branson wants to remain in the rail business, perhaps he should consider investing in open access along the lines of Grand Central with some First Class only services from the North West to London, running non-stop south of Crewe.

The bottom line is that a lawful bidding process has been agreed and the winner announced. Any alterations will allow FirstGroup to walk away from the deal and get £billions in compensation. Then if the re-bidding process starts again FirstGroup can drop their bid by £699 million. This bid was good for the Taxpayer and should be accepted. The only challenge that can be made is on legal grounds but not for political reasons. The Labour Party knows this very well.

The politicians are nuts if they don't rethink. No wonder UK plc is in such a mess. Branson go boy!

The difference between the 2 bids is approx £50M per year. In terms of big business there is not a lot between the bids. How virgin can claim first group cannot make this work but they can is beyond belief.

Virgin knew the rules of the competition from the start. It is not for them to then question the result when it doesn't go their way. I believe Virgin have over stretched themselves and would have been reliant on Stagecoach coming up with the shortfall to pay the government, and in return Mr Branson would agree to sell part of his share in Virgin trains to Stagecoach making them the majority shareholder. This way Mr Branson would continue to rake in the profits before taking a reduced profit in the later years of the franchise.

In the early years of the franchise when he is still the majority shareholder Virgin trains may be successful in bidding for east coast trains and possibly others. This would mean he could command a higher price for his share in Virgin trains when it came to needing a bail out.

The fact he has been been gazumped by first group has stunned him because he thought that his deal was possibly just beyond deliverable and that nobody else could have matched his bid.

The bottom line is that Branson wants to divert the subsidies from UK government in to his own pockets via Virgin trains and he will do everything he can to prevent the opportunity slipping through his fingers (including using the customer train running information boards at stations to advertise his cause).

I wonder what concessions he will announce before the signing of the franchise agreement on Tuesday, a new station on the moon with reduced fares on his virgin galactic services perhaps?

This Eantrapenuer would have saved the National Lottery years ago if franchise was awarded, by giving a cool 50% of profiots to Hospitals, Charities, and good causes, now he should i believe be given a fair chance, to carry on running a vital rail service in this Country Rail Infrastructure!

Two interesting prospects

1) an opportunity to move to a system whereby ticket sales revenue goes directly to a national rail pot and train operator is contracted to run services for the best value offering additional services and capacity for enhanced payments but all revenue goes to national fares pot - a model like London Buses London Overground and National Express coaches. Eliminates bureaucracy and inflated costs of National Rail Settlement Plan, and we could restore fares like open jaw and other options to fit fare to passenger requirements. In a typical exmaple recently buying a Virgin only fare SOT-MAN practically halved the walk-up fare, and this is not uncommon - check out SVG-PBO for example (FCC only vs all services)

2) On the other hand with First running Glasgow/Edinburgh-Birmingham and Birmingham-London, the option of an 00.00 departure from Glasgow (01.00 Edinburgh) that connects with early trains in Birmingham, and an 01.00 departure from Birmingham, to swap over 2 (Voyager/6 car Pendo) sets could replace the currently unreliable seated accommodation on 10 overnight sleeper trains, and deliver some really useful early arrivals at cities throughout the UK - eg 0600-07.00 at Bristol, 09.00 Plymouth etc, with similar inbound - 09.00 Aberdeen ex London c.23.00

Plus of course an improved policy on cycle carriage to bring the WCML policy officially in line with XC, FGW and TPE, regarding reservations and available spaces would be nice to see. If First are committed to refurbishing then there are a few tweaks that might help there in terms of making the bikes safer and more secure - see videos of useless current designs on Voyagers, which are difficult to use (potentially close to or outside the limits set by HSE manual handling regs) and fail to use the weight of the bikes to hold them stable

Sadly my videos of what happens cannot be put on this note as it rejects URL's

Think he's run out of straws to clutch. The DfT know that any action taken in favour of Virgin/Stagecoach will result in huge legal costs and action from FirstGroup.

Let FirstGroup run it. It will be a lesson to the government that the highest bid is usually the worst choice.

It's not been reported very clearly that FirstGroup's payments will not be equal across the life of the franchise, so when they can't afford it in 7/8 years, they'll hand it back. For example, what property landlord in their right mind allows a tenant to move in for just £5 rent a week, rising to £195 rent at the end of their tenancy?