Posted 15th August 2012 | 11 Comments
FirstGroup revealed as biggest West Coast bidder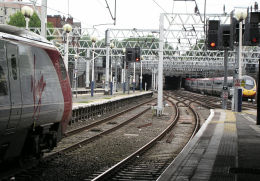 IT HAS BEEN confirmed that winning West Coast franchise bidder FirstGroup offered the DfT £700 million more than the runner up Virgin Rail Group, 49 per cent of which is owned by Stagecoach.
The Department for Transport has been accused of 'insanity' by Virgin founder Richard Branson, while Stagecoach warned that the new West Coast contract places more risk on the franchise holder.
Sir Richard reacted to the news by bitterly criticising the DfT's methods of awarding rail franchises, and said it was unlikely that Virgin would bid for any more contracts.
Virgin's partner Stagecoach Group said it was also disappointed at the outcome, and raised further concerns about the viability of the £5.5 billion deal signed by FirstGroup. Stagecoach revealed that the bid for West Coast from Virgin had been worth £4.8 billion at net present value for the core franchise period and £5.8 billion including the potential extension, which would take the 13 year four month contract to 15 years.
In a statement to the Stock Exchange, Stagecoach warned that the new contract posed more risk for the operator, partly because it was longer, but also because the 'cap and collar' revenue protection arrangements have been replaced by a GDP sharing mechanism, in which forecast revenues are linked to the predicted Gross Domestic Product in future years.
The company said it considered that this 'increased the risk borne by the train operating company in respect of revenue falling short of the expectations reflected in the bid'.
Other negative factors highlighted by Stagecoach include more economic uncertainty in the country as a whole, as well as a requirement for more financial guarantees.
The company added: 'Stagecoach and its joint venture partner, Virgin, were both committed to Virgin Rail Group winning the new franchise but only on terms that resulted in an acceptable risk-reward profile and which would add value to the partners' shareholders. We understand that Virgin Rail Group was the Department for Transport's second choice bidder and that the reason it failed to secure the new franchise was because another bidder contracted to pay significantly higher premium payments to the DfT.'
Stagecoach chief executive Sir Brian Souter said: "Virgin Rail Group has revolutionised train travel on the West Coast Main Line. I am bitterly disappointed that Virgin Rail Group has been unsuccessful in its bid for the new West Coast rail franchise. After 15 years, it is difficult to imagine a West Coast rail service without the Virgin brand.
"I would like to thank all those that have been involved in delivering the Virgin vision over that time and all those that contributed to the strong bid for the new franchise. The outcome is a blow to all of those people. Stagecoach will now continue to assess other franchise opportunities and, where appropriate, will work in conjunction with its Virgin partner."
There had been suggestions that hundreds of jobs could be at risk on West Coast, partly because it was predicted that FirstGroup would reduce on-board catering services. This was denied by the company today, when the new managing director of First West Coast, Richard Parry, rejected claims that he was planning to remove the on-board shops and replace them with more seats.
Even so, unions have been sounding warnings about the effect of today's news. Bob Crow of the RMT said: "We are seeking urgent and cast iron guarantees from First West Coast that all our members' jobs are safe and they should be under no illusions that any attack on the staff will be met with a ballot for industrial action."
Meanwhile, TSSA leader Manuel Cortes warned that rail passengers would have to 'pay the price'. He said: "This crazy franchise lottery, where the highest bidder scoops the pot, means that passengers will have to pay inflation busting fares increases on the busiest line in the UK for the next 14 years.
"That is the only way that FirstGroup will be able to pay their annual £400 million premium to George Osborne as well as
rewarding their shareholders with profits."
Reader Comments:
Views expressed in submitted comments are that of the author, and not necessarily shared by Railnews.
It would be nice to know if First have done their WCML homework on the number of 1st Class seats on the 9 car Pendolino trains; under Virgin there were 145 spread over 4 carriages. However there were complaints a lot of these seats were unused, whilst people paying standard fares were subjected to Cattle Class conditions.

If one coach (G) was converted from 1st Class to Standard Class, this would remove 44 (empty) 1st Class seats and provide at least an additional 74 Standard Class.
Combined with the additional 150 Standard Class seats arising from the lengthening of Pendolinos from 9 to 11 carriages, this would provide 518 Standard Class and 99 1st Class seats per 11 car train.

This compares with Virgin's 294 / 145 split on their existing 9 car trains.

Given all the negative comments by Virgins partner Stagecoach one wonders why they put in a bid in the first place!!

Seems Stagecoach have fallen victim to railway robbery!!

Perhaps First might make it possible for more people to sample Pendolino travel with fares that dont run into hundreds of pounds?

A suppose Branson could introduce London to Birmingham flights?

If First want to make an early impression, they must confirm that more Pendolino coaches will be immediately ordered from Alstom, so that every train can be ultimately lengthened to 11-cars. Also, electric power cars inserted into every Voyager set, in order for them to run as bi-mode to those destinations away from the OHLE, such as North Wales and Telford.

Do Virgin still operate the 'pretendolino'? If so, I hope first keep it as the space inside is second to none and they could use it to replace the real pendolino's when they are getting their interior re-fit and exterior painting.



Already First have said they will replace all the seats on the Pendolinos. Over here in Oxford, ridiculous excessively high-backed seats at minimal pitch have turned the spacious and airy Mk3 coach in to a very claustrophobic experience, even for the one hour trip to London. It's almost unbearable to imagine what First might therefore convert travel inside an already cramped Pendolino in to, and where journeys can be up to 5 hours in duration.

£700 million is a lot of money over Virgin's offer. However the Rail Industry's financing is not fit for purpose. At the top Governments pour in £5 billion every year along with overpriced rail fares, and then everyone in the Industry siphons it out right to the bottom where the RMT gets its share by constant strike threats. And absolutely no-one is happy. I would suggest getting rid of all Government involvement and set the British Rail system up along the lines of John Lewis. If all of the employees work hard then they get a 15 - 20% salary bonus at the end of the year. The new board can franchise any line out that it wishes to (or not). If the Board thinks that a new line or improvement is justified then it should be able to borrow the money needed on the open market.

And according to BBC News just now, FirstGroup shares have *shrunk* 7% following the news that the contract was won. First's overbidding seems to have screwed passengers, staff *and* their shareholders. That's impressive incompetence.

Threatening industrial action already? Bob Crow of the RMT needs to change the record. Despite all the investment that has taken place and the planned investment for electrification he still harps on with his negative propaganda.

It's time he stood aside and allowed a younger more positive person to lead and progress his party, he is living in the past and people are fed up with it. The railway has been an easy target for too long now and the British public are led to believe that the service they receive is poor when in fact it is a very reliable professional service with many workers doing a sterling job day in day out facing customers who feel its their right to abuse staff when incidents (often outwith the railways control) occur.

Will he come back in a few years when the franchise has been deemed a success and tell us he got it wrong?, don't hold your breath!

This deal is good for the customer, first group and the British taxpayer.



Virgin revolutionised the west coast and brought services into the 21st century with tilting trains, why did the government stop them from doing their own maintenance(OHLE & PWAY) this surely would of improved the west coast even further, sad loss for the railway I hope it comes back to bite the government

At last,the inmates have taken over the Asylum!