Posted 15th July 2012 | 19 Comments
Transport secretary confirms £9bn rail investment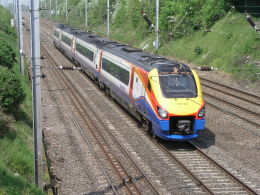 Electrification of the Midland Main Line is said to be at the top of the agenda. This diesel train is travelling south of Bedford, where the MML is already electrified
THE TRANSPORT SECRETARY Justine Greening has confirmed a programme of rail investment worth £9 billion, including £4.2 billion of new spending. Electrification of the Midland Main Line north of Bedford is understood to be top of the agenda, at a cost of £500 million.
A detailed announcement is to be made by David Cameron and Nick Clegg at a business meeting in the Midlands later this morning.
The southern section of the MML between London and Bedford has been electrified for 30 years, and it is now thought that the wires are set to be extended to Derby, Nottingham and Sheffield. The Kettering-Corby line is also a likely candidate.
Less certain, but still on the table, is the Erewash Valley route running east of Derby, and also the links north of Sheffield to Leeds and Doncaster, where connections would be made with the existing electrified network.
Electrification is also expected to be extended in South Wales, from Cardiff to Swansea, while the local Valley Lines which mainly radiate from Cardiff are a strong contender as well.
The DfT is also expected to confirm the plan to reopen the rest of the former 'Varsity' route west of Bedford, allowing trains to run from Oxford to Bedford, Aylesbury and Milton Keynes. When Milton Keynes Central was remodelled recently, a new bay platform was built to cater for future Oxford services.
Electrification could be set to go still further in the longer term, with Derby-Birmingham, Bristol-Bromsgrove and Bristol-Exeter-Plymouth also said to be under consideration – although not expected to be announced today. Completion of these schemes would mean that the majority of the CrossCountry network would be electrified and give fresh impetus to the eVoyager programme, which would add a pantograph car to most of the CrossCountry sets, converting them into bi-modal units.
If eVoyager is approved and the Midland Main Line is electrified, the similar Meridians on the MML would also be strong candidates for a bi-modal or even complete conversion to electric traction, allowing their underfloor diesel engines to be removed and so reducing their weight.
But the Government still has several major rail decisions to make, particularly about new rolling stock. Both the Intercity Express and Thameslink procurement programmes are running well behind schedule, and repeated official assurances that financial close is imminent have so far come to nothing.
Reader Comments:
Views expressed in submitted comments are that of the author, and not necessarily shared by Railnews.
1. Such a large wiring programme from the politicians makes me doubt - will they really let it happen? So many things can happ
en to stop it, from a new Transport Secretary being brought in, to the having of second thoughts, and the possibility of a new Government well before the wiring is complete, (which will bring one of those awful Government "Reviews" - and more delay.) I shall believe it when I see it! However we will hope.
2. No problem with dualling SW Trains units anyway, the ones used on Southampton lines, they already have a roof well to accommodate a pantograph. But do not spend vast monies converting 3rd rail areas generally until unelectrified areas elsewhere in the UK have been wired; other places need the benefits of wires, whereas the SE has had electric trains for decades!!
3. Tilting Pendolinos are a must for the Midland Main Line because of that line's very many curves. But they would be acceptable only if they were properly laid out internally, with better seat spacing and proper seat alignment with the windows.

I agree that Bombardier Derby do a lot more than merely assemble trains from "knock-down" kits. However, I also understand that they do have to import various components from around Europe (e.g. bogies from Sweden or Germany and aluminium extrusions for bodyshells from Switzerland), so it would be interesting to know WHAT EXACTLY they do manufacture at Derby besides the bodyshells

Regarding the programme of rail investment, i just want to say the following.

Ossett railway station closed 1964.

Ossett is now one of the largest town's in Britain without a railway station.

Could some of this funding go into the ATOC: Connecting Communities Expanding Access To The Rail Network initiative to bring the railways back to communities like Ossett where it is greatly needed?

@Michael

"or Bombarier, who will only do the finishing touches in Derby"

Wrong, Michael, wrong. Do you know what "design" means?

Bombardier DESIGN trains in Derby. They do not arrive like flat packed furniture from Germany or Canada. In Derby we do the engineering: prepare and submit the bid, design the train from scratch, do the calculations, the simulations etc, liase with the customer. Then we build the trains, type test, routine test each one, commision etc etc.

That's before we get onto project managment, procurement, finance, legal...

This takes thousands of jobs, including white collar, graduates and so on.



@ Peter Davidson, Alderley Edge, NW.England
Unfortunately, it is not so clear cut - the headline figure of £9B includes existing funding for projects carrying over from CP4. The £4.2B of new funds is for CP5, is not fully committed, and is down on the average for CP4.

@Robert Peffers, Kelty
The level of investment in Scottish railways is not justified by the level of ridership. It is had to justify any of the major investments north of the boarder on any financial model.

Given the age of the Voyagers, and the time that the modified vehicles could enter service, it is unlikely that the eVoyager program can be justified . It would probably be more beneficial to procure new, current design, purpose built vehicles.

The long term plan (up to 30 years) is to swap out the third-rail systems in the south with OHL - the proposals for Southampton to Basingstoke are for the SFN.

What is missing is the re-work of the SWML for increased capacity - the original plans would have cost about £2B, but the fund allocation seems to indicate that this program has been significantly cut-back. Perhaps this is due to a change of thinking around Crossrail 2, but I see no mention of that now.

Also, no funding for the BML, nor of proposals to shift London outer urban to London Overground which would require additional funding given what has been proposed.

So all has stalled on the parts of the network that are most in need of attention, in favour, in part, of political gerrymandering to the provinces - again.


@julie
a British Rail Company? BR ceased to exist under the tory's in the 1990's.
The Only companies that 'Assemble' trainsets from component parts are all non-UK. Yes Bombardier (a German/Canadian Company) assembles in Derby but by no definition of the term, is it a British Company!
The Best Trains imo are the German ICE4 and Chinese CHR380's, but doubtful we will get such 'Quality' trainsets in the UK.
We will either get Hitachi - assembled and maintance in UK providing 1000's of jobs, or Bombarier, who will only do the finishing touches in Derby as the infrastructure there is a lingering legacy of the 18th and 19th Century!
So making generalised uninformed comments about British MADE trainsets in the UK, they do not exist and the world has left us so far behind that even if the ATOC's did create one - it would be decades out of date on technology.

Please don't buy Pendolinos for MML or any other. They are claustrophobic and have poor vision from many seats. We are not all business travellers.

PeterR, Portsmouth The present plan for the Greenford branch is to build a turn back at West Ealing and remove it from Paddington Station. In reality this branch could form a basis of a West London Tram/Light Rail network like the DLr or Tramlink but we know what happened when former Mayor Ken proposed a West London tram although that was largely street based.

One thought is perhaps it could form a London Tram/Train Line!!

It would be interesting to know if any closed or freight only lines in West London could be used to build a network similar to that in Docklands and far less cost than the fantasy scheme costing billions of pounds recently suggested!!!

hopefully the Southampton to Basingstoke under wires with increased linespeed will reduce travelling times on the Weymouth - Waterloo. This has to be one of the slowest long distance lines in the country. Thankfully Class 444/450 fleet have the provision to be converted to ac or dual voltage units.

Good news all round! However the procurement of new rolling stock for Thameslink is now so far behind, that the North West electrification will be completed long before any cascaded Class 319s will be available. Perhaps the Government will now consider ordering some additional Class 350s for use by Northern.

One wonders if this £9 Billion investment in England & Wales will generate positive Barnett Consequentials in the Scottish and N.I, block grants? We really need to ask these days since we found out the UK government had cheated Scotland out of Barnett Consequentials by funding the New London Sewerage System from Government Reserves, that don't generate Barnett Consequentials, rather than by the more usual funding from DEFRA. Is it any wonder that when they try to tell us, "Stronger Together", and, "Better Together", the Scots now asy, "Indeed so, but who is stronger and who is better, England or Scotland

I find David Cameron's comment that it's the "biggest modernisation of our railways since the Victorian era" a gross overstatement. The biggest modernisation came in the 1960s when we ditched steam and converted to diesel/electric traction.

It is due to Tory underinvestment in the 1980s that we have 2 main intercity railways (GWR and MML) that are still not electrified. Only now has the government started the ball rolling to catch up.

Despite this, I'm pleased it's happening. MML, GWR, and including the Varsity line AND cross-country links to Southampton for freight will improve sustainability for the railway that is cheaper to run and less reliant on fossil fuels and fluctuating diesel prices.

Some odd 'missing links' eg Sheffield to Doncaster / Wakefield, which would add significant connectivity to the 'electric spine'. The maps do not show the Greenford branch in London as included, whilst the other FGW branches to Windsor, Henley and Marlow are.

The electrification of the 'spine' is interesting since this appears to involve rewiring of the SWML between Basingstoke and Southampton with OHL. This is highlighted in the HLOS as a 'pilot' for the OHL rewiring of the 3rd rail network. But between Basingstoke and Southampton, an initial reading suggests that the 3rd rail will be removed once the OHL is in place. Surely this cannot be - for otherwise how would this work with the existing 3rd rail fleet and routes such as Waterloo - Weymouth where the initial OHL section will only be a small part of the overall route?

Great news for the railways and the rail industry - my (somewhat cynical?) response is to ask when Christian Wolmar (allegedly one of the UK's leading transport commentators) is going to issue a full and unequivocal retraction of his grossly erroneous claims concerning HS2 funding. ie. the centrepiece of continued negativity towards HS2 revolving around his assertion that HS2's headline budget would necessarily divert funding from the classic line network.

This announcement, covering the 2014-2019 control period and therefore overlapping HS2 by at least three years from its projected 2016 start date, has finally eviscerated that bogus claim, once and for all.

Electrification of the MML is something that had it be done sooner would have meant much of the problems of "bussing passsengers" during the WCML could have been avoded.

In fact the best place to start could be the Bedford to Bletchley line which could provide an electrified link between MML and WCML and even become part of Thameslink providing a useful link for when Euston is re-built for HS2!!

Lets hope that this announcement will also include wiring the Gospel Oak to Barking Line and also remaining sections of non electrified lines in the old Southern Region something that would release many DMUs for use in parts of the country where lack of capacity due to DMU shortages is the main isssue.

Electrification of MML on top of GWR will of course be better VFM once the factory trains arrive as they can get on with wiring on both networks instead of sitting idle if only the GWR was being done.

As for trains then conversion of Maridians and Voyagers to dual mode should be authorised while longer term moving Class 91s from ECML to MML/GWR and their replacement with Pendolinos on ECML would bring about major benefits without the need for the costly Hybrid trains under Inter City Express.

This is very good news.
Let us hope that the contract goes to a British company to benefit British people.