Posted 9th July 2012 | No Comments
New 'deep alliance' to cut electrification costs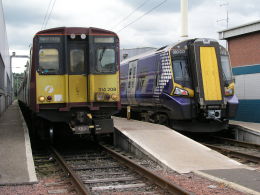 Two generations of ScotRail electric trains are seen at Corkerhill depot, where they are stabled overnight
THE NEXT 'Deep Alliance' between Network Rail and a train operating company is about to be announced, Railnews has learned.
The partnership will link Network Rail and ScotRail, while the long-discussed electrification of the Paisley Canal line in Glasgow also comes as part of the new deal.
The 8km of route between Corkerhill and Paisley Canal will be electrified as the result of a joint investment of £12 million, which is said to be 'significantly down from the original estimate'. The new electric services should start running in December.
The Alliance is the second of its kind, the first having been set up recently between Network Rail and South West Trains.
The alliances were recommended in last year's McNulty report, and are set to reduce costs because they restore a measure of vertical integration which was abandoned when British Rail was privatised in the 1990s.
ScotRail said that the alliance would produce cost savings 'across all aspects of the project', and particularly because the operator has waived its claim to compensation for the disruption caused by electrification, which would previously have been payable by Network Rail.
ScotRail managing director Steve Montgomery is welcoming the agreement. Ahead of tomorrow's full announcement, he said: "This work is set to deliver substantial benefits for customers while driving down costs. The ground breaking alliance is a leaner, more efficient way of working and sets the standard for future rail projects in Scotland."
The Paisley Canal line is already partly electrified, but only so that electric trains can reach Corkerhill depot, which is about half way between Glasgow Central and the terminus at Paisley Canal.
The line once continued to Kilmacolm, but closed entirely to passengers in 1983. Seven years later services were restored from Glasgow as far as Paisley.