Posted 13th July 2012 | 6 Comments
New rail link included in DfT aviation plans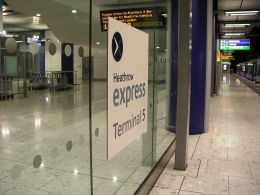 A NEW RAIL LINK to Heathrow Airport has been included in the Government's latest plans for aviation. The proposed line would use a west-facing connection near Slough, which would allow through trains to serve the airport from south Wales and Bristol if a business case could be established.
Transport secretary Justine Greening said the new rail route, which forms part of a newly published consultative Aviation Policy Framework, would be 'subject to a business case and conclusion of agreements with the aviation industry'.
The Government is making up to £500 million available to build the new line, which Ms Greening said would 'cut typically 30 minutes off the journey to Heathrow from the west of England and south Wales, with significant benefits for growing cities like Swindon, Bristol and Cardiff', and could open in 2021.
The proposal will feature in the forthcoming High Level Output Specification for rail, which is due to be published soon.
Other airport rail links are also being introduced or upgraded. Gatwick Airport station is being enlarged, and by the time a £53 million scheme is completed next year the station will have gained new track, better passenger facilities and an additional platform.
Trams are set to reach Edinburgh Airport in 2014 and Manchester Airport in 2016. Crossrail trains should be running to Heathrow about two years after that. In the longer term, the plans for HS2 also include a spur to Heathrow, which has reached the detailed planning stage.
Other links between rail and air are also being considered. Ms Greening said: "We will invite train companies to explore the potential of 'code-sharing' between flights and long-distance train services, to enhance competition between trains and domestic flights."
Although the main aviation consultation will now run until the end of October, more rail details can be expected when HLOS is published. Ms Greening said: "I will shortly publish a rail investment strategy, which will recognise the importance of transport investment to the economy, including improving connectivity between cities and airports."
Reader Comments:
Views expressed in submitted comments are that of the author, and not necessarily shared by Railnews.
The link from Slough to T5 should be backed up by a feasibility study aimed at the completing the integration of the Heathrow terminals into the rail network. This should investigate: extending CrossRail from T5 to Staines and Woking; and extending the Slough T5 link in tunnel, to T4 possibly via the cargo terminal, and thence to Richmond and, under Wandsworth common to the Brighton main line. The cost should be of the order of £2-3 billion. The benefits would be enormous: the whole of southern England would be accessible to Heathrow either directly or with one change of train. New through routes such as Birmingham - Brighton and Cardiff - Ashford by-passing London would be possible. A scheme of this size would be able to include grade separation at those level crossings in SW London which stymied Airtrack. At peak Gatwick has almost 20 northbound services per hour. If the BML were at capacity two of these services could be diverted to Heathrow and beyond.

It is essential that the design for the Slough link should allow for further development on this scale.




This idea perfectly vaild, but is 20 years too late.

Heathrow should have had a 'Heathrow loop' off the GW main line, just to relieve traffic on the M4/M40/M25 corridors. But the Marsham Street mandarins obviously thought there was a better 'business case' in widening the motorways.

I'm sure I'm not the only railway observer that would quickly point out that the Colnbrook branch is already sat there rusting away just to the west of Terminal 5, and could be pretty quickly brought to life to improve Heathrow rail services.

Look how quickly we built that station at Workington North when the floods visited Cumbria a couple of years ago. It was up and running inside a fortnight. Just shows what can be done with focussed minds.

Why not simply start by extending the Heathrow Connect/express service south to new junctions with LSWR allowing Crossrail to be a through service at Heathrow linking to places like Guildford. A line that could be built without level crossings. While Heathrow Express would join the line that already links Reading to Gatwick which would be electrified with both 3rd rail and 25KV overhead allowing a Heathrow to Gatwick service at far less cost than the billions taked about by some people!!

As for Heathrow well why not use RAF base at Northolt for new runways thus spreading the noise of aircraft at least until a long term solution for Londons airports can be agreed by all parties. The new runways could be served by the Central and Piccadilly Line (Uxbridge Branch.). And HS2 in due course, in fact the new location is better sited for HS2 than the current airport!!

HS2 should have 4 tracks (not 2) when trains are south bound they split near the M25 and 2 tracks go to Old Oak Common and on to Euston via two paths. One terminating at Euston and a second that has a subsurface station with west exit at Euston and east exit at Kings X/St Panc with the line joining HS1 at some point in east London.
The other 2 tracks from the North that split at the M25 go to a new station under the front of T5 with terminating platforms and through platforms that carry on taking these double decker Berne Gauge Trainsets on to Gatwick and then joining HS1 in Kent.
The T5/Gatwick should make a rail M25 that has trainsets that also stop at Luton, Stanstead, and eventually the Thames Estuary Airport (when built with not only Int'l runways but orbital runways).
This orbital rail would have branches off to ECML, MML, WCML, GWR, SWrail, Southern to coast etc.
These would have to suffice till we have a government that truly 'invests' in Rail (at the rate China does) and we have a true LGV network of trainsets travelling at 450kph and everywhere in the UK is no greater than 2 hours from anywhere else in the UK (and Ireland).
This would eliminate ALL internal air travel in the UK and between UK/Ireland/near continent.
That would be at least a partial vision of a rail future other than this build it to the needs of a century ago instead of engineering it for the next century!

When the Government finally gets round to working out (or letting us know whats been decided) where the growth in Air Travel is going, then its going to have a great effect on the Railways in this Country. Air Travel is growing fast particularly in countries such as India and China. We need to have their planes and we need to be able to get to these 2 very important countries quickly. If new runways are to be built at Heathrow or Stansted, and the airports of Glasgow, Edinburgh and Birmingham expanded then they will be needed to be served by rail. Perhaps that is what HS2 should be addressing - not used as a West Coast bypass.

There is the missing sense of authority/authorities. Optioneering appears to be a never reach a destination and spend money just torment with what could be.

DFT could bring roads rail and aviation together with capital funding/guarantees.

People are detecting leadership gaps. Investors may lose interest as the uncertainty extends beyond the remaining useful term of this Parliament.