Posted 5th May 2009 | 4 Comments
National Express East Coast 'seeking management contract' – reports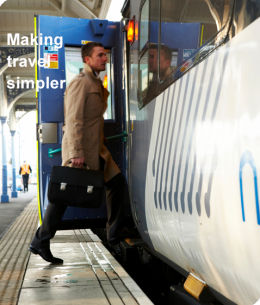 National Express Group
SPECULATION is growing that National Express is seeking to replace its franchise to operate intercity trains on the East Coast Main Line with a management contract to run the services for the Department for Transport.

Concern has been growing for some time that, because of the economic downturn, National Express will be unable to make the large premium payments promised to the government when it won the East Coast franchise after GNER pulled out following its parent company Sea Containers' financial difficulties.

The NXEC franchise deal means it has to pay the Government £1.4 billion over the life of the franchise, with the £87 million due this year and £140 million in 2010.

The DfT and Transport Minister Lord Adonis have steadfastly stated "we do not renegotiate franchises."

But they have not commented on the possibility of ending, or suspending, the franchise and letting its operation as a temporary management contract.

There are precedents for this, including the previous arrangement with Virgin Trains after the collapse of Railtrack put paid to the original deal to upgrade the West Coast Main Line.

Then the Strategic Rail Authority (now disbanded) under the chairmanship of Richard Bowker — who is now chief executive of National Express Group — suspended the franchises for both West Coast and CrossCountry services, but Virgin continued to operate both franchises under management contracts.

Subsequently, a revised franchise for West Coast trains was negotiated with Virgin Rail Group, while the CrossCountry franchise was re-advertised and let to Arriva Trains.

On 3 May The Sunday Times reported that NX had struck a deal with the DfT that would "pave the way for a £400m rights issue and boardroom shake-up at the bus and rail group" which has its annual meeting this week.

The newspaper claimed DfT officials planned to replace the East Coast deal "with a management contract, under which the company would operate the line for a fixed fee. It may then be re-let to a new operator at a later date."

National Express has remained tight lipped since then, saying only: "We do not comment on rumours and speculation."
Reader Comments:
Views expressed in submitted comments are that of the author, and not necessarily shared by Railnews.
The private railway is always branded wrong by many who think our rail network should be state owned... the railway itself IS basically state owned and fails train operators (and passengers) more so than private rolling stock and train operators fails the infrastructure! Take Virgin Trains for example 85% of delays and cancellations are caused by bad infrastructure which is supposed to be "not for profit" maintained. The fact is train operator brand names (ok maybe not ALL but most) are dragged through mud at the expense of failing infrastructure, hats off to any well known train operator brand who is willing to take their chances with the current BAD infrastructure, because you never see Network rail staff at major stations supporting passengers in a customer service sense to explain delays etc, it is ALWAYS the train operators staff who constantly try to help and assist passengers for the failings of Network Rail. And who's name is damaged?.... certainly not Network Rails.

Joel Kosminsky: Providing a rail service is a commercial operation and is subject to the same forces as any other business. Many of the bidders, including Virgin, made the mistake of basing their bids on continuous and stead growth in passenger numbers. The difficulty of allowing for the sharpness of the recession in forecasts is the same for both public and private sectors, so services would be cut weather run by public or private operators. If you have any doubts about the private sector being better suited to providing the service, you only need to look back at the achievements of the last decade. By comparison, while under Government control, the railways were run for the benefit of the rail workers.

Regarding technology: it is modern technology that makes the railways viable, and reasonably affordable.

Well, How many times do we have to see francises go to unrealistic bidders who had absolutley no chance of repaying what they have bid for. Virgin Trains bid for the East coast main line twice only to be out-bid by first of all Gner (Handed the keys back) and then National Express (Handing the keys back)
If you take an impartial view at the bids, The VT bid was good but was also realistic using the knowledge they have of two very successful companys until recently. Ask yourself a question, Which operators have taken a 1960s railway and rolling stock, Pulled it all apart and rebuilt a very successful railway? The political involvement and the DFTs obvious dislike of Virgin Trains is a disgrace.
Speak to us at NAT EX and see who we would dearly like to work for.

Now there's a surprise, another franchise off the rails. How many times does it need spelling out: t-r-a-i-n-s f-o-r p-r-o-f-i-t d-o n-o-t w-o-r-k.... Investing in railways is to develop the system not line absentee landlord pockets. Oh for some guts and some vision (in old technology, my needle's stuck).