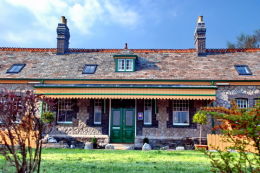 Experience the ultimate in 5 star award winning luxury self catering holiday cottages in Tavistock, Dartmoor, Devon

Back in 1968 the last trains made their journey out of the Station. As the years rolled by the ravages of time took their toll on the empty building, windows were broken, walls became riddled with damp and floors fell away.

In 2007, undeterred by the Station's past, Colin and Jenny Rogers purchased the property. Since then they have been breathing life back into the Station's shell, converting it into three luxurious self-catering holiday homes sleeping 4-6 people.

'We fell in love with the Station on first sight, the building had an air of romance and mysticism but was just crying out to be used once again.'

The Station has been transformed into three houses; the Ticketing Office, the Refreshment Hall and the Porters Office, all appropriately named after their former use.

Each house is furnished in a different style with a mix of high end contemporary and antique furnishings, and decorated with unique art-work.

The Station is grade II listed so the Rogers have retained as much of the former structure as possible. Some of the original features include the wooden ticket panel - where passengers purchased their tickets, the fireplace from the ladies waiting room - now restored and taking pride of place in the lounge of the Refreshment Hall, along with the bread oven workmen un-bricked.

The Station exterior is painted in the 1949 British Rail Southern Railway Company colours of green and stone, the chimney pots are back in place, the huge lanterns are lighting the entrance porch and the beautiful Devon blue slate roof tiles have been repaired. Inside the houses the vaulted ceilings and reinstated dormer windows create a sense of space and cast beams of light into the rooms below.

Guests have the use of their own section of the platform, a perfect place to enjoy an al fresco meal whilst admiring the restored ornate iron pillars and glass canopy. The owners dedication and passion for the building has been recognized by the National Railway Heritage Awards 2011 when they won the Modern Railways Restoration Award.