Posted 21st June 2011 | 12 Comments
Derby job losses were ignored in Thameslink decision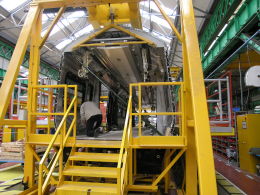 THE GOVERNMENT has admitted that the effects on Derby of awarding the Thameslink contract to Siemens had not been taken into account when the calculations of 'value for money' had been made.
The Treasury said the potential damage to the economy of the East Midlands had not been assessed, claiming that there was no regional 'micro economic data' available.
One Derbyshire MP, Chris Williamson, said he found this admission to be 'absolutely shocking'.
He added: "It shows they were making a decision on this huge contract in the dark without any assessment as to what the impact of this sector on the country's economy is.
"There will be a huge knock-on impact in Derby's local economy and also on the public purse because it will lead to an increase in unemployment and reduced spending power."
The decision to award the £1.5 billion order to Siemens was allowed to emerge on Thursday morning, only 24 hours after the transport secretary had made a keynote speech at the industry exhibition Railtex but had fended off any questions about the Thameslink fleet.
Talks have already been started in Derby involving a task force set up by the leader of Derby City Council, Philip Hickson. He and his colleagues are pressing for a meeting with the Prime Minister.
The Derby and Derbyshire Rail Forum, which represents about 90 rail-related companies, said the rail industry supply sector in the East Midlands was still very much 'open for business', following the award of the Thameslink contract to Siemens.
The Forum said: 'A number of the region's MPs, members of local government and the business community are seeking clarity from the Government on how this decision was made and its potential impact on our region. The DDRF Executive is working closely with these groups.
'Despite this worrying news the DDRF Executive believes that there still remain significant opportunities for members of the world's largest rail cluster to win new business – whether that be in the UK or overseas, among existing customers or in new markets. For those in the rolling stock supply chain there is approximately £300 million worth of business to be won refurbishing existing UK fleets.
'As well as working with our members to help them win this work we will be approaching Siemens to see what opportunities there may be for members to sell their services and products into the new Thameslink fleet.'
Reader Comments:
Views expressed in submitted comments are that of the author, and not necessarily shared by Railnews.
Are people really that naive to believe that because a German company won the contract, they must be employing German people to work in the UK???? Would Bombardier then only employ french-canadians to work here if they won it? The fact is, Bombardier are not very good at delivering a quality product on-time or even at a competitive price. Siemens can, which is probably why they were awarded the contract. Not to mention that the jobs in Derby were already going to be cut, regardless if they won or not. It should be the commuter who is put first, as they are the ones paying the money to travel every day. I'm sure they would be over the moon to be paying top dollar for a ticket, but then to be told that the new trains are going to be delayed by 2 years.

I do not work in the rail industry but my great grandfather did and in Derby and I am appalled by the smug attitude of our transport polititians, they should have thought of the unemployment situation for these very skilled workers. I agree what sort of people are running this country and isn't it time they were made more accountable for their decisions. How can the misery of all these workers be measured and their special skills will now be going to waste. The prime minister visited Derby recently and praised manufacturing industries which should be B.ritish

Cancel the existing Thameslink contract completely. Start again. It is time the UK started looking after it's own national interest. There are plenty of countries that do not have any manufacturing industry where a free market can prevail. Countries that do have manufacturing industry need a strong home market in order to export to countries without such industry.

i managed to work out the impact to the ecomomy quite quickly. With the supply chain effected and 15000 job losses it would cost over 90 million pounds. This is based on an average loss of £200 per month lost in tax and national insurance and paying jobseekers allowance per person over a year .Some people wont be claiming for a year but some will be able to claim above the minimum. Frightening isn't it especially when this is supposed to best for the taxpayer. What a bunch of bloody incompetents we have running the country,

The government speaks about work for the British worker and then puts 3,0000 men and women out of work, then gives the work to the Germans too!!!!! These works have survived against all the odds and are our last link to an industry that we created. They tell lie after lie. Same old, same old Tory lies with a bit of help from the Lib Dems. They disgust me .Throw them out quickly we can do without them.

Someone I was speaking to recently said he was being approached to go and work on this project in Germany as Siemens didn't have enough experienced train- or aircraft-fitters available for the scale of work, he reckoned it would be lucrative enough to seal his retirement plans.

What a bunch of clowns we have "running" the country. They can't see further than the ends of their noses! How about U-turn on this decision? After all, they've made plenty of others recently.

What makes this more of a joke is that majority of money for TMSL
Was due to come from the private sector

The biggest issue we have is that these idiotic
Politicians like Hammond and co have such a say
In our rail system

I am of the view more ownership should be put on the
Roscos to work to pre agreed service level requirement

I have worked for both Alstom and BT over the years and I guess
Like other UK industries have seen them destroyed mainly due
To these muppets we have in office.

It's a sad state of affairs, however may be Hammond and co
Can do a deal with sncf, db, csr etc wherby they give us
Their contracts over the coming years.

I really do feel for the guys in derby,
Perhaps they can all train to be plumbers or software
guys, then again perhaps they can look to the
Public sector







These are so called people who are qualified to run this country and they have not even considered the knock on effect to all tier levels the suppliers use.
Germany and France keep 95-97% of all large contracts in house and only use subcontractors in there own country.
Lets face it our government can not even keep promises they make unless it lines their own pockets. Proud of their own country and people they state when Obama came over I don\'t think so.

Trev. Birmingham


No other country would do this. France, Germany, Japan, USA, none of them. The UK government are clueless.

"No data available" - appalling excuse. What data do you need apart from that widely available, but sadly not used enough resource of COMMON SENSE? You don't need a degree in economics to see the impact the decsion would have.

In view of the job loss in Derby due to Siemens being the prefered bidder the tender can be split between the two or in view of the huge contract Siemens can give a portion as subcontract to Bombardier