Posted 16th June 2011 | 29 Comments
Siemens Thameslink deal 'will create 2000 jobs'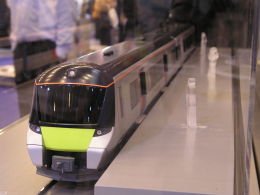 SIEMENS has won a contract worth some £1.5 billion to build the new Thameslink fleet, after fending off competitor Bombardier to be named as preferred bidder. Siemens said the project would create up to 2,000 jobs in the supply chain.
The Derby and Derbyshire Rail Forum is shrugging off the loss of the business to Derby-based Bombardier, saying that the Derby rail sector would 'remain very much in business'. Bombardier itself has yet to comment.
Rail minister Theresa Villiers said: "The announcement of Siemens as preferred bidder for this contract represents the best value for money for taxpayers. It will create around 2,000 new jobs and will provide Thameslink passengers with modern, greener and more reliable trains.
"The new trains are a major part of the Government's commitment to introduce an additional 2,100 carriages on to the rail network by 2019. Once the new trains are delivered, current Thameslink rolling stock becomes available to improve rail services in the North West of England, the Thames Valley and other areas yet to be confirmed."
There had been high hopes that the contract, involving up to 1,200 new vehicles, would be awarded to Bombardier. But the decision to choose a preferred bidder had been deferred several times by the Department for Transport, with the two shortlisted contenders making their best and final bids in January this year.
Siemens managing director for rolling stock in the UK, Steve Scrimshaw, said he was delighted. He added: "Our selection is a significant achievement, not only for the rolling stock teams both in the UK and Germany but for Siemens overall."
In a statement, the company added that the selection had been made on strict evaluation criteria, with focus on deliverability, affordability and value for money. Although some of the components are set to be made in Britain, the trains themselves will be built in Germany.
The fleet will be the first production run of Siemens' new Desiro City units (model, pictured), which have been developed for the British market.
Siemens is in partnership with Cross London Trains, a consortium of Siemens Project Ventures, Innisfree and 3i Infrastructure. The name is not without significance: the next major rolling stock contract in Britain will be for the Crossrail fleet, and some industry observers have already suggested that the winner of the Thameslink contract is likely to be favourite to build the Crossrail trains in due course as well.
Reader Comments:
Views expressed in submitted comments are that of the author, and not necessarily shared by Railnews.
The 2000 jobs Siemens are creating will not be permanent 300 in the North-east will be material supply the majority will be upgrading depots in the South. Probably only 300 permanent jobs wil acually be created in the maintenance facilities. Yes I understand Bombardier would have made 1,200 job losses anyway but this is the culmination of losing 2 major UK contracts both IEP and Thameslink. I also agree there are other trains that require replacing but due to the way franchises run these are not even in a bid stage yet. Tory & Labour Governments blaming each other do not help any industry in the UK. Regarding on time deliveries where are the Siemens trains for ScotRail - late. Bombardier have tried to improve on time deliveries look at Stanstead Express as far as I am aware maximum of 2 weeks late - a huge improvement and should have carried some weight

We must support British Industry we are slowly erroding everything that once made Britain Great. Ok Siemens is an employer in the Uk. However Derby needs to keep its great industry and retain its train manufacturing plant in Derby. The people of Derby need these jobs and are good at them. Long term the supposed savings now will cost us greatly.

It also should be noted that Siemens employs over 16,000 people in the UK, with over half these employees working directly in a manufacturing and engineering capacity.

Canadian Company Bombardier employs around 5,000 people in the UK


In recent years, virtually all of the new orders for underground trains have gone to Bombardiers, certainly the order for the 191 S class Sub Surface stock trains,, the 47 2009 stock Victoria line replacements, the 23 class 377's for the Thameslink, the 57 class 378s for London Overground, and the 30 class 379's for the Stanstead express have all gone to Bombardiers. Therefore it seems to me like a lot of xenophobic clap trap being written and spoken with a fair dose of crocodile tears thrown in for good measure.

I'm getting used to this now. The rot set in about 30 years ago as regards the demise of british industry. All governments in between have contributed to this. Personally I don't now care who owns what as most large money making enterprises in the UK are not UK owned, What matters is where the work is carried out. I used to work for Bombardier Transportation and if I hadn't been told that they were Canadian, I wouldn't have known. Most of the people I worked with were either British born or held a UK passport and were not employment transients. I now work in aerospace for an anglo-american company that has many ex-rail or automotive workers from the last few employment disasters and again, I can't tell what nationality the owners are apart from the paperwork. We design, build and test in this country so to all intents and purposes it is a british product.
So, for all practical employment purposes, Bombardier is a british company who do design build and test. I know because I was there.

Siemens also have plants in the UK but as was pointed out, the main work won't be done here. I doesn't matter whether they are Brits are Germans as they won't all be here.
Equally, a British company that has most of it's work carried out overseas, as many have done, is only British in name. A net loss is what I think we will have as regards work.
There will be a massive hit on support and not all of the companies will be engineering.
To be honest, I've given up on whichever party experiments with the country because they either don't understand how industries work or, they are in it for whatever they can get. We only matter at election time.


It now seems that responsibility for trains has been transperred from Teresa Villiers to Norman Baker (who I read has an interest in trains similiar to Lord Adonis and Michael Portillo!! So perhaps we will get more sense in future.

Afterall, to deny electrification of the Gospel Oak ;line on the basis that it has new Diesel trains and the line has complex issues like bridges and tunnels shows how much she knows about her portfolio.

In addition it seems the social effects of this decision were not thought about when the decision was made!!

I cant imagine any ministers attending a closing down ceremony in Derby.



Siemens sent planeloads of German staff to work at Ardwick, Manchester when the new depot first opened.

How many of those jobs could have been done locally?

Bombardier is Canadian, but there are hundreds of Engineers in Derby actually designing trains. Yes, parts are bought in, but the design is done in in Derby. People do not seem to understand what design means!

The point is, the white collar jobs, the engineers, the project managers, the procurement, the accountants, all these will be German. The new trains will be tested in Germany as well.

ps. I forgot to say after riding in Siemens products and Bombardier products on a regular basis, It would be great if all our InterCity trains were Siemens ICE4's and all our commuter trains were the desiro's and all our tube/metro/trams were of the concept design recently unvieled.
Lighter trains, with AIR CONDITIONING and facilities on board that make all other trains (with the exception of the CHR's based on ICE4's) feel 2 decades ahead of anything else from any other manufacturer!

Just because Bombardier currently owns the old facilities in Derby and other locations in the UK does NOT make it a British Company. It is a Canadian Company! There has not been a British manufacturer of trains since the demise of BR.
I personally fully support Siemens because it keeps the manufacturing, the parts, the suppliers, the jobs, the profits in the EU... Not scattered across the globe like Bombardier. Just because something is assembled in the UK/EU does not mean the owners are British/EU. The Yanks have a buy American mentality, we should have a Buy EU mentality because our economies are more interconnected. IF Germany does well, our UK economy does well. IF Canada does well, it has not affect or effect on the UK economy!
That is the price we paid when we shipped off our technology and low paid jobs to other countries and we went from worlds number 1 economy (pre ww2) to, well we have now as of this year slipped from 3rd to 6th largest economy in the world. Keep it up Camer-looney and we will not even qualify to attend the G8 meeting.

Consider how many jobs in the UK (especially in London!) depend on foreign countries to buy their products and services. Imagine what would happen if each country would follow your suggestions and would start exclusively buying their own products instead of British goods and services...

Now that the government has let our last train manufacturer run out of orders by giving them to Germany, is the phrase 'MADE IN BRITAIN' going to be a thing of the past??? How could they let the Thameslink order go out of the country? They can promise 300 jobs in the North East but by doing that, they have put 3000 jobs at risk in the Midlands. It does not matter how they dress up these jobs that this will create for the UK. If they wanted a train designed in Britain, engineered in Britain and made in Britain, there was only one choice - Bombardier.Train manufacturing started in the UK in 1804 and in Derby in 1839. If Bombardier pull out of the UK, it will signify the end of fully manufactured trains in the UK. SHAME ON THEM.


We are very good at what we do in Derby, building rolling stock for over 150 years proves that point. We are not looking for a bail out, we just don't want to be sold out!!!!!!

I'm glad Siemens got the order. Just look at the mess that is the class 377. Awful things to drive, the computer system (Mytrack) is forever going wrong and breaking down. Siemens can only improve on them.

Value for Money for the Tax payers!! Pity the Tory Government of the day didn't take the same approach when they privatised the railways and instantly made ump teen millionaires from the tax payers assets and money!
Another British work force industry will no doubt leave our shores forever.

How many of the people who're saying that Bombardier should have got this becuase they''re British built, only buy British built cars, electronics, UK food and produce and so on?

Yes, it is a shame the trains aren't being built in Britian, but perhaps that's something to do with the fact that German companies, their workers and their unions tend to co-operate, instead of being adversarial; and the unions want their members' employers to succeed, instead of being seen as examples of capitalist enterprises that should be destroyed.

Value for money for British taxpayers has been put forward as the reason for purchasing the Thameslink trains from Germany.

If this really is the reason, the government should have the decency to tell us how they factored in the cost to us, as taxpayers, of funding benefits for those unfortunate people who will become unemployed as a consequence of their actions; moreover, they should also tell us what what financial support they are giving to Siemens (and Hitachi) to establish facilities in the UK.

If the costs of providing benefit to those unemployed as a consequence of this decision (and the earlier one to award the IEP contract to Hitachi), together with any grants awarded to Hitachi for the establishment of a plant in North East England, are greater than the financial benefits gained by awarding the Thameslink contract to Siemens in preference to Bombardier, how is this better value for us taxpayers?

Please, Secretary of State and Ms Villiers, don't hide behind "commercial confidentiality" and give us some honest answers. At the very least, don't you think you owe it to those who you are making redundant by your actions?

All the comments saying the government should have favoured a UK based supplier completely miss the point that under EU rules the government is not allowed to discriminate in favour of a UK supplier against a supplier from another EU country. If you don't like it then campaign like I do to get us out of the EU.

Since time began we continue to have Governments that know the cost of everything and the value of nothing.We have the Government we deserve. We never think when its election time. Trains for Britiain should be built in Britain - full stop.

They may be right it will create 2000 more jobs down south but at the same time loose 3500 jobs at Bombardier in Derby plus another 15000 - 16000 supplier jobs, and the government say its best value for the tax payers, extra 16000 - 17000 on the dole well thought out Mr Hammond

I have lived in Derby all my life . We are in shock today cannot beleive they have given contract to Siemans. Derby has a railway heritage going back over 100 years ,eveyone knows someone who works there . There are 3000 people who work there.What can we do to get a petition going to try and get this reversed.Any ideas ? Thanks

I have travelled on both Voyager and Desiros. Give me Voyagers any day: much more comfortable and a better ride.

I agree it is sad, however it is surely the case that the problems with late delivery etc with a number of the recent Bombadier trains must have had an effect?

As a regular traveller on Bombardiers Voyager trains I can hardly say I'm surprised they lost the order. Bloody awful things.

Its a pity that we did not insist on the trains being built here in Britain as that could have helped re-start our train building industry.

well at least this decision will mean new trains are actually on order after a delay of over 2 years in new train orders and with Crossrail and IEP there will be many more new trains to come.

But what about the old pacers and DMU shortage surely an order for DMUs would be worth it while converting some lines to tram or light railway might also help in this sector.

Heart bleeds that yet agian new train orders go to Germany whilst former railway towns such as Swindon , Crewe , York, Doncaster have had their fabulous rail workshops shut down . So what happenned to the Coalition's promise to reinvigorate British Industry by giving the work to Germany ??

We must be the biggest fools in Europe and of course the Germans and the Japanese with IEP are laughing their heads off !!!

Theresa Villiers has said that, by ordering Siemens Desiro City EMUs the UK taxpayer will have the best value for money and indeed, they are excellent trains. The management and workforce at Derby will undoubtedly be disappointed that their Electrostars have not been selected but they should start lobbying the Government now to consider new EMUs to supplement - and eventually replace - the 20 year-old Class 319s that are being transferred to Great Western and the North West. However, if no more large orders for Derby-built trains are forthcoming during the next couple of years, the headquarters of Bombardier Transportation in Berlin will no doubt have to decide upon the future of the plant and closure could be a possibility, with Electrostar and Turbostar production being moved to other parts of Europe.

This is the final nail in the coffin for train building in this country. Yet again another order has gone abroad. Other countries goverments protect there workforce by insisting that the work is done in thier country such as in France, Germany and Spain. Japan is a closed country and only Japanese companies can bid for japanese work. In the UK we give our work abroad at the expense of our own workforce. The CBI has complained that we need to bring skills back into this country and that can only be done by having a manufacturing base but that is being eroded away. How can this announcement be good for the british taxpayer when there will be mass redundancies at Derby and also suppliers around the country will now have to lay people off as these companies will not be using them to supply parts and so there will be less income tax paid and national insurance paid and more benefits handed out to those with no jobs that's saving money. The parts used to build the trains will come from british suppliers instead they will come over from Germany and Japan as part of the Kit. This is the same party that 2 years ago accused the Labour govermant of giving jobs away to foreigners and stated that british jobs for british people come first so much for the rhetoric and not protecting

"create around 2,000 new jobs "

What kind of jobs? The enginneering, al the inteligent stuff will be done in Germany. So the German Engineers and accountants and lawyers, not to mention the assembly staff and the people invloved in testing will pay tax in Germany, not the UK.
How is that "best value for money for taxpayers"?