Posted 26th May 2010 | 8 Comments
Station Champions' upgrade scheme scrapped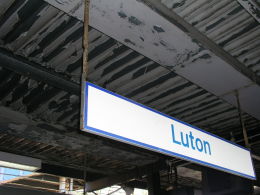 A £50 million DfT grant intended to upgrade the ten worst stations in Britain following the Station Champions' report last November has been scrapped as part of the Government's budget cuts.

The Department for Transport has lost £683 million from its budget for this year, as its share of a £6.2 billion reduction in spending ordered by the Chancellor of the Exchequer.

At first, the DfT had only outlined the reductions following the Chancellor's announcement. They include £309 million withdrawn from councils and a proposed cut of £108 million for Transport for London.

Another item on the brief DfT list had been £100 million cut from the grant to Network Rail, and it's now been revealed that half that sum is the £50 million which had been allocated to station upgrades in November 2009.

This followed the publication of the Better Rail Stations report, which had been prepared by former Virgin CEO Chris Green and Sir Peter Hall.

They had warned that the poor state of many stations was 'becoming an obstacle to rail growth', and outlined a series of essential improvements. They had also named the ten worst important stations in Britain.

The transport secretary at the time, Andrew Adonis, had welcomed the report and announced an immediate grant of £50 million as a first step. He had said he supported the Champions' call for a comprehensive list of minimum standards for all stations, aimed at improving the daily travelling experience of passengers and attracting more passengers on to the railways.

The stations now set to lose out are Clapham Junction, Barking, Stockport, Manchester Victoria, Preston, Wigan North Western, Liverpool Central, Warrington Bank Quay, Crewe and Luton.

Network Rail pointed out that funding for some of the stations is also coming from other sources. Most work on Manchester Victoria will still go ahead, for example, because only £5 million of the £30 million to be spent there was coming from the Better Stations fund in any case. Clapham Junction is also benefiting from other funding.

However, if funding gaps cannot be closed economies will have to be found instead, by reducing the scope of the work.

A Network Rail spokesman added that the company was still considering how it could save the remaining £50 million from the £100 million DfT cutback, and that talks were continuing.

Meanwhile, the Association of Train Operating Companies said: "Given the current economic climate, we recognise the need to make savings in public spending wherever possible. Nonetheless, passengers affected will be disappointed that money set aside to improve their stations will no longer be made available."

ATOC called again for operators to have longer franchises, which it said would encourage them to make greater and more efficient investments in stations.
Reader Comments:
Views expressed in submitted comments are that of the author, and not necessarily shared by Railnews.
good on the govenment too much money is wasted by the railways huddersfield are to be refurbished yet again it is only four years since it was last done!!!!!! we have to stop wasting money on silly schemes before it is too late

I fully agree with you, David. The current crisis in public financing has nothing to do with 'economic fundamentals'. This country - and western Europe - remains among the richest societies in human history. It is also one of the most unequal. Public spending cuts are made against that backcloth and they are a choice that we have collectively made. I for one would be willing to pay far more tax, in any form, if the benefit of that was a well funded public realm. Lest we gorget, climate change has not been pushed back with the recession We are eating into oil reserves at a colossal rate and we are terribly ill prepared to face a no-carbon future. Railways are one part of a new civil infrastructure that is, by objective criteria, desparately need; more than extensions to houses or yet more large cars...

The problem is the economic situation is awful, i hate the cuts and i dont like tories, but sometimes you just gotta accept it. I hate it and it is going to stop or slow down rail groth, but hopefullly people will see it's the better option and with this growth we can improve without government funding. At least electrification hasn't been cut yet.

At least we'll know who to blame as we dodge the leaking roof, use the disgusting toilets, see the peeling paint and pass the scruffy, empty shops at Manchester Victoria. Just think what another five years will do to them. Can you imagine our government leaders putting up with these conditions if they had to use them each day on their way to Parliament? Did it surprise anybody in the north that most of the ten worst stations were up here? Does it surprise us northerners that we have to put up with Pacers and other decrepit rolling stock? It's time somebody spoke up on our behalf.The new government is dominated by southern Tory and Lib Dems.

The railways suffer again. Its not like they were at a good place that can be maintained. Some stations are in such a sorry state and will only deteriorate further.

Cheers Dave and Nick!

I'll visit most of these Stations at least once during the year with work. They are in great need of upgrade works and delaying refurbishments of them is only going to let them deteriorate further increasing the cost of an upgrade whenever it happens.

In life we must all remember the saying ........ its not just the cost of something but also its worth. The Coalition Government and the DfT know the cost cutting in arithmetic terms but know nothing of the value of a good efficient railway and its contribution to the common good.