Posted 5th July 2022 | 5 Comments
RMT leader says industry is facing 'fight of our lifetime'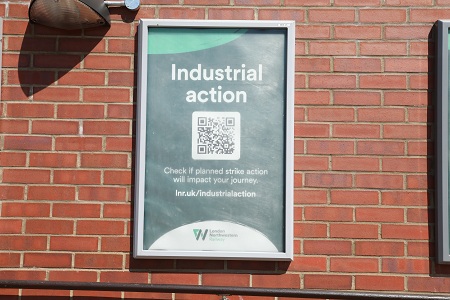 ---
Updated

RMT general secretary Mick Lynch has said that the demands of employers are being 'ramped up', rather than being eased after the recent three days of national strikes.
He said it was normal for an employer to be a little more reasonable in talks following an industrial stoppage, but not on this occasion.
He told his union's AGM in Birmingham that the dispute was 'the fight of our lifetime', and accused Network Rail and the train operators of 'doing the government's rotten business and trying to cut thousands of jobs on the railways'.
He continued: 'They are trying to cut thousands of jobs and they have no scruples in cutting back on safety regimes in order to do so. They are seeking to rip up working practices and conditions, agreements that protect our members and in doing so they will drive up unsocial hours, work fatigue and occupational ill health. And they are seeking to make our members poor with below inflation pay offers which do not take into account the cost-of-living crisis.
'We went to the train operators, and they put on the table that virtually every rail worker would be re-contracted on a new contract of employment and a new set of terms and conditions. And they are going to bring back the Driver Only Operated disputes in every single train operating company. They have told me that face to face. They said it was their mandate from DfT. Since that strike action, which was fantastic, they have not diluted their stance. At Network Rail they are ramping up their demands.
'So, this is as serious as it gets. It is the fight of our lifetime and of our generation.'
Tim Shoveller is Network Rail's lead negotiator and managing director of the North West and Central region. He said: 'Our railway's finances are in tatters. Travel habits have irrevocably changed since the pandemic leaving a £2 billion annual shortfall in income. Change is needed to address this new reality and put the railway on a firm financial footing for the future.
'Our people deserve a decent pay rise but we are struggling to afford one. Only through change, modernisation and reforms will we be able to realise savings that we can then translate into a fair pay deal. Our reform proposals will see the end of costly and archaic working practices but will not, we believe, lead to compulsory redundancies, and only minor changes to Ts & Cs and no changes to pensions at all.
'Any trade dispute can only be settled by negotiation and we'd urge the RMT to return to the negotiating table as soon as possible. With a good dose of common sense and compromise we hope to be able to find an affordable solution that we can all live with, that rewards our people for their hard work and ensures that passengers and freight suffer no further disruption.'
Reader Comments:
Views expressed in submitted comments are that of the author, and not necessarily shared by Railnews.
Apart from major termini stations/cities many ticket offices in smaller stations are mostly pointless these days with the plethora of web apps to purchase tickets, or the use of passes and season tickets. The RMT leadership are basically Ludd-eytes (sic) who, if they had their way with everything, would still be defending having a man with a flag walking in front of every train. They oppose every suggested change just to be difficult and call strikes even before negotiations are through (or in some cases even started). In many stations ticket office staff could be redeployed to assist passengers elsewhere in the station and on platforms. Give them ticked machines like guards for the odd occasion where someone may need to buy a ticket.

As to other positions, Network Rail should agree that any job losses will only be through natural retirement (or agreed packages to entice some into early retirement) or resignations, not forced job losses.

(Sorry, been busy with garden parties at Number 10).

Here we go again, Network Rail taking over the role of the TOC's re useage of their trains. Irrevocably changed? Have they, well take a trip to over to Leeds Staion in the morning and you'll see that's not the case. Nearly as busy as pre covid.
The only thing that's changed has the cut in services by Northern Trains leading to the incovenienced commuters as a result having to adopt alternatives.

Where have all our usual anti-RMT commentators gone? Have they perhaps finally realised the truth behind Tory attempt to shut every booking office in the UK, as it's err... modernisation? Have they changed their minds after realising the £1bn or so in profits being pocketed by operators, rewarding their total failure? Have they finally accepted that rail privatisation in the 1990s costs the taxpayer ten times as much, just like their leccy, gas, water bills?

Or have they just been too busy backing Boris in his time of need?

From personal experience, long distance travel is faster, cheaper (even with high fuel costs) and more reliable by car (unless you qualify for a railcard and can travel outside of peak hours).

Add to that commuting services where many offices are near empty monday and friday and less than full tue-thur, and you can see why things need to change.

Yet the RMT are determined to maintain the status quo.