Posted 29th July 2021 | 5 Comments
Pressure grows as councillors call for East West Rail to Aylesbury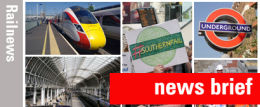 THE government is to be pressed by Buckinghamshire councillors over the suspension of a plan to include Aylesbury in East West Rail by running EWR trains from Claydon Junction, between Bicester and Bletchley, down to Aylesbury.
The line exists, and is being used by passenger trains as far as Aylesbury Vale and by waste trains to Calvert, close to Claydon Junction. It was originally part of the Great Central main line, but since the GC was closed as a through route 55 years ago the line north of Aylesbury to Claydon Junction has been singled.
If it was used by EWR trains, they could run from Aylesbury, via Claydon, and on to Bletchley. From there they could join the West Coast Main Line to get to Milton Keynes Central.
This was part of the original EWR plan, along with the main route between Oxford, Bletchley, Bedford
and eventually Cambridge, but the Aylesbury section received a setback in March this year, when a map in a new consultation document described it only as a 'potential future section'.
At the full council meeting this month Buckinghamshire councillors unanimously agreed to continue pressing the government to include the Aylesbury route in the current project.
Aylesbury East Councillor Mark Winn proposed the Motion, saying: 'We welcome the £760 million that the government has announced it is investing in East-West Rail and the 1,500 jobs it will create.
'However, we remain concerned that this recent funding announcement did not commit to the completion of the proposed spur between Aylesbury and Milton Keynes. This spur was originally conceived as a key part of this project.
'So many residents in Bucks, not just in Aylesbury, but along the current route of the current Chiltern line in Buckinghamshire would benefit from the building of a North South railway along the entire length of the county.'
Councillor Winn also called for the Aylesbury-Princes Risborough line to be doubled. He concluded: 'I am therefore urging government to rename this line "the Buckinghamshire Line" to reflect the significance to the whole of the county. The track is there, the need is there, but we now need the government to put in the investment to get the trains running.'
Transport secretary Grant Shapps has yet to reply, but on 18 March this year he did cancel a parallel 'expressway' which had been proposed between Oxford and Cambridge, saying: 'Our analysis shows the expressway cannot deliver such links in a way that provides value for money for the taxpayer, so I have taken the decision to cancel the project. But we remain committed to boosting transport links in the area.'
Reader Comments:
Views expressed in submitted comments are that of the author, and not necessarily shared by Railnews.
Yes, there is an hourly bus service between Aylesbury and MK, but, calling at Winslow and Buckingham, and then negotiating the many roundabouts on the run into MK, it is dreadfully slow, well over an hour. You might use it from Aylesbury to get to MK railway station, but you'd be better off taking the bus to Berkhamsted or Leighton Buzzard and making a connection.

Currently from Aylesbury there is no bus link to Bicester or to Milton Keynes. The town is a public transport dead end. This should be addressed straight away rather than hanging around expecting train paths to be created.
[Sorry to contradict you, but Arriva runs hourly between Aylesbury and MK (service 150). There is also a direct Arriva service from Aylesbury to Bicester Village, while Red Rose has just introduced an hourly service 17 between Aylesbury and Bicester town centre. Even so, the railway would be a very good idea.--Ed.]

Of course Claydon Junction to Princes Risborough via Aylesbury should be included in the East West Rail project. This would provide a connection from High Wycombe to Bletchley and Milton Keynes in addition to the other connections. It would provide a good alternative route to Aylesbury when the Aylesbury to Marylebone via Amersham is electrified, but only if the line between Aylesbury to Princes Risborough is upgraded. (I do realise that electrifying Aylesbury to Marylebone would be an 'interesting' project.)

The original proposal was to supplement the main Oxford to Bedford frequency by an hourly or better Milton Keynes Central to Aylesbury service. There's no path for such a service until decisions have been taken about WCML new services post HS2.
Personally I would prefer a Northampton to High Wycombe or Old Oak or Ealing Broadway service (taking over the Grenford to Ealing Broadway and the Aylesbury to Princes Riseborough services) to make HS2 more accessible from Buckinghamshire, but that conflicts with other County Council priorities.