Posted 19th April 2021 | 3 Comments
Protests over East West Rail's route into Cambridge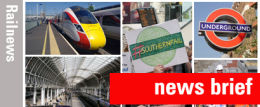 PROPOSALS to take a southerly route for East West Rail from Cambourne into Cambridge have sparked opposition from campaigners, who are calling for a judicial review.
East West Rail Co considered five possible alignments to take the railway back into Cambridge, but an EWR report published earlier this year says that although a northern route from Cambourne is 'feasible', it is expected to be 'complex and expensive', partly because such a route would need a 'substantial bridge' to cross an eight-lane road west of Girton.
Instead, the report opts for a more southern route, which would join the existing line from Hitchin at a junction north east of Foxton and also serve the proposed station at Cambridge South, although it emphasises that it continues to keep the decision under review, especially 'in light of new information'.
Campaigners on the southerly route have not been reassured. One group, Cambridge Approaches, claims it has been denied a 'fair opportunity' to make its protest, and the group is now raising money to pay for a judicial review.
Dr William Harrold, co-founder of Cambridge Approaches, told Cambridgeshire Live: 'As we feared, [the line] will have quite a big impact on communities in South Cambs'.
Dr Harrold maintains that the northern route still has 'legs', and should continue to be part of the consultation.
East West Rail Co responded that it 'believes that a southern approach to Cambridge results in far fewer impacts on residents and businesses'.
In a statement, it added that the decision to go south was supported by 'updated environmental, economic and technical analysis', including the fact that there fewer flood plains on the sothern route and also fewer businesses to be affected.
Reader Comments:
Views expressed in submitted comments are that of the author, and not necessarily shared by Railnews.
For goodness sake. Please stop with this "post-Covid" nonsense. There's absolutely no evidence to suggest that a majority of the population will spend five days a week working from home once workplaces are opened up again.

@John, I think you mean the ECML, which is full, and would require either a N-E chord at Hitchin or a reversal, neither is a good idea, especially as they both would fail to serve Cambourne.



So Bedford and Cambridge are waking up to the disruptive effects that East West Rail will bring. All of this could have been avoided if a more straightforward and less costly approach had been taken whereby the old route to Sandy is taken and then on to Cambridge via the MML and the Hitchin-Cambridge line.

It may anyway be a good opportunity to pause the scheme to reassess the business case in a post-Covid environment.