Posted 12th May 2021 | 14 Comments
End of Hitachi trains crisis 'a long way off'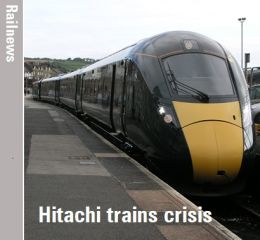 EXCLUSIVE
THE return of all Hitachi-built Intercity Expresses to normal service is 'a long way off', according to notes of an internal industry briefing seen by Railnews. The document also reveals that two types of cracking have been discovered and that welding to repair the damage will be a 'highly specialist job'.
One type of cracking affects the aluminium lifting points, as disclosed by the Rail Delivery Group yesterday, and the other also explains third-party reports that the yaw damper, which is linked to the suspension, has also been highlighted as a problem on some trains.
The main concern is that metal would come free at high speed, rather than the possibility of a structural failure.
The briefing to staff says that the cracks on the Class 800s were initially thought to be score marks on the body vinyl, and a risk assessment of the cracks around the yaw damper concluded that all fleets could stay in service.
However, the number of cracks 'then found behind the lifting pocket bolster were so numerous that the fleet was withdrawn by Hitachi'.
The longest crack found so far is 285mm long – almost a foot – and 86 out of a total of 93 trains are affected with either yaw damper or lifting pocket cracks, or a combination of both.
The metal involved is 7000 grade aluminium, and the briefing warns that this 'requires highly specialist welding to the point it will have to be overseen by The Welding Institute'.
GWR is warning its passengers not to travel again today, while LNER says a reduced timetable will continue to apply for the rest of this week. GWR intercity services have been replaced by shuttles between principal hubs, while LNER has withdrawn all its services north of Edinburgh and reduced the Azuma timetable on other routes.
In a further statement last night, Hitachi said it continues 'to make progress' to 'finalise the service recovery plan'.
It continued: 'We want to reassure passengers who are planning to travel on Class 800 or Class 385 trains that they will only operate once they have completed the appropriate precautionary safety assessments.
'Our investigations have given us a thorough understanding of the issue and we are making progress with our partners to return trains to service safely.'
Reader Comments:
Views expressed in submitted comments are that of the author, and not necessarily shared by Railnews.
Now most of the short term problems are resolved, I'd just like to flag up that GWR/LNER can not be blamed for most of the criticisms thrown at their sets. The much despised seating, energy efficient lighting and lack of (GWR) buffet were all DfT decisions. IMHO the interior cleanliness etc of the stock is no different to my beloved HSTs and did you never see a class 170 with dirty windows?

In about 5 years time, GWR/LNER will refurbish their sets and have to correct DfTs mistakes to bring their stock in line with EMR, Avanti and East Coast.

The Reduced demand for train use during the Ongoing Covid-19 Recession should buy plenty of time to design and implement the repairs to these trains.
A similar problem happened recently on the London Underground Jubilee Line Trains, however they were Designed around Thirty Years ago and used technology from around 1989/1990 time, but it is very embarrassing for Hitachi to have this problem with their Nearly New Trains this time round.

Would these problems have anything to do with the ridiculous decision to add the extra weight of diesel engines to a design that was probably for electric only use? Short sighted decision to not electrify all the lines (like through Chippenham).

Let's count are blessings that Hitachi, via their UK Company Horizon Nuclear, pulled out of proposed new nuclear power station projects at Wylfa, North Wales, and Oldbury On Severn, Gloucestershire. Cracks in nuclear reactors just don't bear thinking about..

The GWR Hitachi 800's are despised by passengers and staff alike
The passenger experience is very poor for a number of reasons, in particular the hard seating on long distances, the extremely bright lighting, and the lack of a buffet are to name just three. I could go on about the dirty windows and filthy carpets, the onboard crews inability to be able to control the air conn, the poor toilets and so on and so on.

But now it would seem that not only is the passenger experience poor, so is the build quality. The fact that GWR don't own these wretched trains but instead lease them from Hitachi at least means that the cost of this fiasco should be borne by Hitachi and not GWR, not that this helps us poor suffering passengers.
However a lot of the blame can be traced back to the DfT's accountants who commissioned these hateful trains and have probably never had the misfortune to use one.

If I were in charge of the nations railways, I'd replace the the lot at the lessor's expense

We've been here before. You'll need to lock the trains away for a year, keep them away from each other, and finally vaccinate them against the disease.

I believe that Class 387s are not cleared for passenger service west of Didcot. Surely that needs to change as soon as possible, in order that some sort of service can be provided to Bristol Parkway and Cardiff (and thereby releasing the limited number of 800s to other routes).

There is no spare stock. Remember the CAF195/331 units also have cracking problems relating to yaw dampers.

No one keeps rolling stock in warm store, on standby. Once stock is stored, it deteriorates. Plus to resurrect, every vehicle would need a fitness to run examination.

Drivers need to be traction trained plus, the type of train has to be on a TOCs safety case. And in the case of GWR, trains in and out of Paddington must be ATP fitted - all non-GWR stock wont be. Big problem

A resolution cant begin until a suitable fix is identified, tested, proven and verified AND approved by the ORR and other notifiable bodies.

It's not like popping into Halfords for a new headlamp bulb!


The addition of class 385s to this issue is very bad news for Hitachi, and shows the dangers of putting all your eggs in one basket and having the bulk of your fleet sourced from one supplier. There may be some savings in maintenance costs from having a common fleet, but incidents like this show how risky that can be.

It would be interesting to know if the cracks are predominately on the bi-mode trains and if they could somehow be related to the additional weight of the diesel engines GWR was forced to add to what were supposed to be pure EMUs due to the brilliant decision of the DfT/government to not finish the GWR electrification as planned. A analysis of the number of cracks found on coaches carrying diesel engines vs those without would be very interesting.
[It seems that the problems affect 800s (bi-mode) and 385 (electric).--Ed.]

If a return to service is a long way off, that is not good news for Devon and Cornwall. The summer service of cross country trains could not cope with all the passengers who would normally travel using 800 trains. Pressures would be even greater because of people wanting to use the summer to the full after lockdown and the fact more may be holidaying in this country not abroad.

One thing that has surprised me is that although its been in the news, there's been far less coverage locally and nationally than I expected.

I am sure Hitachi are doing all they can.to resolve the problem but it will take time to fix .The cause of the cracking has to be identified and it may result in an intermediate repair followed by a scheduled program for replacing the affected components with redesigned items.

Is there really no rolling stock anywhere in the country that could be used for a temporary time while the repairs are carried out? It's a poor show in terms of resilience that the only response to this is mass cancellations.

Isn't a design change is needed. If not won't the same problem reoccur?