Posted 11th May 2021 | 3 Comments
LNER to bring back older trains as IET disruption goes on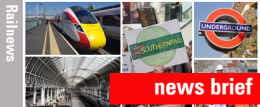 THE disruption on intercity routes between London, Leeds and Edinburgh, and also between London, Bristol, south Wales and south west England is continuing today, after cracks were found in some Hitachi-built Intercity Express units on Saturday morning.
After several days of speculation, the Rail Delivery Group has said the cracks were found in aluminium blocks which are used in depots as lifting points. The RDG said these blocks are not used in normal service, but there is a 'small risk that they could become dislodged'.
It added that the operators are 'prioritising safety', and that 'Hitachi, the rail regulator and train operators will not put trains back into service until they are all confident it is safe to do so. Hitachi will continue to inspect all trains on a daily basis.'
LNER is expecting to bring two recently-withdrawn IC225 sets back into service later this week, but some services are already running again between London and Edinburgh.
The problems are worse on GWR, where through services are being replaced by a series of shuttles and passengers are being advised not to try to travel today.
Reader Comments:
Views expressed in submitted comments are that of the author, and not necessarily shared by Railnews.
This is a very bad set back for our operator. I've used GWR for years, over 30 years, and have always had decent service except when we had floods in 2007. IEP's are uncomfortable to say the least. I thought the idea of an upgraded train was to be more comfortable and faster than the previous sets. Bring back the HST's please

This problem demonstrates the foolishness of not completing GWR electrification to Oxford or even Bedwyn which would have allowed EMUS to provide s service to these destinations.