Posted 8th May 2021 | 4 Comments
All Intercity Express trains withdrawn for emergency checks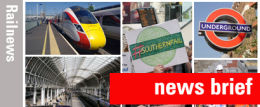 Updated 10.40

ALL fleets of Hitachi Intercity Express trains have been withdrawn after 'hairline cracks' were reported.
The mass withdrawal has meant that GWR, LNER and Hull Trains intercity services have been cancelled today while Hitachi checks the units. Passengers are being advised not to travel today on these routes.
GWR said: 'This problem is being investigated by Hitachi and once trains have been checked, we hope to be able to release them back into service as soon as possible.
"This will affect a significant number of today's Intercity services and local lines are also likely to be extremely busy. Customers are advised not to travel.'
RMT general secretary Mick Lynch said: 'RMT is fully aware of the issues that have led to the cancellation of services on LNER today and that similar problems with cracks appearing in the fleet on Great Western are also emerging.
'Hitachi needs to ensure the highest safety standards and properly investigate and rectify the issues.
'This situation demonstrates once again that it is reckless for the rail companies and the DfT to move the industry to diluted, risk-based maintenance regimes which extends maintenance cycles on rolling stock or on the infrastructure, whether that be on the mainline railway or on the tube and metro services, to cut costs and strip out staff.
'The railway needs to be maintained rigorously and to the highest possible standards to protect the travelling public and the staff and that will remain RMT's key demand.'
Reader Comments:
Views expressed in submitted comments are that of the author, and not necessarily shared by Railnews.
It appears that these cracks have been found in suspension units. Not being an engineer or technical expert, can anyone advise whether the defect is similar to the problem with Northern's class 195 and 331 units?

Finally, who are the manufacturers of the cracked suspension units?

You couldn't make up the timing of this. After months of stay-at-home orders, a major safety issue is discovered right when people starting to travel again! Incredible, but thankfully no-one got hurt.

Of course these foreign built sheds on wheels, by comparison to HST's which still have lifespan after almost 50yrs yet are largely being scrapped, are far far better ? No? Didnt think so! What an utter shambles.