Posted 8th April 2021 | 3 Comments
More trains next week, and forecasts are claiming passengers will return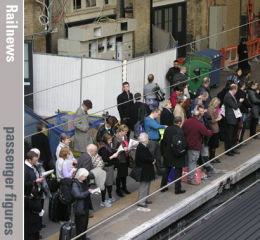 SHARP rises in rail passenger numbers are being predicted for next week, as lockdown restrictions are eased.
Non-essential shopping will be allowed once again from 12 April in England, along with 'personal care' businesses as well as pubs and restaurants in England, so long as their customers are served outside.
The Rail Delivery Group says the number of daily trains will rise from 16,900 to almost 18,000 next week, with further increases planned in May.
RDG director of nations and regions Robert Nisbet added: 'In addition to enhanced cleaning and providing better information to help people avoid busier times, rail companies are increasing space on trains across the country by adding services as we take steps out of lockdown. We are closely monitoring passenger numbers as restrictions ease to carefully balance service levels with demand, and the need to run the railway efficiently for taxpayers.'
The RDG pointed out that surveys undertaken by the independent passenger watchdog Transport Focus have consistently shown that around 90 per cent of people making train journeys in the past two weeks felt safe, although some third-party surveys have been claiming lower confidence figures.
Transport Focus chief executive Anthony Smith said: 'Passengers have told us they want three main things: space on board, extra cleaning, and enforcement of face covering rules.
'Government and the industry need to be straight with passengers that social distancing may not always be possible. Operators need to provide reliable information on how busy services are so passengers can make informed decisions as more people start travelling. Passengers also need to do their bit by wearing a face covering, unless exempt. The next few weeks will be crucial in helping to rebuild passenger confidence step by step.'
Meanwhile, technology company Zipabout, which runs National Rail Enquiries' 'Alert Me by Messenger' service, and provides passengers with real-time journey updates – including 'busyness' alerts – says its data suggests that the number of people using trains could almost double next week, with a national average rise of 92 per cent.
The increases are forecast to be 79 per cent in Greater London, 99 per cent in the north east, 117 per cent in Yorkshire and the Humber and 126 per cent in south west England.
Train operators have been paying close attention to hygiene. Christine Smith, who manages the cleaning of Govia Thameslink Railway trains, said: 'We've pulled out all the stops to make sure stations and trains are thoroughly cleaned and sanitised many times every day.
'If you touch it, we've cleaned it.'
Reader Comments:
Views expressed in submitted comments are that of the author, and not necessarily shared by Railnews.
I suggest that the whole pattern of Rail travel will alter. The daily commute into London being especially at risk. That might mean less jobs, but it could mean a more profitable industry. I think the Industry needs to get away from an attitude of getting passenger numbers and distance travelled rising all the time, and think more about providing a 'Green' and local service. Catching a train into Reading from my local Station at Tilehurst used to be a no-brainer. It was so much quicker than car and bus, and so much cheaper too.

Given how people have been unable to see families and friends with new grandparents see to see new grandchildren born since last year there must be a lot of pent up demand for social travel let alone those who prefer to work in office instead of broom cupboard!

It's likely that morning peak travel will take longer to recover especially as many people have lost the habit of getting up early 5 days a week ....