Posted 1st April 2021 | No Comments
RMT warns of more ScotRail action as tempers fray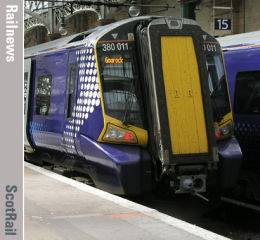 CONDUCTORS on ScotRail are set to stage their second 24-hour strike on Sunday, but the RMT has warned that unless there is a settlement the walkouts could continue beyond the first set of Sunday strikes, which are currently planned to continue every week until 2 May.
Tempers have been rising, with the RMT accusing ScotRail of a 'despicable and aggressive social media campaign slandering their own staff', but ScotRail says these statements are 'misleading'.
It is reported that other rail unions are joining the protest over differences in pay between drivers and other on-train staff in the light of revelations that although ScotRail's owner Abellio will lose its franchise next year it is currently being subsidised by hundreds of millions of pounds a year through Emergency Measures support from the Scottish Government.
The Glasgow-based Herald newspaper has quoted Unite industrial officer Pat McIlvogue as saying: 'It's absolutely astonishing that Abellio ScotRail has been subsidised by the taxpayer to the tune of nearly £1 billion in a year with hundreds of millions more before it loses the franchise next year.
'These eye watering figures should shock the Scottish public especially in the context that rail workers are not being given any meaningful pay rise. It's a scandalous situation whereby the Dutch based firm will continue to fleece the taxpayer before it loses the franchise and it's our members' who are bearing the brunt of this.'
Ticket examiners are now being balloted by the RMT as well. They also work on trains but have different duties to conductors, and their votes are due to be counted on 8 April.
RMT general secretary Mick Cash said: 'I have no doubt that our ScotRail members will continue to show full support and stand shoulder to shoulder during the days of industrial action exactly as they did last Sunday.
'Abellio ScotRail is a company that has opted to declare war on their staff rather than recognising the issues at the heart of this dispute and the company have resorted to disgraceful mud-slinging and deliberate provocation.'
ScotRail, which has previously described the industrial action as 'wrong', said there was no money for a pay increase and that any rise would have to be made through economies elsewhere.
HR director Gerry Skelton said: 'At a time when we need everyone in the railway to work together as we face the most serious financial crisis in our history, it's disappointing that the trade unions have decided to walk away from discussions and issue misleading statements.
'With passenger numbers down by more than 90 per cent, it's only thanks to emergency government support that ScotRail has been able to continue to operate services for key workers and pay staff wages. The hundreds of millions of pounds of additional emergency government subsidy means there have been no job losses, no furlough, no wage cuts, and no changes to terms and conditions during the pandemic. ScotRail staff also continue to benefit from a no compulsory redundancies policy.'