Posted 17th March 2021 | 5 Comments
ScotRail will move to state ownership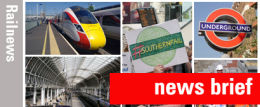 THE Scottish Government has decided to keep ScotRail under public control when the present Abellio franchise is terminated using a break point in the contract a year from now.
The franchise is presently being supported under an Emergency Measures Agreement, with costs paid and revenue collected by Transport Scotland in return for a management fee, as in England.
Transport secretary Michael Matheson told MSPs: 'I have repeatedly stated the current franchising system is no longer fit for purpose. Keith Williams, who led the UK Rail Review process, has also said that 'franchising cannot continue in the way that it is today'. Yet, there is continued uncertainty about the form and timing of rail reform emerging from the UK Government review process, which is now a year overdue.
'It is high time that the UK Government listened to our requests to place the future structure of Scottish's railway in Scotland's hands. The simplest way to do this is to devolve rail powers.
'In the meantime, with the current ScotRail franchise expected to end in March 2022, we need to take decisions about successor arrangements within the current legislative framework. We have for some time been considering the full range of options available under that framework for continuing services beyond the franchise expiry.
'Following a detailed assessment process and given the uncertainty caused by Covid 19, alongside the continuing delays to the UK Government White Paper on rail reform, I have decided that it would not be appropriate to award a franchise agreement to any party at this time, either through a competition or a direct award.
'That is why I have confirmed that, from the expiry of the current franchise, ScotRail services will be provided in public hands through a company wholly owned and controlled by the Scottish Government. This is in line with our Operator of Last Resort duty.
'ScotRail staff will transfer to the new Scottish Government owned entity, with their terms and conditions protected.'
The decision has been welcomed by the RMT.
The union's general secretary Mick Cash said: 'We have long campaigned for the Scottish Government to utilise its existing powers and take Scotland's rail passenger services into public ownership and today's announcement represents a clear victory for this campaign.
'The Scottish Government has also confirmed today that it is looking to extend the Abellio ScotRail Emergency Measures Agreement until September 2021. Rather than propping up Abellio for any longer, RMT is calling on the Scottish Government to have the Operator of Last Resort in place from September this year.'
Reader Comments:
Views expressed in submitted comments are that of the author, and not necessarily shared by Railnews.
Well I guess rail competition in Scotland will be restricted to the few East Coast/West Coast/Cross Country routes with direct trains to/from England (as they basically own Caledonia Sleeper already). Until the Scottish government decides they want that revenue too and limit trains from England to calling only at Edinburgh & Glasgow.

Yes, I agree - open access competition on "national"/ intercity service and with local / commuter ( natural monoply) operations in the public sector seems the best model available.

In one case, accountability acheived through inter-TOC competition, with the other through local direct democracy. The old BR was too large to be properly answerable, which was supposed to come through "parliamentary accountability", as with other nationaised industries; on a more local scale, though, this can be much more direct and focussed.

Wales Rail and Scotrail may just be compact enough for public ownership to work, but I hope they don't bring back the bad features of pre- 1994 BR.

I guess you need to stay open minded but this seems like a strange backwards step to me. While a management contract does risk stagnation it seems like a reasonable short term solution to keep services running while also keeping cost under control.

Full franchising opens the door to innovation, but also returns little to the public purse. However a fully publicly run service risks spiraling costs with little or no development or improvement. Not to mention the lack of competition leading to lethargy and complacency.

This obviously plays well to Mick Cash and his devotees as well as a very public reaffirmation of the SNPs socialist credentials as we head towards the May election, however if you pick away beyond the ideological debate I can't see anything for passengers or tax payers to be happy about.

I've always thought that a combination of open access for ICT and leisure with local concessions for commuter seemed like the best model. Public ownership in isolation cannot be the best option can it?

Good news sadly as scotland wishes to rejoin the e.u. what will happen to the rail system?