Posted 29th January 2021 | 2 Comments
Flexible season tickets to stay on hold for now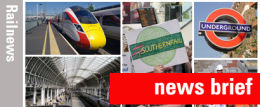 THE introduction of 'flexible' season tickets valid for fewer than five days a week must wait until the pandemic eases, said rail minister Chris Heaton-Harris. He has also conceded that the March fare rises are intended to help reimburse taxpayers for the financial support the franchised operators have received since March last year.
He was answering questions in the House of Commons, when Labour MP Kate Osborne, who represents Jarrow, asked for an update on the Department's plans for flexible ticketing, and when such tickets would be introduced.
The rail minister replied the government was 'wary that sending mixed messages at this time in trying to encourage people to buy tickets for future travel might not be the right thing to do, but I promise her that we are working closely with industry and expect to make announcements when we can'.
He also said people will need to be encouraged back to use the railways in future, and defended the 2.6 per cent rise in regulated fares which will apply in England from 1 March, saying: 'We have introduced all sorts of railcards and a whole host of discounts, and regulated fares will be increasing at the lowest actual rate in four years.
'But yes … we do need eventually to encourage people back on to our railways. If we are going to decarbonise, and if we are going to level up, we want to take people off the roads and entice them back to the railways, and we will have products to do that—but now, I am afraid, we also need to remember that the taxpayer stood by the railways with £10.1 billion … and they do need some money back.'
Reader Comments:
Views expressed in submitted comments are that of the author, and not necessarily shared by Railnews.
In today's ITSO/ smartcard world, surely the best way forward is to offer a range (within reason) of pre-loaded but undated journeys?

Starting from the basis that each year consists of 46 working weeks for most passengers, the railway can determine a minimum number of journeys that make a discount worth offering.

Let's assume that the answer they arrive at is three return journeys per week, so that 140 (rounded up from 138) x 2 = 280 JOURNEYS (not days) would be the minimum offered on anything called a 'flexi annual season'.

Smart technology of course allows the truly 'flexible' bit in leaving it up to passengers to decide which days they actually travel in the 12 months ahead Within reason, the expiry date could be stretched a bit to, say, 14 months. Passengers can quickly find out by smartphone reader how many unused journeys are left on the card - if need be paying for top-up.

Not sure how an increase in fares will encourage people back onto the railways it will just keep people in their cars.... Many people have moved from the railway into their cars as they see it as safer than traveling by public transport. We need to entice them back onto the railways and this won't help....