Posted 28th January 2021 | 2 Comments
HS2 protestors at Euston 'dragged out' of their secret tunnels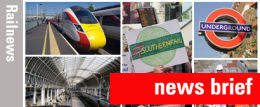 PROTESTORS opposing HS2 have been 'dragged out' of their camp outside Euston station in London, after it was discovered that they had secretly built tunnels under Euston Square gardens.
The two main tunnels were dubbed Crystal and Kelvin by their builders, and are reported to be 30 metres long.
They had been built over several months in defiance of security measures which are intended to protect works on the new high speed line. Dirt from the diggings was brought to the surface in buckets and hidden inside a wooden 'fort' in the gardens.
The protestors said to reporters that they were prepared to stay in their underground retreat for months. One of the activists told the Guardian: 'Living in a tunnel is dangerous. But when people are really, really desperate, this is what they are forced to resort to. We are all going to die if action is not taken to address the climate emergency.'
HS2 Ltd said: 'To ensure HS2 is able to deliver its major benefits to the UK on time, certain works must take place at designated times. HS2 has taken legal temporary possession of Euston Square Gardens East in order to progress with works necessary for the construction of the new Euston station.
'These protests are a danger to the safety of the protesters, our staff and the general public, and put unnecessary strain on the emergency services during a pandemic. The protesters are currently trespassing on land that is legally possessed by HS2.'
Reader Comments:
Views expressed in submitted comments are that of the author, and not necessarily shared by Railnews.
Sometimes it seems that HS2 is its own worst enemy given that they built a temporary taxi rank at tge western end of the gardens and now work to build a link to Euston Square Station is to begin they are moving the taxi rank to the eastern end.

How much better it would have been if they had begun by building the taxi rank at the eastern end and openly saying they are taking possession of western end to build link to Euston Square Station which will make that station fully accessible thus giving an explanation for need to take possession!