Posted 7th January 2021 | 10 Comments
Minister resists calls to cancel HS2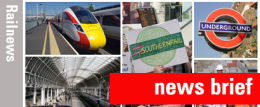 THE transport minister responsible for HS2 has dismissed suggestions that HS2 should be cancelled, along with an allegation that the government ordered work on Phase 1 between London and Birmingham to start early last year to 'bail out' the construction industry.
Giving evidence to the Commons Transport Committee, Andrew Stephenson said cancellation would 'send a terrible signal out globally' about the UK intending to 'build back better' from the Covid-19 pandemic. It would also cause tens of thousands of jobs to be lost and waste taxpayers' money.
He told the Committee: 'At that stage there was no need for the government to give a bailout or additional support to the construction sector.'
He did not accept that cancellation would be a good idea, saying: 'I think it would have a chilling impact on the construction sector. It would also have a chilling impact on inward investment. It's hard to quantify what the exact costs would be of scrapping the programme now but it's certainly something I would very strongly advise against.'
He added: 'You can argue that Covid has affected the business case. But it's worth thinking about the whole picture. If you look at the importance of infrastructure projects to the recovery of our nation after Covid, then I think the crisis has strengthened the case for it, not undermined it.'
Reader Comments:
Views expressed in submitted comments are that of the author, and not necessarily shared by Railnews.
Just to amplify about conventional , non - Very High Speed infrastructure build as capacity relief for the Rugby - Euston WCML. South of Calvert, there already exists in - use infrastructure , either via Aylesbury to Marylebone, or via a renewed Grendon - Ashenden link to Paddiington.

North of Calvert, the ex GC route could be relaid and taken north of Rugby, to junction onto WCML just south of Nuneaton. Allied with a general "beefing up" of existing facilities, this could increase capacity south of Nuneaton. Catesby tunnel has been used for wind tunnel development but hopefully could be reinstated for railway use.

Paddington and Marylebone, between them will, once Crossrail is functioning, have spare platform capacity, to give to any passenger services diverted from Euston. There is also an alternative in usage of this relief route as a specifically freight route, again relieving the WCML.

Finally, of course, nobody can say at present whether such extra capacity will , post - virus, be needed anyway, let alone the far more expensive current version of HS2.

Cancelling HS2 will not be the option. HS2 construction will continue until both phase 1 and phase 2 is completed. As well new trains been built will enter service after completion.

'Allegation that the government ordered work on Phase 1 between London and Birmingham to start early last year to "bail out" the construction industry'. This information is based on Douglas Oakervee at the Transport for the North Conference last month.

It is hard to imagine anything more wasteful of taxpayers' money than HS2. Those in support often state the overwhelming support afforded the project in the HoC. Whilst this is true, it conveniently overlooks the lack of accountability shown by MPs on behalf of their constituents.
This inability, or perhaps reluctance, is why we are now witnessing the creation of an infrastructure project which is supported by relatively few members of the public. Time and again polls have demonstrated that this is hugely unpopular, but still the government proceeds with myriad justifications which have morphed over time.
Andrew Stephenson and Mark Thurston tried to bolster support for the railway before the Transport Select Committee earlier this week, and its primary raison d'être now seems to be employment. It is nothing less than a travesty that this is still absorbing untold billions of taxpayers' money. As Chris Packham's recently launched petition is clearly showing, the British public has no appetite for this project and it's hoped that the government will belatedly admit that it's made a huge mistake and do the decent thing.

The National Audit Office, Public Accounts Committee, Transport Committee and the Infrastructure and Major Projects Authority all censured the HS2 Project in the past 18 months. The report following a Serious Fraud Office investigation in 2019 has not been published.
The IPA gave HS2 a Red warning in its 2019/20 Report. saying
'Successful delivery of the project appears to be
unachievable. There are major issues with project
definition, schedule, budget, quality and/or benefits
delivery, which at this stage do not appear to be
manageable or resolvable. The project may need
re-scoping and/or its overall viability reassessed'.
Following all of the above nothing has changed. The institution that is HS2 Ltd remains seriously flawed. A lack of openness and transparency continues with Non Disclosure Agreements signed between HS2 Ltd and affected Local Authorities and organisation are used as the mainstay to 'hide' and 'manipulate' outcomes to the disadvantage of affected communities as do Service Level Benefit Payments. Likewise, EMR's and Schedule 17 Planning Rules are used as tools to 'hide' inappropriate actions and decision making processes.
No one is acting appropriatelyon behalf of the British taxpayer. The HS2 Project remains out of control. Parliamentary Privilege, HM Treasury Guidance and the Civil Service Code have all been breached.
Malfeasance and Nonfeasance have become acceptable tools of Government using the excuse of kick starting the British economy using HS2 as a flagship construction project, one labelled unachievable by the IPA. The taxpaying public and our environment and ecology deserve; we should demand better.

Is the current HS2 project about capacity relief ? In which case, this aim could probably be realised a lot more cheaply through building new conventional ( up to 140mph, given a cab signalling system) infrastructure. It is possible that the Covid - 19 crisis may result in diminishing / obviating this need , anyway.

Or is it about high speed ? In which case, the routes chosen are too short for TGV type speeds to have a useful impact.

I just watched a recording of the committee meeting on Parliament TV and when asked the direct question re cost of cancellation of HS2 the figures run into billions given the contracts that have been awarded and work undertaken so far !

The Minister failed to mention that the cost would be even greater than that given the cost of clearing up worksites like those prepared for tunnels!

The petition gives the false figure of £100 billion for HS2 , given only the cost of stage 1 is signed off with stage 2a nearing completion in Parliament and thus a new total for stage 1 and 2a will be issued shortly after latest bill gains Royal Assent.

They are calling for legislation that's regularly gained 10/1 majority in all votes under Labour, Conservative coalition and Conservative government with just a tiny rump ( composed of largely the same MPs) against,!



It sort of depends on what happens to Rail Travel in the Future, and the UK economy and how much the Government has available to spend. No point in having any new lines if suddenly we find all the existing ones can handle the traffic easily. HS2 was meant to replace internal Air Travel. Flybe has gone bust which was the main competition, but will people still want to do long distances between cities or 'work from home' ? A greater threat comes from the Government's attempt to balance up the Country. If Civil Servants and Businesses decamp from London to the North, - and maybe even MPs at Westminster - travel patterns will alter. Perhaps later this year when everyone has had the vaccine, things will become clearer.

No mention of who the allegation is from, but a firm bet it's the same stuck record MPs in Hogsfordshire who were trying to block HS2 ten years before any pandemic.
[Something on social media, I think. Or as we might term it, so-what media.--Ed.]