Posted 15th January 2021 | 2 Comments
TfL fares to rise in March, as report reveals '£2bn funding gap'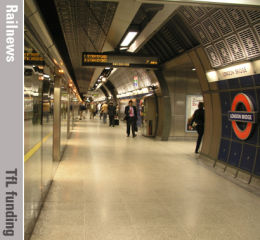 Updated 15.12
FARES on Transport for London services will rise by 2.6 per cent in general on 1 March, but the mayor of London Sadiq Khan says some single pay as you go Underground, DLR, London Overground and TfL rail fares will not change.
The rises are the first since before the present Mayor was elected in 2016. He had promised a four-year fares freeze, which was achieved, but the 2021 rises are a condition of government support since the pandemic began.
TfL has renewed its call in its new Financial Sustainability Plan for longer-term government support, to 'provide certainty to its supply chain and enable TfL to support jobs', but RMT general secretary Mick Cash said: 'This Sustainability Plan is a massive missed opportunity and a capitulation to Tory austerity. TfL could have used this moment to aggressively make the case for setting its funding on a completely new basis, recognising the failure of fare box model and making the case for public funding that recognises the public interest in London's mass transit system.
'Instead, we have a document that spends pages setting out exactly why cuts to services and jobs are a bad idea that won't save money while at the same time saying it will consider cuts to off peak services. Most scandalously, the plan calls for a Commission to examine options for attacking our members' pension scheme, chasing a Tory obsession.'
TfL's appeal for longer-term government support has been made as a new report published by business campaigning group London First and engineers Arup claims that TfL is facing an annual funding gap which could be as high as £2 billion.
The report says: 'The starting point for any new funding model for London must be that a greater, though still small, share of the existing public revenues raised here must be channelled into paying for the transport services which makes these revenues possible in the first place,' and goes on to suggest four changes to TfL funding policy.
These are the replacing of Vehicle Excise Duty 'with a new model for accessing London's road network, paid to London Government, to ensure that those who drive into the capital pay their fair share for the maintenance of London's roads'.
The second is smart road pricing to replace the current congestion and low emissions zones with a 'more flexible' system, while the third is a harmonisation of fares to replace the flat fare on buses and trams and the zones on the Underground.
Finally, the report recommends more travel choices, allowing TfL to become a commissioning and licensing authority for such things as cycle hire schemes, with new operators able to enter the market.
London First chief executive Jasmine Whitbread said: 'The world of travel is not going back to how it was before the pandemic, and with more working for home on the cards, it is clear that the old model of relying on fares to fund the capital's transport network is dead.
'Without action TfL could face a £2 billion black hole in funding. While in the short-term the government must continue to provide the cash to keep London's public transport moving, perpetual negotiations and quick fix deals are no way to run the capital's transport network.
'A new long-term sustainable funding deal must take into account what a 21st century global capital needs.'
Reader Comments:
Views expressed in submitted comments are that of the author, and not necessarily shared by Railnews.
Oh dear rail fares going up again. Despite the ongoing Coronavirus pandemic and lockdown.

London needs greater devolved powers including tax-raising. Barely 7% of all tax paid by London's residents and businesses is retained by its mayor and boroughs, compared with 50% in New York.

Instead what we have is government micromanagement and incompetence, with public transport becoming a casualty of the war against the incumbent mayor (and the very existence of the Assembly).