Posted 1st November 2020 | No Comments
Last minute reprieve as TfL wins funding deal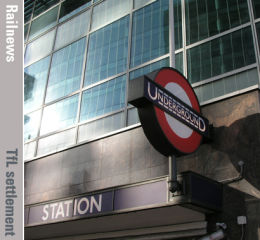 TENSE talks over more funding for Transport for London ended with a deal on Saturday night, just hours before the Mayor could have been forced to start withdrawing services as the money to pay for them ran out.
The agreement to allow TfL a further £1.8 billion in a combination of grant and new borrowing was reached at about the same time that Prime Minister Boris Johnson was announcing a new four-week lockdown in England from 5 November. This includes a renewed appeal for people to avoid public transport if they can.
The new government support should keep TfL services running until March and follows an earlier funding settlement worth at least £1.6 billion, which had been used up.
The latest talks had seemed in danger of foundering as London Mayor Sadiq Khan and Boris Johnson clashed repeatedly over what the terms of a new deal should be.
Mr Johnson had repeated his long-held belief in driverless Underground trains, and some reports had claimed that the proposed settlement could have amounted to an effective takeover of TfL by the Department for Transport.
In the event Mr Khan has managed to soften the blow, although he could not persuade the Government to look beyond six months and has been forced to accept fare increases equivalent to RPI+1 per cent.
A statement from the Mayor's office said that the 'very worst' of the proposals had been successfully 'killed off', including the scrapping of free travel for under-18s and people aged 60 and over. Also abandoned was a plan to extend the £15 daily congestion charge to the North and South Circular roads and a greater increase in fares than the agreed RPI+1 per cent.
Mayor Sadiq Khan said: 'These negotiations with Government have been an appalling and totally unnecessary distraction at a time when every ounce of attention should have been focused on trying to slow the spread of Covid-19 and protecting jobs.
'The pandemic has had the same impact on the finances of the privatised rail companies as it has had on TfL and the Government immediately bailed them out for 18 months with no strings attached. There is simply no reason why the same easy solution could not have been applied to London, which would have allowed us all to focus on the issues that matter most to Londoners, which are tackling the virus and protecting jobs.'
Transport secretary Grant Shapps said: 'This deal is proof of our commitment to supporting London and the transport network on which it depends. Just as we've done for the national rail operators, we'll make up the fare income which TfL is losing due to Covid. Londoners making essential trips will continue to be able to use tubes, buses, and other TfL services, thanks to this Government funding.
'At the same time, the agreement is fair to taxpayers across the country. The Mayor has pledged that national taxpayers will not pay for benefits for Londoners that they do not get themselves elsewhere in the country.
'Over the coming months, as we look to move beyond the pandemic, I look forward to working with London's representatives to achieve a long-term settlement, with London given more control over key taxes so it can pay more costs of the transport network itself.'