Posted 24th September 2020 | 2 Comments
RDG reshapes itself as franchises wind down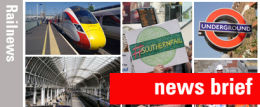 THE Rail Delivery Group has reacted swiftly to the decision to end franchises, and says it will now be making changes to its leadership that will 'ensure the organisation is ready to support potential reforms stemming from the Williams Review into the future structure of the railway'.
The personnel changes affect key people like Chris Burchell, whose four-year term as chairman of the RDG has come to an end in any case. He is also moving from his post at Arriva as managing director, UK Trains to join energy company SSE, where he is to be managing director of its electricity distribution business.
His replacement at the RDG is First Rail managing director Steve Montgomery.
Meanwhile chief executive Paul Plummer will be retiring from 'executive roles' at the end of the year, a move which was postponed from Autumn 2019.
Other changes include a new appointment for Jacqueline Starr, who will lead service delivery as chief executive officer, while Andy Bagnall will lead advocacy & change and be the RDG's director general.
The purpose of the RDG will also be changing. It was set up in 2011 to take over from the Association of Train Operating Companies, which had been created during privatisation as a lobby group and also an administrator, taking charge of such functions as National Rail Enquiries and Staff Travel.
Now the RDG is moving on again, and says it is treating the franchise changes as 'an opportunity to restructure so that it is fit to engage with and support industry reform' while also acting as an 'effective voice'.
Outgoing CEO Paul Plummer said: 'RDG exists to help make Britain's railway better and we've made the case for reform of our railway which is now widely accepted. The current crisis has shown collaboration across the railway at its best and there will be further tests to come in the transition to a sustainable model for the industry which puts the customer at the heart of local decision making while helping to decarbonise and level-up our economy. We've said before reform may mean changes for our own organisation. But it's never been more important for the railway to have the first-class support services and the strong voice that RDG provides.'
Reader Comments:
Views expressed in submitted comments are that of the author, and not necessarily shared by Railnews.
Maybe it's the return of British Rail. As most passengers want the railways back to how it was going back to the 1960s, 1970s, 1980s, 1990s and 2000s.