Posted 18th February 2020 | 4 Comments
Alstom moves ahead with Bombardier takeover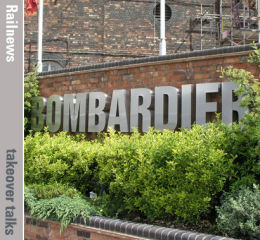 Updated 12.50 18 Feb.

CANADIAN train builder Bombardier is to be taken over by Alstom of France.
Bombardier has a number of rail-related sites in Britain, including its Derby train factory where 2,000 people are employed. Bombardier also has several maintenance depots in this country which it operates on behalf of train operators.
In a statement issued last night, Alstom said it had 'signed a Memorandum of Understanding with Bombardier Inc. and Caisse de dépôt et placement du Québec in view of the acquisition of Bombardier Transportation. Post-transaction, Alstom will have a backlog of around €75bn and revenues around €15.5bn. The price for the acquisition of 100 per cent of Bombardier Transportation shares will be €5.8bn to €6.2bn, which will be paid via a mix of cash and new Alstom shares.'
Alstom chairman and CEO Henri Poupart-Lafarge added: 'I'm very proud to announce the acquisition of Bombardier Transportation, which is a unique opportunity to strengthen our global position on the booming mobility market. This acquisition will improve our global reach and our ability to respond to the ever-increasing need for sustainable mobility.
'Bombardier Transportation will bring to Alstom complementary geographical presence and industrial footprint in growing markets, as well as additional technological platforms. It will significantly increase our innovation capabilities to lead smart and green innovation.
'We will be thrilled to welcome all the talent and energy of Bombardier Transportation employees. We are deeply committed to step up the turnaround of Bombardier Transportation activities and deliver significant value to all stakeholders, particularly our customers.'
Bombardier Transportation president Danny Di Perna said: 'We welcome this announcement. We see great geographic and product complementarity with potential to translate into increase capacity to respond to the growing global demand for rail. With a shared commitment to the next generation of green and digital rail solutions, a combined company would benefit from economies of scale resulting into improved investment and innovation capabilities, and a streamlined investment pipeline.'
An Extraordinary General Meeting will be asked to approve the takeover by the end of October, but at least one large Alstom shareholder has already indicated that it will agree to the deal.
The transaction will also need approval from regulators, but Alstom said it expected the deal to be completed in the first six months of next year.
Reader Comments:
Views expressed in submitted comments are that of the author, and not necessarily shared by Railnews.
This is the inevitable consequence of foreign ownership, for which we have our useless politicians to thank. Foreign ownership means foreign control. It means that decisions are taken over our heads and behind our backs, and we have no say in the process whatsoever. It is undemocratic and unaccountable.

Remember when Alstom closed down Metro Camm's Washwood Heath plant in 2005? Will Bombardier's plants suffer the same fate? Have Alstom given any assurances against closures and job losses? And if not, why not? Mergers usually mean rationalisation, and rationalisation usually entails closures and cut backs.

Note that no French government – of whatever political hue – would tolerate foreign ownership of a major French industry, and that French governments usually bale out French companies when they get into financial trouble (eg Alstom in 2003). UK governments do neither. There is a lesson to be learnt here.



A deal which makes sense for both companies. Bombardier halves its debt and Alstom gets its hands on a rival which sells regularly to SNCF/RATP. It's also a way to get around the Siemens/Alstom merger veto and create the European rail 'champion' which Macron so wants.

I imagine it will keep open Litchurch Lane so long as the orders keep coming in. The longer term may not look so good however given the EU tariffs on the export of rail vehicles from third countries.

Not so much a problem in the UK but there'd seem to be lots of scope for downsizing in continental Europe, where Bombardier & Alstom have competing product ranges.